How to Change Your Mac Password
Here is a guide on how to change your Mac password and reset it — even if you forgot your Mac password completely.
It's easy to forget the admin password on your Mac if you don't use it to login every day.
This password is used to authenticate new app installations, perform system updates and to simply log in to your user account if your computer boots to the login screen.
Fortunately there are multiple ways to get access to this passcode, change it or set yourself up for later success by safeguarding it with your Apple ID.
How to Change Your Password on a Mac
Here are the steps to take to change your password on your Mac computer.
Watch the above video to see different ways to reset your password on your Mac.
Reset Your Mac Password
If you are having trouble remembering your password or your attempts aren't working, double check your caps lock and and look to see if you have a password hint enabled. You will notice a question mark icon in the password field if you added a hint to your password initially.
A good attempt is to also try your Apple ID password, incase you set them up to be the same. If that doesn't work, see if your hint will give you a memory jolt. In most cases, people are able to remember their password with the hint yet there are times where our own cryptic hints stump us!
To reset your password you will need to use the Recovery Mode boot option by restarting your mac and holding Command and R at the same time. This was used to troubleshoot startup issues involving a Flashing Folder with a Question mark so it may be familiar.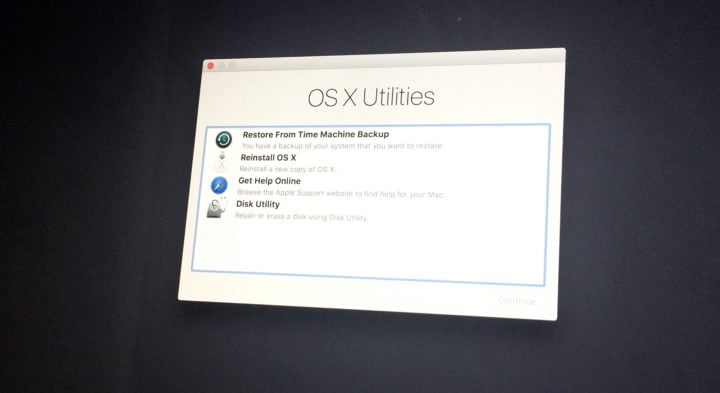 The Recovery Mode on the Mac has a few diagnostic and troubleshooting tools yet the one we need to access is Terminal. Terminal is normally used as a command line application and can be various dangerous under untrained hands. However for our use, the steps are quite straight forward.
When terminal opens, type "resetpassword" and hit Return on your keyboard. You should see the Terminal app close and another application will open up to reset your password. You will be able to select your Hard Drive and then the user you are currently trying to reset.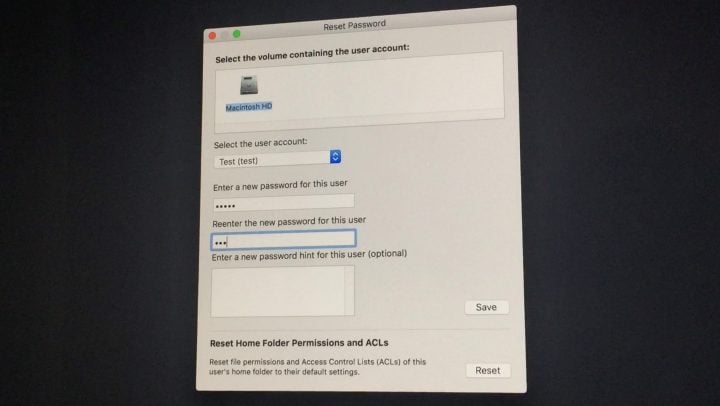 Changing the password will also require a reset of the login keychain. This is the utility on your Mac that remembers and stores all of your passwords for you yet they are tied to your original password. Changing this password will no longer give you access to these passwords and the Keychain Access will continuously bother you about it.
Opening the utility Keychain Access, accessing Preferences and selecting Reset My Default Keychain will allow you to delete this old log and create a new one with your new password.
After performing this reset, log out of your account and then back in again with your new password to start the new login keychain.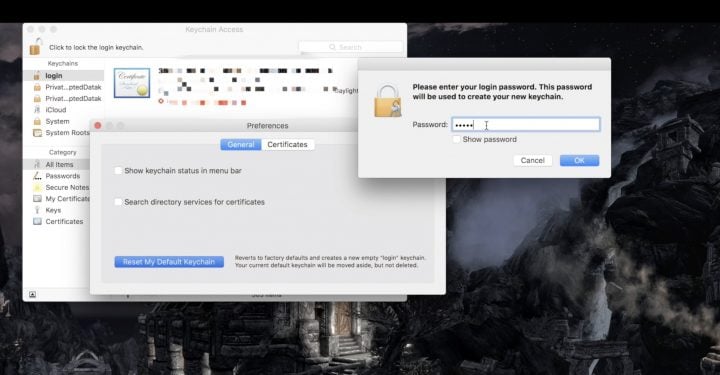 Resetting with Another Account
If you are not the only admin account on your computer, you will be able to reset your password with another admin log in.
By accessing your System Preferences and then Users and Groups, you can highlight the user in question and change the password there. You will also be able to create a new Hint to accompany your password so this hopefully won't happen again.
This is not always the best option due to the person with the other Admin account needing to be present or you needing to know their password. However if this information is available, this is actually can be a very fast method of resetting the password.
You will still need to perform the aforementioned Reset of Login Keychain and log out and back in to make those changes.
Resetting with Apple ID
In some versions of OS X, you are able to reset your Login password with your Apple ID. When you make multiple attempts to log in, you may eventually be prompted with a message stating that you can reset your login password with your Apple ID.
If this option appears, follow the onscreen steps and log in with your Apple ID to reset your Mac's password. You will be prompted to restart after your changes are saved and then you can log in and create your new login keychain.
When we lose our passwords, some tasks are virtually impossible to achieve, especially needing to perform crucial software updates. Using these steps should hopefully get you back into your Mac and help you create a new password that you can remember easily or have quick access to.

As an Amazon Associate I earn from qualifying purchases.