How to Change YouTube Quality on Android
When it comes to watching YouTube videos on our mobile devices the experience isn't always the best due to our connection. Whether you're using an Android smartphone or a tablet having a solid WiFi connection vs 4G LTE, or even 3G, can make or break the experience.
We've all been there. Trying to enjoy the latest funny video or a music video on YouTube on our Galaxy S4 or Android smartphone when the dreaded loading circle pops up and kills it halfway through. It's frustrating, but thankfully a brand new update to YouTube today gives you, the user, control over the quality and resolution.
Read: How to Make Your Android Device Faster in 3 Easy Steps
Previously YouTube on Android only had one setting which was to toggle HD video playback, or leave it to whatever default auto quality YouTube deemed acceptable for your device and its connection. Happily we now have tons of options for any scenario, and below we'll show you how to access and change them.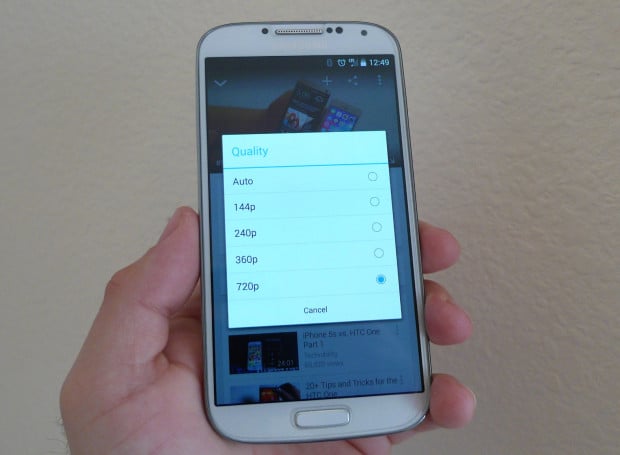 In a time where we almost always have 4G LTE or WiFi more options for video quality and playback were needed, and this week Google finally updated YouTube with exactly that. Below is a quick video showing users how to change the YouTube quality and resolution on Android.
Once you download or update to the latest YouTube app in the Google Play Store you'll now be able to fine-tune your video quality playback. It isn't anything fancy, but something that's been missing from YouTube on Android for years.
Instructions
For those on a road trip, find themselves on a slow 3G (or worse) connection while visiting family or at work, you may want to adjust the quality of YouTube. This is great for those moments where 4G LTE or WiFi isn't available, and you don't want to be interrupted with that dreaded loading or buffering circle we're all familiar with.
Open the new YouTube app for Android and simply tap the menu button on the top right, which is three dots, and you'll now be greeted with a popup over your video with three options. One is Closed Caption, another Settings button (which is what we want) and a Flag Video option as shown above. Select the middle settings button.
Head into settings in the YouTube app, and even though its redundant tap the gear-shaped settings icon in the image shown above. This will open the "Quality" options and let you select whatever resolution you'd like. Google allows for 144p, 240p, 480, 720p, and select phones can also select 1080p HD for video playback. Oddly enough even my 1080p capable Galaxy S4 doesn't show 1080p as an option, but we're hearing most newer devices do.
Read: How to Take a Screenshot on the Galaxy S5
For those wanting a quick video explanation and visual guide to changing the quality of YouTube video playback on Android, we have that for you below as well.
That's it. Thanks to the all-new YouTube app released today users can instantly and quickly change the resolution and quality of YouTube playback. The Auto option is probably the best choice, just like on PC's, which will let YouTube and Google decide based on your connection. So long as you have 4G LTE or WiFi it should theoretically default to 720 or 1080p, but if not head in and change it yourself.
Third party apps have been changing these types of settings for years, but now all you need is the official YouTube app from the Google Play Store and a little know-how. Enjoy!