How to Check Data Usage on the Galaxy S6
This guide will show owners of the Samsung Galaxy S6 or Galaxy S6 Edge how to check and track their data usage in order to keep from going over carrier limits, set warnings, and even turn on data limits to save users from huge overage fees by carriers.
The new Samsung Galaxy S6 and Galaxy S6 Edge both have large Quad-HD displays capable of viewing content at full 1080p HD or higher, and fast 4G LTE internet access for streaming movies and more. As a result, users likely are going through their data limit provided by carriers in the United States and around the world.
Read: How to Make the Galaxy S6 Look Like Stock Android
The days of real unlimited data plans are long gone, with a few still having grandfathered unlimited plans from some carriers. Instead most users have switched to tiered data plans, and those offering "Unlimited Data" cap users speeds after a certain amount, usually around 2GB. Below we'll go over how to track your data usage on the Galaxy S6.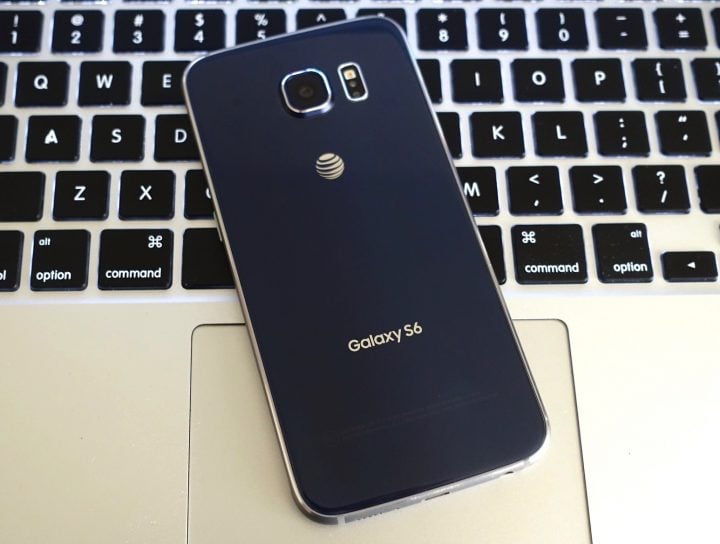 Before we begin it's worth noting that some carriers claim the data usage meter on our Android smartphones may slightly differ from actual usage, so don't take this as the only way to track data usage on the Galaxy S6, or any Android smartphone. That said, the numbers are usually fairly accurate and safe enough to use in order to ensure you don't go over your allotment.
When it comes to Android checking your data usage is extremely easy, and it's front and center on the Galaxy S6 and Galaxy S6 Edge for easy access. They've also placed a nice usage reminder in the data usage settings menu, and a mobile data limit that will stop data altogether if a user reaches a set limit.
Here's how to check and track your data usage, see what apps may be hogging all your data, set a warning, and much more.
Instructions
There are a few ways to get into the "data usage" settings on the Galaxy S6, and each carrier has a slightly different menu as well. On our AT&T Galaxy S6 it's available right in the first column under "Quick Settings" otherwise owners will want to navigate to Settings > Connections > Data usage > to see the overview shown below.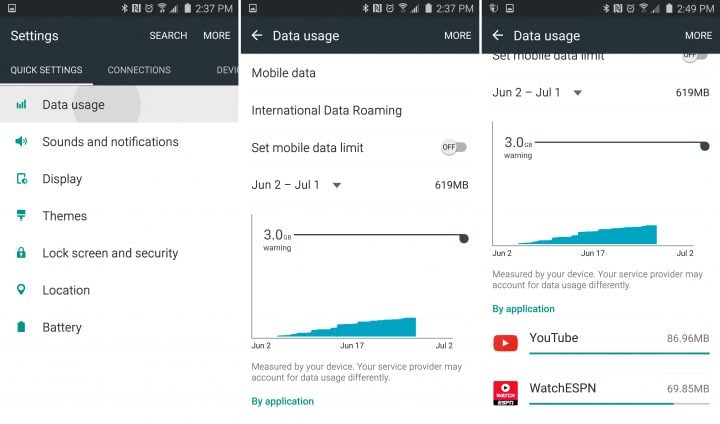 This shows you a general outline of data usage on the smartphone. Typically things like YouTube, Facebook, Google Chrome, the Play Store, or video streaming apps like WatchESPN and Sling TV are at the top. However, this is also the area you can scroll down and look for rogue apps using more data than they should.
There's a simple to understand bar graph, an area to change the monthly cycle to match your carrier monthly billing, and an easy slider users can move up or down to set an initial data usage reminder. Then, toggle the "Set mobile data limit" tab to set a limit that will actually turn off your 4G LTE if you reach your threshold.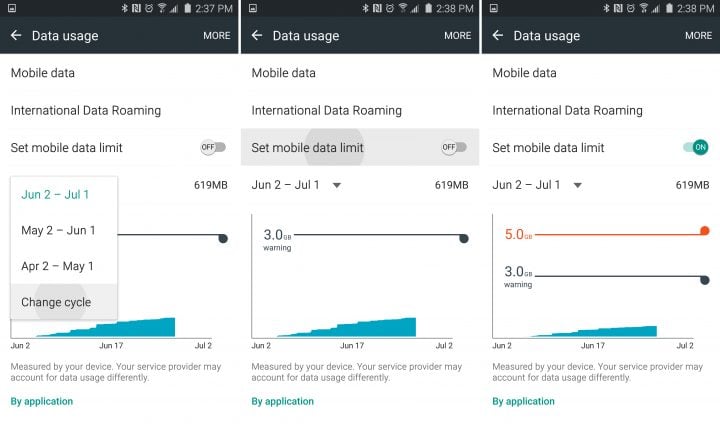 As shown above we now have a warning reminder that will go off at 3GB of usage, and a hard data limit where 4G LTE data will actually turn off at 5GB on the Galaxy S6. This can be completely changed by the end user, and is a great idea to do in general, or on a child's smartphone.
If users have higher data limits than what's shown, just press and slide the bar higher to meet the level you need. I have a 10GB plan, so my warning is usually set at 5GB and no mobile limit is set, as I never go over my limit thanks to WiFi being in most areas I frequent.
Follow these steps to track data usage on the Galaxy S6, manage data, find rogue apps, or just have a better understanding of what's going on with your smartphone. For even more tips check out our 65 Galaxy S6 Tips & Tricks.

As an Amazon Associate I earn from qualifying purchases.