How to Check if Your Husband Is Cheating on Ashley Madison
Hackers posted details of millions of Ashley Madison accounts online for anyone to look at. Here's how to see if your information is exposed or the information of a loved one is exposed.
Ashley Madison is a hook-up website where users can meet other people, but with the emphasis that you're cheating on your spouse, as that's what the website specializes in. The website has over 40 million users.
Last month, Ashley Madison was hacked and the information for millions upon millions of users was stolen, and just recently that information was posted online by the hackers. This information includes email addresses of users, as well as account details such as age, height, weight, and sexual preferences. Furthermore, names, street addresses, amount paid, and possibly the last four digits of credit card numbers were posted as well, from paid accounts.
While both men and women can sign up on Ashley Madison to cheat on their spouses, the hacked data revealed that over 90% of the users whose information was exposed are male. So if you want to find out if your husband is cheating on you, there's an easy way to look that up.
How to Check if Your Husband Is Cheating on You
One important thing to keep in mind is that the information the hackers posted online is very difficult to sift through for most everyday users, as it requires a specific web browser to view it all, and even then the files are essentially just gibberish letters and numbers that need decrypted.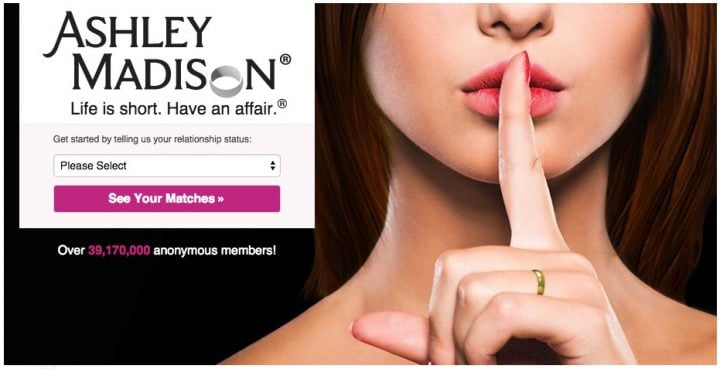 However, there's one website that has done at least some decrypting and allows users to enter in their email address and easily see if their Ashley Madison account details have been exposed.
By visiting this website, you can enter in the email address of your spouse to see if they created an Ashley Madison account at one point. If the results come back positive, then that means that email address was used to create an Ashley Madison account. However, there are a few things to keep in mind.
First off, it's very possible that someone could have used your own email address to sign up for an Ashley Madison account, since the website doesn't verify free members. This means that once you sign up for an account, you get instant access to Ashley Madison and don't have to verify your account through email. So that's always a possibility, and this even happened to one of our own editors, whose email address was used to sign up for an Ashley Madison account under a woman's name in Indiana.
Besides Your Email Address, You're Probably Safe
If you yourself signed up for an Ashley Madison account and are worried that more information other than your email address will get out there for everyone to see, the chances of that happening are unlikely right now.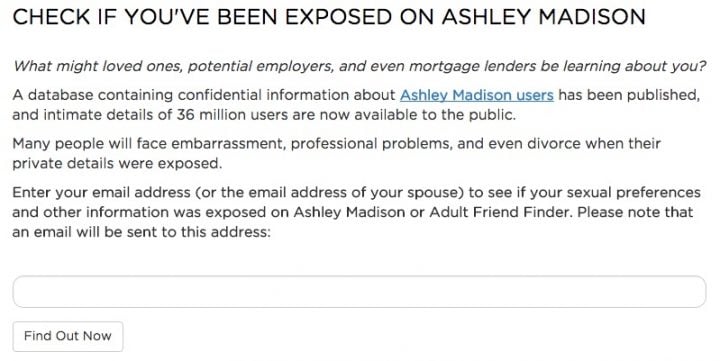 Besides, you should have used a secondary throwaway email address anyway when signing up for Ashley Madison, so even if someone did an email address search, they probably wouldn't find you. If happened to use your personal email address, well then you probably deserve to get caught.
Past the email addresses, there's currently no easy way for most users to search through the hacked data that was posted. As mentioned earlier, you need a specialized web browser and the time to sift through all 35GB of it, and 35GB of text is a lot of text. Plus, it's not searchable, so have fun.
So unless your spouse has the knowledge and a ton of free time, it's unlikely that they'll find information on you other than your email address.
As for spouses looking to find information on their significant others, you can enter in their email address into that website, but other than that, there's nothing else you can really do until someone comes along with a program and makes that huge data dump searchable, which may or may not happen.

As an Amazon Associate I earn from qualifying purchases.