How to Check iPhone Upgrade Status for iPhone 7
This is how to check iPhone upgraded eligibility on Verizon, AT&T, T-Mobile and Sprint to prepare for the iPhone 7 release date.
Apple will announce the iPhone 7 and iPhone 7 Plus on September 7th and we expect that iPhone 7 pre-orders could start on September 9th.
Now is the time to see if you are eligible for an iPhone upgrade for the iPhone 7 or iPhone 7 Plus.
Many users are coming off of contracts that locked them into carriers and required specific upgrade dates. You can still upgrade into a contract in some cases, but more often you will need to buy on a new payment plan.
Users who are on a payment plan for the iPhone or for another device will need to check to see if they are eligible to upgrade by trading in or at a reduced rate. This can be very confusing at some carriers, so it is something we recommend doing this well ahead of any midnight iPhone 7 pre-orders.
Even if you are on an annual upgrade plan with T-Mobile, or on the annual iPhone upgrade plan at Apple, Verizon or another carrier you need to make sure that you are paid up to date and to factor in any final payment into what you are going to spend on your iPhone 7 upgrade.
If you aren't eligible for an iPhone 7 upgrade you can buy one at full retail price, but you will need to pay more. Users with bad credit need to pay more for the iPhone 7 upfront on payment plans at most carriers.
This is how to check your iPhone upgrade status on contract or on payment plans at Verizon, AT&T, Sprint and T-Mobile.
How to Check Verizon iPhone Upgrade Status
The easiest way to check your Verizon iPhone upgrade status for the iPhone 7 is to call #874 on your current phone. This works on the iPhone or on Android phones.
This call triggers an automatic message with your iPhone upgrade eligibility that will arrive as a text in the next minute or so.
You'll see the iPhone upgrade date when you can buy the iPhone 7 at a promotional price. In this case we are not eligible for an iPhone 7 upgrade until October 23rd. If you see a similar message in October or even November, set a reminder to check again in a week or so since Verizon is known for bumping iPhone upgrade dates up around this time of year.
How to Check AT&T iPhone Upgrade Status
To check your AT&T iPhone upgrade status for the iPhone 7 you need to call a number and wait for a text. This process takes less than a minute and you don't need to know the account number or account holder social security number.
Dial *639# on your AT&T iPhone or Android phone and you will then get a text message letting you know what your iPhone upgrade status is.
You can also log into AT&T's website and check out your account page to see when you're eligible for an upgrade.
How to Check Sprint iPhone Upgrade Status
Check your Sprint iPhone upgrade status by texting upgrade to 1311 and waiting for a reply with the date you can upgrade to the iPhone 7.
You can also log into your account on your computer or dial *2 on your phone and then choose 1, and 1 again to get your iPhone upgrade status on Sprint.
How to Check T-Mobile iPhone Upgrade Status
T-Mobile doesn't do contracts, but you still need to be eligible to Jump! to a new phone. This You need to check the T-Mobile iPhone upgrade eligibility through Jump! before you get up to pre-order in the middle of the night.
The best thing to do is to log in to your account on T-Mobile and then click Shop and then Start Now. If you don't see Start Now, you are not eligible for Jump! at this time.
You can contact T-Mobile for information on when you are eligible or if you need to pay more on your current phone to upgrade.
9 iPhone 7 Features We Want in 2016
Waterproof iPhone 7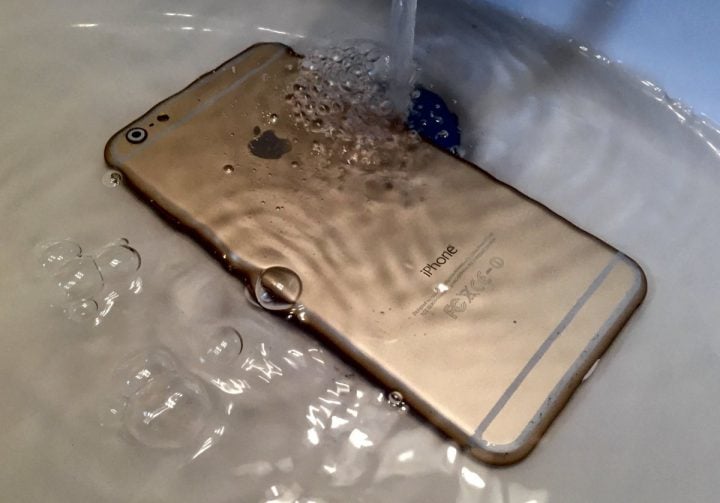 Apple upgraded the iPhone 6s design to make it withstand water better than the iPhone 6, and there are several Apple patents focused on delivering an iPhone that survives in water, which gives us some hope for a waterproof iPhone 7.
With a new design Apple may be able to incorporate a water-resistant iPhone 7 design into a production model allowing users to not worry about using the iPhone near water.
If Apple is able to deliver this, it would likely come with caveats such as only providing protection for 30 minutes of submersion for 3-6 feet or less.
The Samsung Galaxy Note 7 is water resistant, working in water including the ability to use the S Pen underwater as demonstrated in the video above.
A report from FastCompany claims that this is a feature Apple will provide with the iPhone 7 by coating the components of the iPhone 7 with a special chemical. We've heard rumors like this before and Apple pulled the feature, so while it is exciting, make sure you check before dropping your iPhone 7 into the water later this year.
The latest iPhone 7 rumors from earlier this year suggest Apple will not deliver a waterproof iPhone 7 this year. This back and forth mirrors what we see with many rumors and we may not know until the fall.

As an Amazon Associate I earn from qualifying purchases.