How to Check Your Comcast Data Cap Usage
Comcast has been testing data caps for awhile now. Comcast doesn't call it a data cap, instead calling it "usage-based billing." The idea is those who use more data would pay more. Comcast's intention is to use data gathered from its test markets to make this system-wide at some point in the future. Speaking to investors today, Comcast Executive Vice President David Cohen said, "I would predict that in 5 years Comcast at least would have a usage-based billing model rolled out across its footprint." You can read a transcript of the call here.
Cohen caveated that statement by calling it a prediction and by saying:
But I would also predict that the vast majority of our customers would never be caught in the buying the additional buckets of usage, that we will always want to say the basic level of usage at a sufficiently high level that the vast majority of our customers are not implicated by the usage-based billing plan. And that number may be 350 — that may be 350 gig a month today, it might be 500 gig a month in five years, but it will never — I don't think we will want to be in a model where it is fully variablized and 80% of our customers are implicated by usage-based billing and are all buying different packets of usage.

I don't think that's the model that we are heading toward but five years ago I don't know that I would have heard of something called an iPad. So very difficult to make predictions.
The take-away? At some point in the future, probably within the next five years, Comcast will roll out usage-based-billing. How do you know how that will affect you? Well, Comcast has a few tools you can use to determine your monthly data usage.
If you go to this page on Comcast's website, called My Current Data Usage and enter your Comcast credentials you can see the last three months as well as your current month of usage. Here's what mine looks like: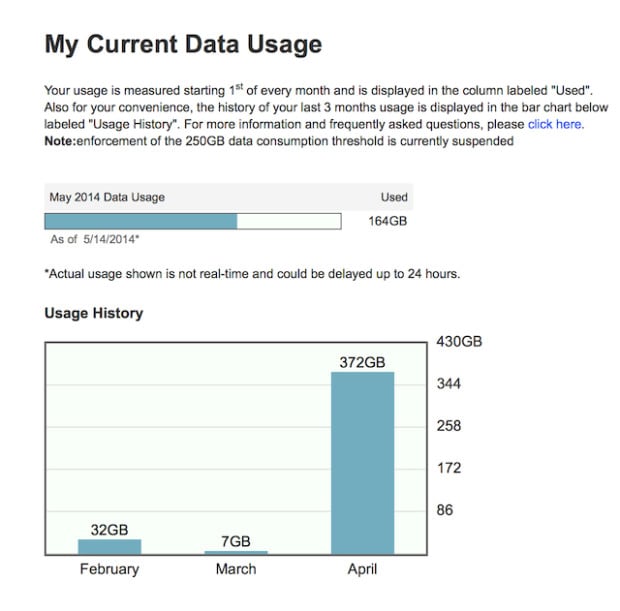 Yes, it looks a little funky. That's because we were actually out of our home for most of February and all but the last day of March due to water damage caused by frozen pipes. April, a month that we were constantly home, we spiked up considerably. Note I work from home. Also note that Comcast states: enforcement of the 250GB data consumption threshold is currently suspended. That's obviously a good thing in our case for the month of April.
So, what drove our data usage so high during April? Well, we have several computers and mobile devices here, along with one TV, and we do stream a lot of video content from Netflix either on Amazon's Fire TV or the Apple TV. We also rent and watch Amazon content and Apple content on those devices.
My wife and I did some mental flash backing to see what we watched once we saw the above chart. During that month we rented 2 movies from Apple, watched 3 movies on the Fire TV and one via Google Chromecast. We streamed episodes of Game of Thrones and Silicon Valley and finally caught the Desolation of Smaug via HBO Go on the Apple TV. We think we watched a total of 5 movies and episodes of 3 TV series on Netflix. We don't torrent any movies, nor do we do large uploads or downloads of other content. So, even though April might have been a typical "stay at home" month for us, we were surprised at the total number of gigabytes Comcast was reporting.
I also have to say that I'm surprised to see the 7GB listed for March, given that we were out of the house for the entire month and didn't hook up the Internet back up until late in the evening of March 31. In fact the Comcast cable modem wasn't even hooked up in our condo for that duration as it was in storage. So, I'm wondering what that 7GB to an open ended line was for.
If you want to estimate what you think your usage might be for a month, Comcast also has a tool to allow you to do that. You can find it at this link. It's a calculator of sorts. You provide the number of computers and other devices you have, and estimate the amount of content you'll be consuming in categories such as Video, Gaming, Web Surfing, Music, Email, and VOIP. After calculating what I thought would be an average month for us our total looked like this: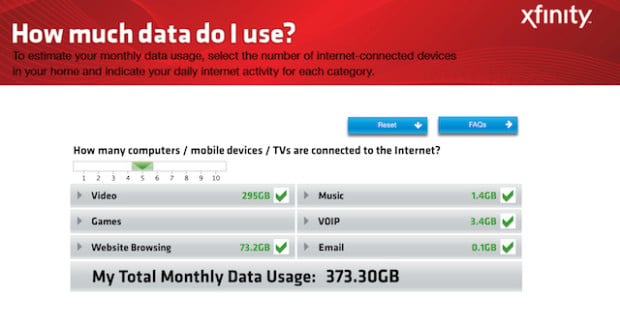 Again, remember I am a heavy web user because of the work I do here for GBM. Here's a look at what we estimated for our video streaming: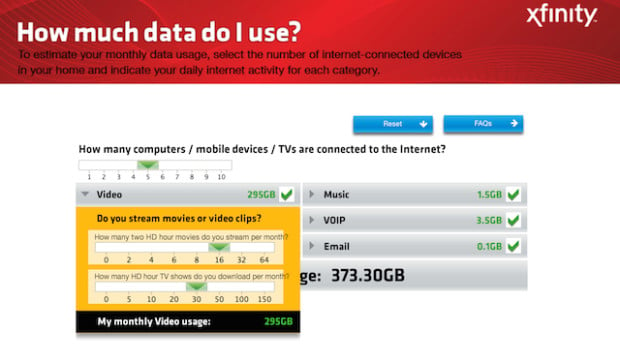 Note: if you use the calculator your data GB usage totals go up or down based on the number of devices you are using in your household. This calculator doesn't make a distinction as to whether you are using multiple TVs or one TV and a mobile device. Here is a screenshot after I reduced the number of devices leaving all other variables the same: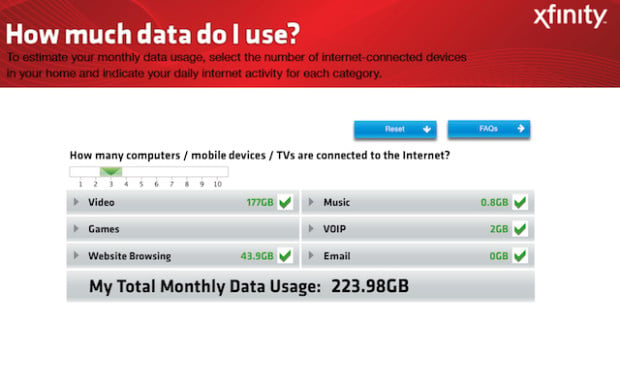 Obviously if Comcast was enforcing the 250GB threshold we'd be paying more each month. Comcast has a number of FAQ statements about its testing and usage-based billing at this link, including one that was updated on April 8, 2014. 
Cohen stated to investors today that 98% of Comcast users in the test markets don't exceed 300GB a month. Comcast is currently testing in Huntsville and Mobile, Alabama; Atlanta, Augusta, and Savannah, Georgia; Central Kentucky; Maine; Jackson, Mississippi; Knoxville and Memphis, Tenessee; and Charleston, South Carolina.
Our April and predicted May usage would put our household in the 2% category. Calling high speed data, "the most important product that we offer" Cohen also said that in the test markets Comcast is trying to discover plans and pricing that won't chase customers away.
I won't say we've been chased away, but looking at these figures my wife and had a little chat about our media consumption habits of late. We've taken to streaming more content that we can get on HBO instead of using the DVR to record that same content. We'll probably be changing that around. Although it won't save much, when we choose to stream music via the Apple TV, we'll probably pull it from an iTunes library on one of our computers instead of via Apple's servers. And we'll cut back on our Netflix streaming a bit.
Obviously this is a moving target, as Cohen alludes to. As innovation fosters new products and product categories that impact all of this. For example, we're hearing more and more talk of higher quality audio and Netflix is already testing streaming of 4K video. The higher the video and audio quality, the larger the bandwidth required to bring it your home. Knowing your Comcast Data Cap usage might be a key to helping you make decisions down the road.

This article may contain affiliate links. Click here for more details.