How to Clear Default Apps on Android
One of the many things that makes the Android mobile operating system awesome and so popular is the option to choose how to do things, and how open the system is.
A prime example is when you're trying to play a video on Facebook, select an image, or play a song from an email and you get that familiar "Complete action using" popup that lets you select whatever app you'd like to complete the action. Using YouTube or the built-in video player, or opting for something like VLC or Google Music to play songs. It's a useful feature, but sometimes users select the wrong app as the default app, and video's wont work. Below we explain how to reset that setting and get the popup back to choose this option again.
Above is a fine example of this very thing. When clicking a link someone shared to a social network page on Google+ we're asked if we'd like to open the link with the Chrome Browser, or through the dedicated application. Select the wrong thing and hit "always" and your phone will always default to the wrong app for the action, and can cause issues. However, a simple reset will let you fix this.
In many cases when you're trying to attach a photo to a Facebook Messenger message, pull a photo from Dropbox or your gallery, or many other tasks you'll get more than one option. This is because tasks can be completed in a variety of ways, which is why Android is so powerful. The problem is users often accidentally set this to always be the action, instead of just once. One tap and you're in trouble, but heading to settings can fix this.
Clear Default Apps
If Facebook is always opening a video a friend or family member posted to the wrong app, and as a result it won't play, resetting or clearing the default app option will fix this. Meaning next time you try to open a video in Facebook your phone will ask you what app you want to use to complete the task, and most likely YouTube will be the option of choice. So here's how to clear the default apps on Android.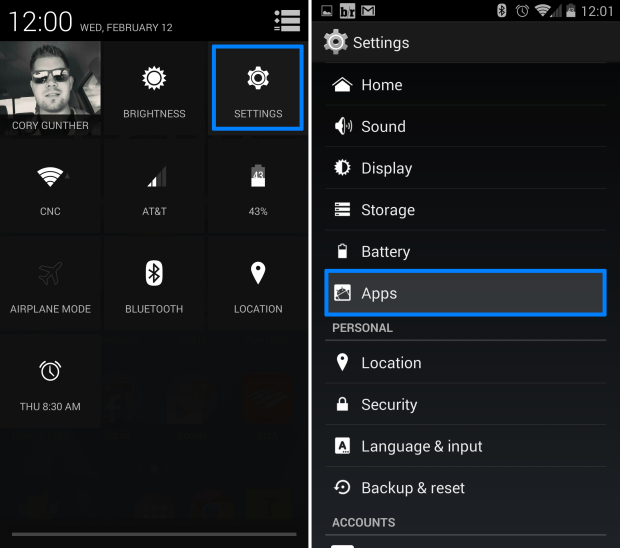 Settings > Apps > Select the app (Facebook for example) then scroll down to "Launch by Default" and tap the "Clear defaults" button. That's it. Next time you head to Facebook you'll get the option to choose how to complete any given task.
While the general button and "App info" page may vary by Android version or manufacture skin (like Samsung) the general steps should all remain the same, and be located in roughly the same spot. Just scroll down and find the app, and clear its default settings. Make sure you don't tap "Clear data" as this could wipe out all settings, login information, and info in a particular app.
It really is that simple. Most users have this issue with Facebook, Twitter, and other social networks, but the popup often appears for trying to interact with media in emails and text messages, attach pictures, or even view a video. If you don't have 3rd party video or music players installed, this usually isn't a problem.
Read: How to Cut, Copy & Paste on Android
This time around be sure to tap the "Just once" option, or make sure you make the right selection before selecting "always" or you may find yourself clearing the default apps once more.

This article may contain affiliate links. Click here for more details.