How to Clip a Webpage to OneNote on iOS Devices
There's just a lot of information out there on the Internet. Stuff we want to read later. Websites offering products we might want to think about purchasing later. Clever bits of writing we want to hang onto. Links. If you're on the web each day, you're watching the world go by page after page after page in your browser. Remember when we used to bookmark interesting webpages? Well, that was when there were a few bazillion web pages fewer than exist today. Remember when we used to save RSS links in Google Reader? Well, Google Reader now resides on the ash heap of dead bits, but you can still save interesting info in other RSS readers.
But there are other ways you can grab and hang onto interesting bits of the web. And of course in today's mobile world that means that many of us want to be able to do that grabbing and saving from our mobile device in the same way we can on our desktop.
Many popular "Read it Later" services like Pocket, Instapaper, Readability, and others, hook into other popular apps like Flipboard, Feedly, Newsify, etc… so that you can "clip" or save info from one App into another. The popular and the ubiquitous Evernote does the same.
But what if you're browsing in a mobile browser? More specifically what if you are using the mobile Safari browser on an iOS device? Unfortunately Apple doesn't allow the same sort of "sharing" flexibility in iOS that Google does in Android. On the Android platform you can pretty much share anything from a browser to any other App or service you have installed on your smartphone or Tablet.
With mobile Safari, the best way to do that sort of sharing is through a bookmark. Yeah, you read that right. A bookmark. That almost sounds like outdated technology these days, but it still works.
Microsoft has recently put some teeth into its shifting strategy that declares mobile and services as its thrust into the future. A part of that strategy is OneNote. OneNote is now available for the Mac, but it has been available for the iOS platform for quite some time. Like Evernote, one of the nice features of OneNote is the ability to clip and save webpages. And with this new strategy Microsoft also released new desktop browser capability to clip and save webpages.
OneNote is free to download. While it requires that you have a OneDrive account, if you don't have one already you can get 7GB of free storage on OneDrive when you start using OneNote for the first time. OneDrive is Microsoft's Cloud service and is the glue that binds all of the Microsoft Apps and services together by syncing data to make it available on multiple devices. Unlike the newly released Office Apps for the iPad, using OneNote doesn't require you to have an Office 365 subscription ($99 a year) to edit or create pages in the App.
You can install a button in IE, Firefox, Chrome and Safari that allows you to clip any webpage to your OneNotes notebooks. Compared to Evernote, it has limited capability, but if you want to quickly get some web info into your OneNote notebook you can.
But how does that help mobile Safari users on iOS devices? Well, if you sync your Safari bookmarks between your desktop/laptop environment to your iOS devices you have that same capability on your iPhone or your iPad in mobile Safari.
Here's how to set it up.
First, let's make sure you are syncing your Bookmarks between iOS and your Mac. On your Mac open up Settings (the Gear icon) and then choose iCloud.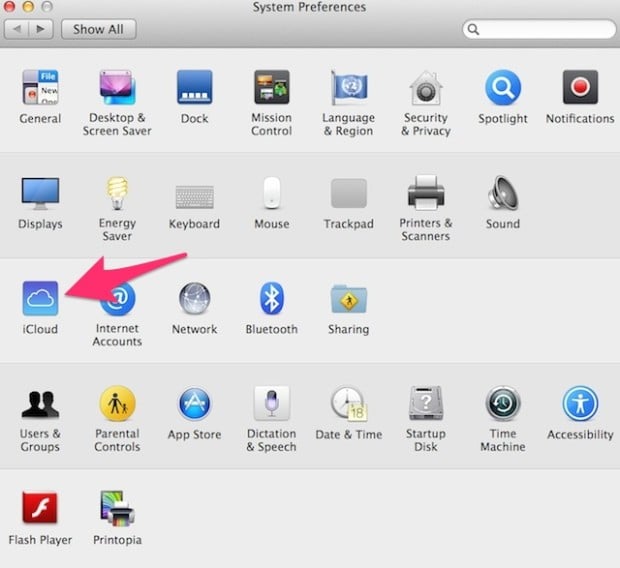 Once your iCloud settings are revealed make sure you have Safari checked.
On your iOS device the procedure is very similar. Go to Settings. Scroll down to iCloud.
Then make sure you have Safari checked.
Once this is done on both platforms your Bookmarks will sync between your devices in addition to your browser tabs.
Now on your Mac, go to this page that houses Onenote browser extensions.
The webpage should detect that you're working in Safari and present you with information related only to Safari. (Note you can add this OneNote clipping capability in other browsers as well.)
When you hover over the Clip to OneNote button in the center of the page you'll see an animation that points to your Bookmarks Bar. The idea is to drag that button to your Safari Bookmarks Bar. Note that Safari calls this your Favorites Bar. Drag the button to you Favorites Bar and you're almost ready to go.
To make sure the functionality is working, while still on your Mac, load up a webpage. Select the new Clip to OneNote button. You'll be prompted to sign into your OneDrive account. Of course you need to do this. Once you sign into your account you can clip Content to your OneNote notebooks from your Mac while browsing in Safari.
Over on your iOS device, you need to wait for an iCloud sync to occur for the bookmark to be available.
On an iPad you are able to display your Favorites Bar in the Safari Browser. If you've chosen to do that, (Settings/Safari/Show Favorites Bar) you'll see the Clip to OneNote button appear in Safari.
On the iPhone you can't display the Favorites Bar in mobile Safari. Instead, go to the bottom of your screen and select the Bookmarks icon.
You'll see Favorites listed on the Bookmarks screen. Under Favorites you'll see Clip to OneNote residing there.
Selecting Clip to OneNote will save whatever webpage is currently in focus in mobile Safari on the iPhone. Because of the different view On the iPad you're able to still see the webpage you're clipping.
Once you've clipped a webpage you'll find the page saved in OneNote under the QuickNotes Tab. It might take a few seconds to sync over and be visible.
As mentioned previously you don't have any granular capability to determine what your clip will be. It's the entire webpage or nothing. But if you are a OneNote user, you'll at least be able to clip webpages for later retrieval.
For Android users and Google Chrome browser users this Clip to OneNote capability isn't quite as easy going. For starters, while you can sync the Clip to OneNote button over to your mobile version of the Chrome browser, it doesn't work the same way. Since you can't view a Bookmarks or Favorites bar in the mobile versions on iOS, you have to activate the Clip to OneNote functionality from a tab with your bookmarks. This does not grab the page you last had in focus before moving to the Bookmarks tab.
In the iOS version of the mobile Chrome browser, OneNote is also not included in the sharing options that you can bring up by hitting the Share button. 
On Android phones, if OneNote is installed, you will see it as a sharing option. However, if you clip the webpage you'll only find a link to that webpage in OneNote once a sync occurs.  
A nice distinction (at the moment) between the Android and iOS capability is that in iOS you'll see the webpage in its entirety and a clickable link that will take you to that page. Performing the same function in the Android version will only net you a link to the page you've just clipped.
Keep in mind that OneNote on iOS doesn't use that operating system's Background App Refresh capability. So, once you open the App, you'll need to wait for a sync to occur before new data you've clipped from the web shows up in your notebook.

As an Amazon Associate I earn from qualifying purchases.