How to Close Apps on the Surface Pro 4
Microsoft's Surface Pro line of Windows 2-in-1s inspired an entirely new form factor. There isn't a single Microsoft hardware partner that hasn't introduced their own version of the Surface Pro 4. Surface Pro 4's are capable of a lot.
For some, they're also slightly confusing. The device doesn't look like a notebook when it's not paired with a Type Cover accessory. It doesn't necessarily work like one either. By default, Windows 10 allows the Surface Pro 4's software to change, depending on what type of accessories it detects. Disconnect your keyboard and the Surface Pro 4 will ask you if you'd like to turn on Tablet Mode, which has its owns quirks, gesture commands and ways of doing things. Windows 10 is Microsoft's latest operating system upgrade.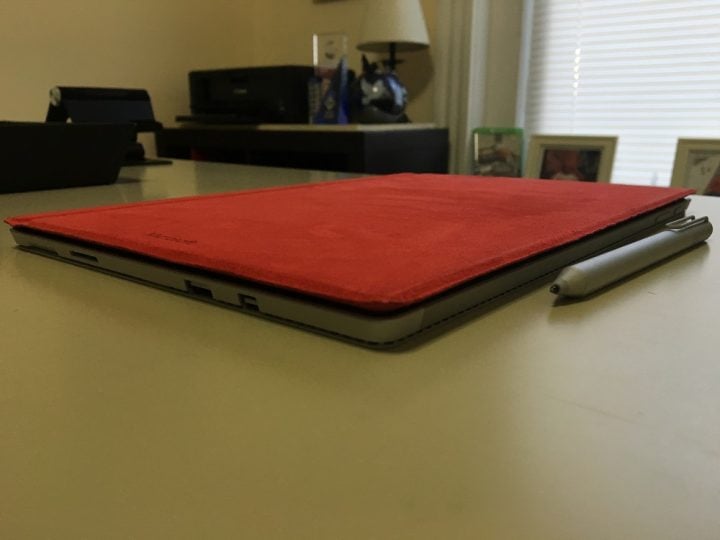 Read: Surface Pro 4 Review: The Best There Is
Here's how to close apps on the Surface Pro 4.
Before We Begin
How you close apps on the Surface Pro 4 depends on a system called Continuum. Continuum is what allows the device to adapt to whatever input methods you're using. It's how the Surface knows to ask you whether you'd like to be in or out of Tablet Mode.
Attach or detach your Surface Pro 4 keyboard and you're asked whether you'd like to go in or out of Tablet Mode. You can manually turn the feature on or off from the Settings app. Tablet Mode is key here because the methods of closing apps that are available to you changes if Tablet Mode is on.
Gotta Be Mobile has a detailed breakdown of how Tablet Mode works on all Windows 10 devices here.
Closing Apps & Programs on Surface Pro 4 with a Mouse
Without Tablet Mode on, closing apps on the Surface Pro 4 isn't all that different from what's been available in past versions of Windows. Look for the X in the top-right corner of every window. Click on that X and the app closes.
Note that programs, the things that you download and install from the web and not the Windows Store, close the same way. When you close an app, it's closed for good. Programs can still run in the background though, draining battery life. It's important to check the notification area in the Taskbar to make sure that there aren't any programs running that you don't want running.
Closing Apps & Programs on Surface Pro 4 in Tablet Mode with Touch
Whenever your Surface Pro 4 doesn't detect a keyboard, it'll ask you if you want to enter Tablet Mode. Tablet Mode is designed to make life easier for those that prefer touch or navigating Windows 10 with the Surface Pen. It makes closing apps on the Surface Pro 4 easier too.
In Tablet Mode, you'll notice that apps you've downloaded from the Windows Store are both missing the X in the right side of the title bar that you'd normally use to close them. You'll need to swipe down on the top edge of those apps to reveal the Titlebar.
Windows 10's Tablet Mode has another way to close apps too. Instead of swiping downward on just the top edge of your display, place your finger at the top of an app and drag it all the way to the bottom of your screen.
Close Apps & Programs on Surface Pro 4 with Task View
Finally, there's Task View. Added with Windows 10, Task View allows you to create virtual desktops to organize all of your apps and programs based on the activities that you're doing right now. To make moving apps and programs between desktops easier, Task View also gives you a complete look at every app or program that you have open. It's because of its ability to see every app or program open on your PC, that Task View is a great tool for closing them.
Tap or click on the Task View button to the right of the search bar at the bottom of your screen.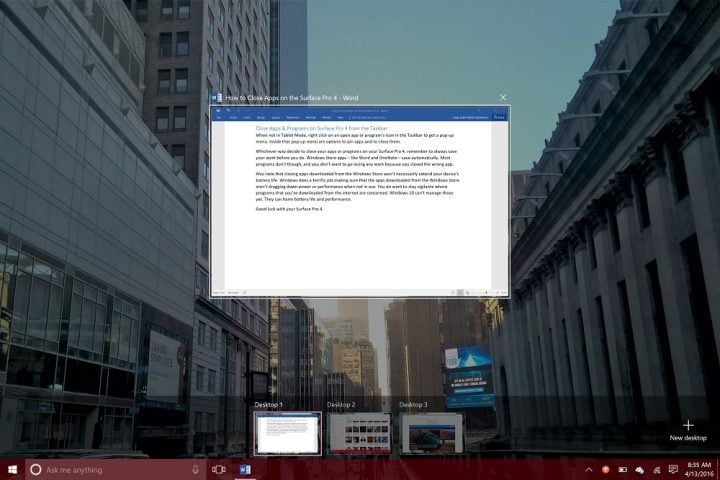 If you're in Tablet Mode, you'll notice that each app or program has an X beside it already, making it possible for you to close it. Outside of Tablet Mode, you'll need to hover over apps that you want to close with your mouse cursor before you see the X.
Close Apps & Programs on Surface Pro 4 from the Taskbar
When not in Tablet Mode, right click on an open app or program's icon in the Taskbar to get a pop-up menu. Inside that pop-up menu are options to pin apps and to close them.
Whichever way you decide to close your apps or programs on your Surface Pro 4, remember to always save your work before you do. Windows Store apps – like Word and OneNote – save automatically. Most programs don't though, and you don't want to go losing any work because you closed the wrong app.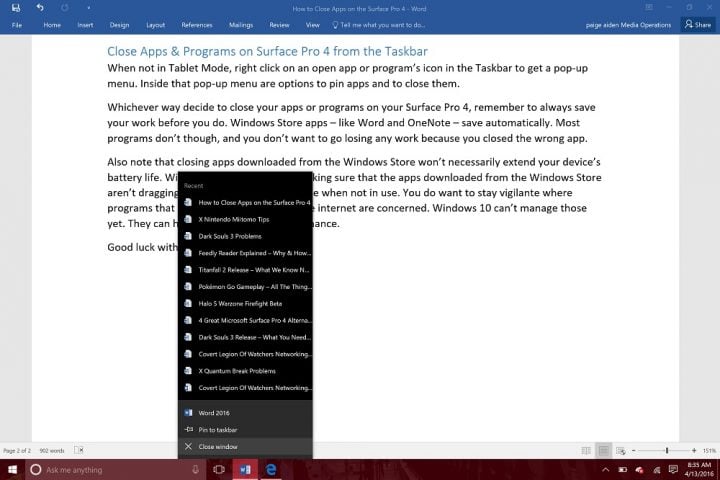 Also note that closing apps downloaded from the Windows Store won't necessarily extend your device's battery life. Windows does a terrific job of making sure that the apps downloaded from the Windows Store aren't dragging down power or performance when not in use. You do want to stay vigilante where programs that you've downloaded from the internet are concerned. Windows 10 can't manage those yet. They can harm battery life and performance.
Read: 13 Common Windows 10 Problems & How to Fix Them
Good luck with your Surface Pro 4.

This article may contain affiliate links. Click here for more details.