How to Read Comics on iPad: Best CBR Reader
Ever since the first iPad was released, comic book fans have tried to use it as a digital comic reader, to greater and lesser success. We look at how to read comics on iPad and the best comic apps (like the best CBR reader) to take your collection with you.
Reading comics on the iPad has always been possible, but it was when the third generation model came out, equipped with a Retina Display, that the iPad really started to shine as a digital comic book. Thanks to the backlit screen, each page was full of lush, saturated colors that made "real" comic books seem dull in comparison.
What's the best iPad for reading comics?
While the 9.7-inch screen still felt a little bit cramped, the high resolution made reading comics easy, without too much strain. iPads with this screen size, like the iPad Air, iPad Air 2, and the 10-inch iPad Pro, all do an okay job of reading comics and magazines.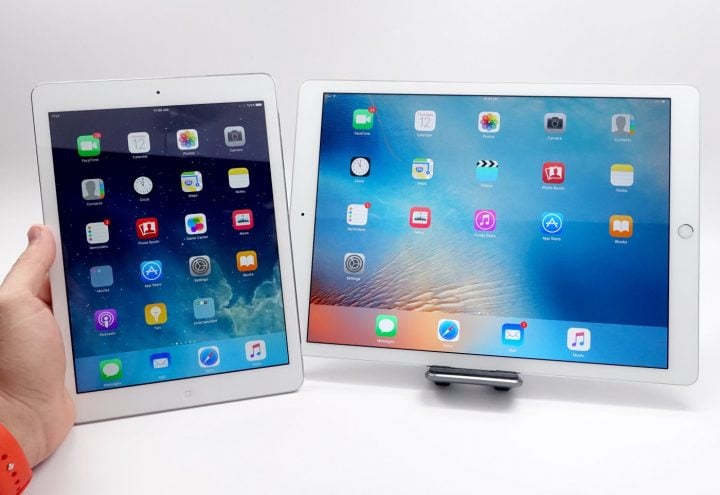 It's the 13-inch iPad Pro, however, that takes the crown. Reading large format periodicals – whether comic books, magazines, or other similar media – is an absolute joy on the large, high-resolution display. While the 13-inch Pro's sheer size can make this largest iPad a little awkward in the lap, it's far and away the best iPad for reading comic books. If comics are an important part of your digital existence, you should at least try them out on a big iPad – just so you can see what you're missing.
Best iPad Comic Book Apps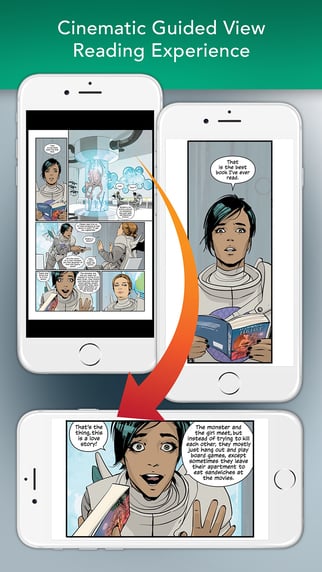 When it comes to comics on the iPad, there are two main philosophies to consider. One of them is to support the publishers by only using publisher apps to buy and read comics; you might also patronize third party stores, like comiXology, that sell digital editions of some comics and pay most of the profits to the original owner of the content.
There are a lot of upsides to this – you can download comics straight to your iPad over cellular or Wi-Fi, no matter where you are. And some publishers, like Marvel, offer a unlimited subscription service, which can be handy if you want to catch up and plow through all the back issues of a specific title.
More popular, however, are the pirated copies. These days, it's easy to head over to a torrent site, type the name of your favorite comic book, and watch as every issue of that comic appears on screen, pre-formatted into a common format that nearly every comic reading app supports. The publishers may not like it, but this is often a better experience than dealing with a proprietary store – you can store as many as you like in Dropbox or similar app, and download or delete them when you want.
Comics (comiXology)
Price: Free | Download
Comics, which is the newest app from Amazon's comiXology store, is one of the longest-running comic book apps on the platform. The company has gone out and secured partnership with pretty much all the big names in comics: DC, Image, Disney, Marvel, IDW, and others. Comics has one of the best features for reading comics on the smaller iPads – a special frame-by-frame mode that takes each drawn frame and blows it up to fill the screen. Instead of reading your comic a page at a time, you read it one small section at a time.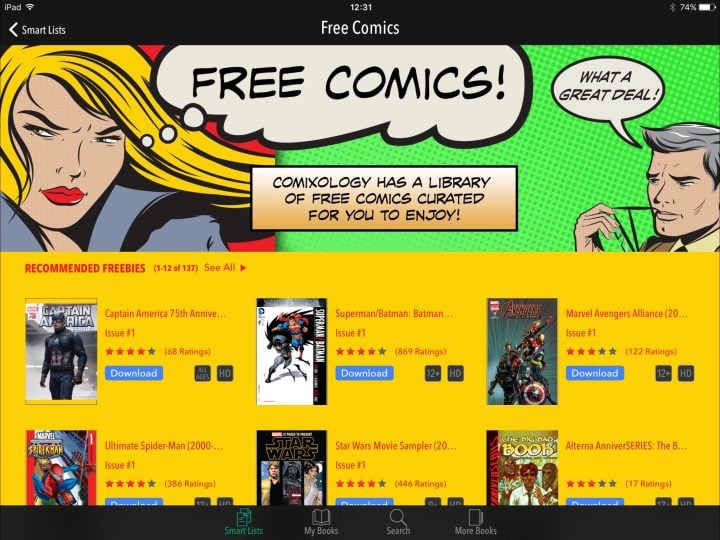 Since Apple requires 30% of all monies made from buying something within the app, comiXology decided to sidestep the issue entirely, and now you have to buy all your comics outside of the app, using a web browser (you can save them to a wishlist first, then load that wishlist on the web, thank goodness). The users aren't happy, and have plummeted Comics' rating as a result, but the app is as good as it ever was, save for the purchasing issue.
Comics Plus
Price: Free | Download
Comics Plus is the multi-publisher alternative to Comics. They've managed to wrangle together titles from DC and Vertigo, as well as Valiant and IDW (and lots of others, especially smaller publishers). A major downside over Comics is that you don't get access to Marvel's substantial library – having said that, being able to buy your comics straight in the app goes a long way to making amends.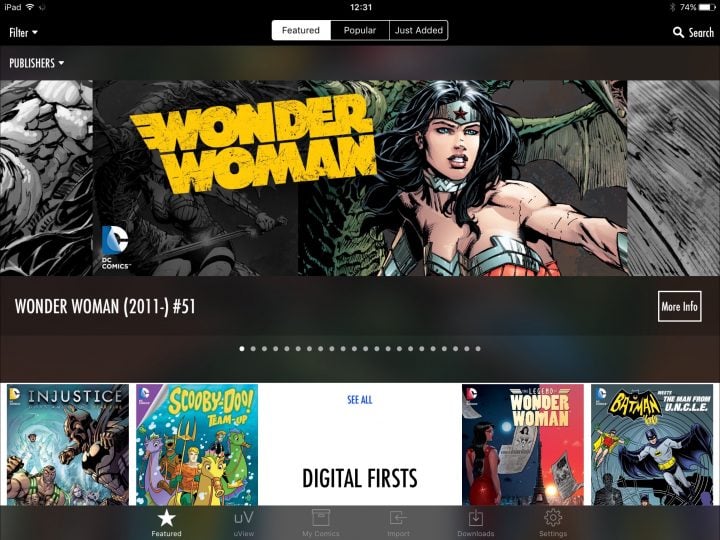 A major differentiator for this app is the ability to rent graphic novels. Comics Plus lets you check them out for 1-, 2-, and 5-day rentals. Not every book is available on these rental plans, but if you're looking to just read something the once, they can be a great way to save some cash. Additionally, you can insert your own "private collection" of comic books and keep both free and pay in one place.
Marvel Unlimited
Price: $10 / month, $69 – $99 / year | Download
If you don't mind paying to read exclusively Marvel comics, Unlimited is one of the best deals in comic books. For as little as $10 a month or $69 a year, you get access to what many like to call the 'Netflix of comics.' Basically, you can tap, download, and read as many comics as you're able, all for a single monthly fee. You're limited in terms of how many offline issues you can have at one time, however, and you won't find anything newer than several months old.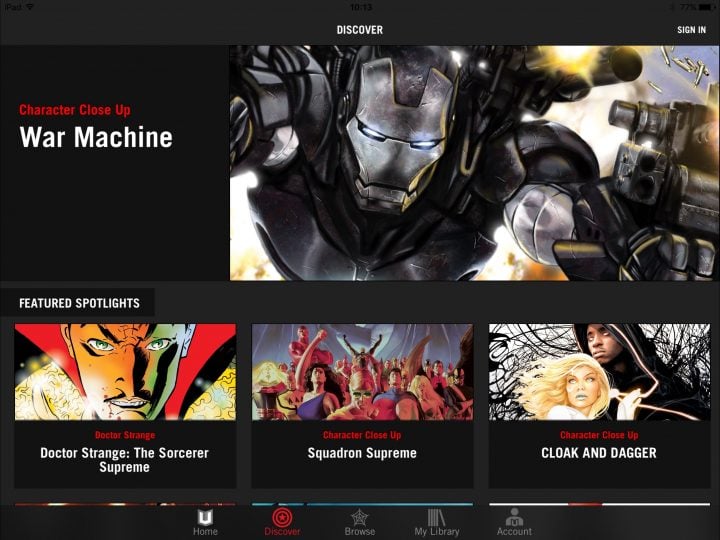 There's also a more traditional Marvel app that functions like Comics and Comics Plus apps above. For that matter, there are apps for DC, Dark Horse, IDW, Image, and Vertigo, too – but none of these offer the cool subscription features of Marvel Unlimited, and require you to have multiple apps installed when Comics can do the job of all of them.
Best CBR Reader for iPad
If you're rolling your own comic book collection, as it were, chances are very, very good that the files are in one of two formats: .CBZ or .CBR. These days, and good comic book app will open both of them without any issues. Chosen years ago by an unspoken consensus, CBZ comics are scans of each page stored as an individual JPEG, then compressed in a ZIP file. CBR comics, meanwhile, are scans of each page stored as an individual JPEG, then compressed in a RAR file.
When your reader app opens the comic book, it uses some logic to display your pages in order; that way, you can just page through like on a normal book. When you're finished, some apps will even figure out what the next comic book in the series is and auto-load it for you, so you don't have to go hunting for it.
iComics – The Comic Reader
Price: $2 | Download
One of our top two picks for the best CBR reader for iPad is iComics. Currently it offers one of the best experiences for reading comics on the iPad, and managing even large comics collections, once they've been imported, is a snap. The app uses the iPad's big display to great effect, but iComics does have one annoying flaw: loading files. Currently, you can get your comics into iComics via one of two ways: sync your iPad with the computer (you can do this both wired and wirelessly), and use iTunes' clunky file transfer service to move things across.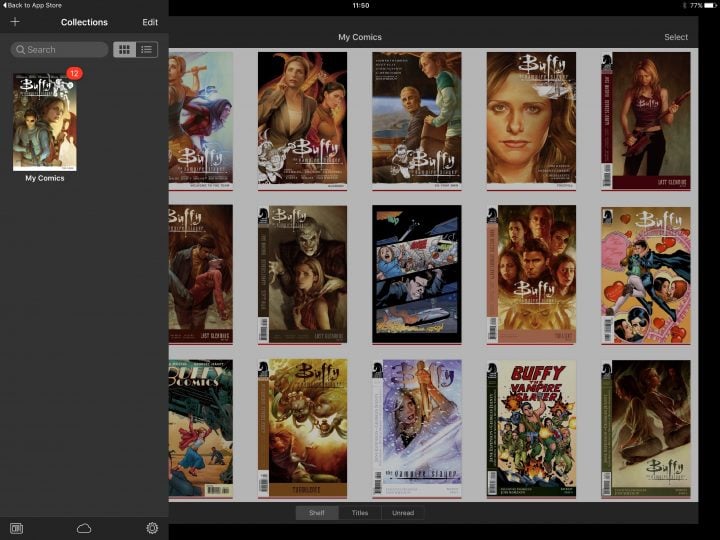 You can also use Dropbox or other cloud storage apps by saving to the cloud, opening the cloud app on your iPad, and then downloading the file and opening it in iComics. It's a little convoluted, but native support for third party apps like Dropbox is marked as coming in a future update.
Chunky Comic Reader
Price: Free, $3.99 Pro upgrade | Download
Chunky is the new kid on the block, but don't hold that against it. It sports a gorgeous new interface where your covers fill the iPad screen, and you can flit between them to find a new comic. Right out of the gate, Chunky supports just about every cloud service you're likely to use – iCloud Drive, Dropbox, Transporter, Google Drive, OneDrive, Amazon Cloud Drive, Box, Pogoplug, Mediafire and Copy – so you're not stuck using iTunes to get comics onto your iPad. If you upgrade to Pro, you can even download comics from your PC, Mac, or NAS with the app's built-in browser.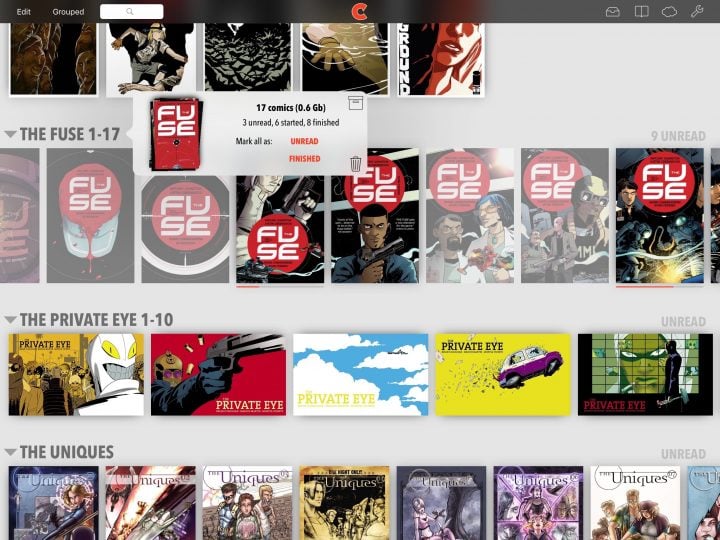 If you have more mature comics, you can use parental controls to keep them from prying eyes, and Chunky's "smart upscaling" and de-yellowing features can make older and poorly scanned comics look better than ever. One potential downside: if you're used to swiftly browsing through giant collections, you might have trouble locking on to what you're looking for in Chunky.

As an Amazon Associate I earn from qualifying purchases.