How to Set Up Facebook in iOS 6
iOS 6 allows users to connect Facebook to the iPhone for easier posting and sharing of photos and links.
This guide will show how to set up Facebook in iOS 6 on the iPhone, iPad and iPod Touch, and how it makes sharing via the social network simpler.
Thanks to Facebook integration in iOS 6, iPhone and iPad users can post to Facebook from the Notification Center and even use their voice to post to Facebook with Siri. There will also be a Facebook icon in the sharing menu for photos and links, for easier posting to Facebook.
How to Set Up Facebook in iOS 6
Tap Settings.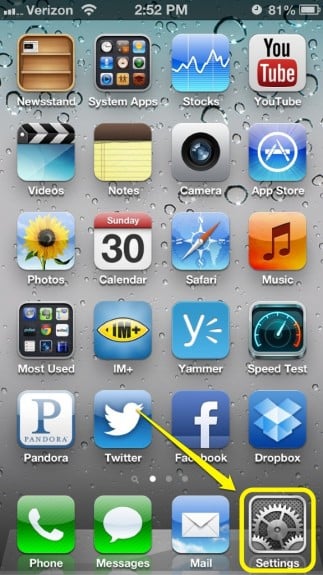 Scroll Down and Select Facebook.
Next enter the login information for Facebook.
After that Tap Sign In and this next screen will appear.
Tap Sign In to complete the setup process.
The screen should now show a Facebook account logged in.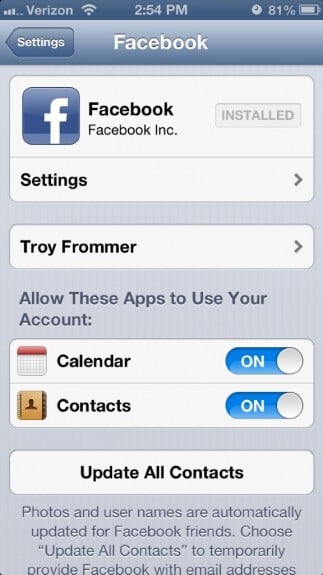 With this option enabled notification center will now have a button that says "Tap to Post" so it is easy to send a quick post to Facebook.
The features also go deeper when it comes to sharing photos or even links to web pages.
Facebook Contacts and Calendars
After connecting Facebook to the iPhone, events, birthdays and contact information can spill over into the Contacts and Calendar apps.
Facebook adds information to the contacts and displays Facebook friends birthdays by default. For social butterflies this is a great "feature" but for those who rely on calendar it is more of an annoyance, especially for users that schedule meetings with Siri, because Siri sees Facebook birthdays as all day events.
The integration also adds contact information from Facebook, including @facebook.com email addresses, which many users won't want.
Unless it's important to add events, birthdays and Facebook friend contact information to the iPhone many users will want to leave these settings off.
Also do not hit Update All Contacts with the Calendar and Contacts enabled or else the data is entered, and the only way to remove it is manually.
How to Share Photos to Facebook
Open Photos.
Next find the photo to post and hit Share in the bottom left corner. It's also possible to share multiple photos.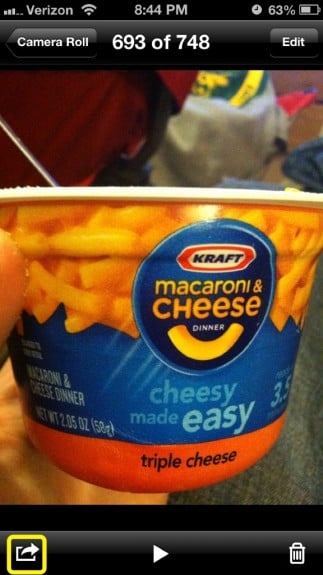 Next Choose Facebook.
After choosing Facebook the photo will appear in a post box with the option to add text, choose the album it will be located in and other common facebook items.
Once the photo is ready to be posted simply tap Post in the top right corner.
It is also convenient to share web page links to Facebook as well.
How to Post Links to Facebook from Safari
Open Safari and go to the webpage to share on Facebook.
Once there Tap Share in the bottom middle of the screen.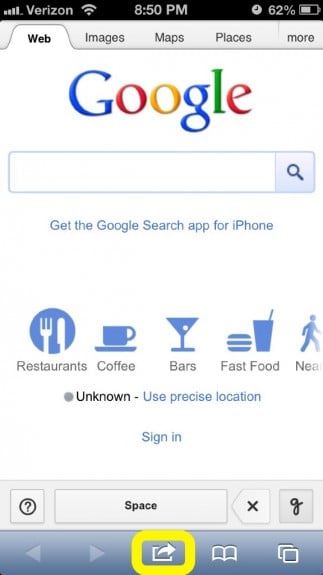 Next, Tap Facebook.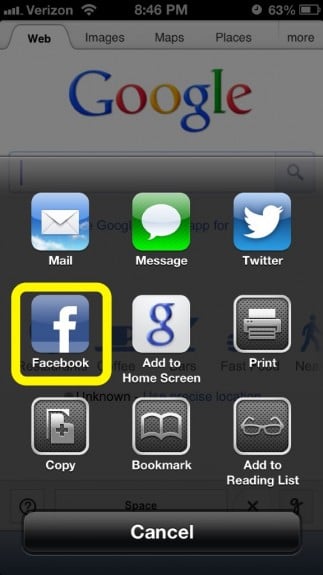 After that, add text to the post and tap Post in the top right corner.
How to Post to Facebook with Siri
The iPhone 5, new iPad and iPhone 4S can post to Facebook with Siri.
To do this, activate Siri with a long press of the home button.
Say, "Post to Facebook".
When prompted, tell Siri what the status should say. If the status is wrong, say "Change it," to tell Siri the update again, or "Cancel." to quit without posting.

As an Amazon Associate I earn from qualifying purchases.