How to Connect Spotify for iPhone to Ford AppLink
Last month Ford and Spotify announced that the Spotify app would be compatible with Ford's AppLink interface for SYNC. Recently, that app went live and you may be wondering how to take advantage of this functionality in your Ford vehicle. Here is how you do it!
Pair Your Phone to Sync Via Bluetooth
We previously covered how to pair your phone to SYNC via Bluetooth. Once complete, you should notice the Bluetooth icon on the screen.
Physically Connect iPhone to Vehicle
The next step is to physically connect your phone to the vehicle. SYNC's AppLink functionality requires both a Bluetooth and a USB data connection to the vehicle.
Locate your USB connection on the vehicle and connect your iPhone's USB cable. In some Ford vehicles, it will be exposed near the gear shift in the center console. On other vehicles it will actually be in the center console storage bin.
Connect your USB cable to the vehicle.
After connecting the cable to the vehicle, it then must be connected to the phone. Connect the USB cable to the phone (shown here on iPhone 4S, but the procedure is the same on the iPhone 5).
It should be noted that the phone will always have to be connected by Bluetooth and the USB cable in order to use AppLink. Bluetooth pairing only needs to happen once, but Bluetooth must remain on.
After the connection is made to the vehicle, Open Spotify on your iPhone. Press the Voice Command button and say "Mobile Applications." The voice command button is located on the steering wheel or on the turn signal stalk. The system will respond with "Mobile Applications" and then prompt you for input. Say "Spotify" and the system will connect. You will see the Ford/Spotify lock screen when the system is active.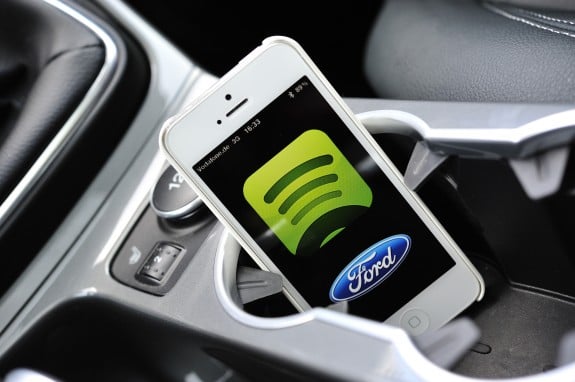 If everything is connected okay and you see the screen above, you are all set! If you press the Voice Command button and say "Help" the system will prompt you about every command you can say. Because you have a full data connection, all album and track information is shown on the display. Now you are all set to have full access to your Spotify subscription in your Ford vehicle!

As an Amazon Associate I earn from qualifying purchases.