How to Connect Your iPad to Your Computer Monitor
Your iPad's screen is only so big, so here's a way to connect it to a computer monitor to get more screen real estate for showing off photos and videos to a larger crowd.
Showing people photos on your iPad is pretty convenient, but when you want to show a whole room of people, they either have to bunch up around the iPad's screen or pass around the tablet until everyone has had a look. However, by plugging your iPad into a computer monitor, you can let everyone enjoy your photos and videos without any hassle.
There are a couple of ways you can connect your iPad to an external computer display, with both wired and wireless options available. However, we're going to focus on the wired option, as it's the most reliable and probably quickest way to connect your iPad to a monitor.
You will need a couple of items for this to work, and you'll most likely need to go out and buy one of these since you probably don't already have it (that is, if you've never connected your iPad to an external display before).
What You Need
To connect your iPad to a computer monitor, you'll need an iPad display adapter and a video cable to connect it to your monitor.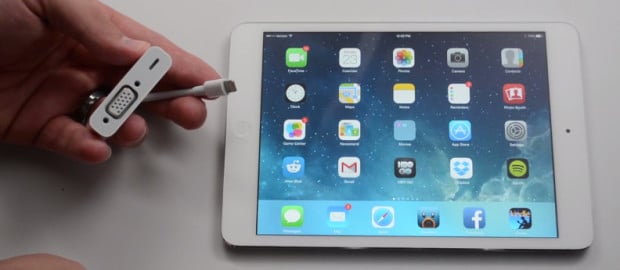 Most monitors will have a VGA port, so you can grab Apple's own Lightning to VGA adapter from the Apple Store. However, if you have a newer monitor, it might have an HDMI port, for which you can Apple's Lightning to Digital AV adapter, which will transmit both video and sound to your monitor (as long as your monitor has built-in speakers).
Connect to Monitor
Once you have what you need, all you have to do is connect the Lightning plug end of the adapter into the Lightning port on your iPad and then connect the VGA or HDMI cable into the other end of the adapter. If you get Apple's own adapter (compared to a knock-off), you'll get an extra Lightning port so that you can still charge up your iPad even if the adapter is plugged into it, which is a really nice convenience to have.
The video below does a great job of explaining how the adapters work if you're still confused about them.
One thing you'll want to be aware of is that some video apps can detect if you're using an adapter, such as some streaming apps, and they may not let you stream content to your television this way. However, if you've purchased movies or TV shows through iTunes or just want to display your own photos and videos from the Photos app, the adapter is a great way to do so.
Best Uses
As aforementioned, a great use for something like this would be to display photos or videos to a group of people without having them crowd around your iPad.
This can also make the iPad a good alternative to a computer or laptop. Simply use the adapter and plug it into a computer monitor, and then get a Bluetooth keyboard to type on. Something like this could easily make those long typing sessions more bearable and easier on the eyes. Plus, if your iPad is jailbroken, you can get a tweak that allows you to use a Bluetooth mouse, which will complete the ensemble and be the cherry on top.
Of course, mouse commands will still be limited because of the mobile operating system's user interface, but we suppose it's a cheaper option than a new MacBook, especially if you take advantage of the iPad mini's low price.

As an Amazon Associate I earn from qualifying purchases.