How to Connect Your iPad to Your TV
The iPad comes with a generous 9.7-inch display (or 7.9-inch if you opt for the iPad mini), but sometimes that kind of screen real estate isn't enough.
If you have guests over or you're just wanting to watch an iPad video on a bigger screen, there are ways you can connect your iPad to your TV so that whatever you're viewing on your iPad can be seen on your living room television. This is great if you want to show photos from a vacation to a bunch of friends, but don't want them all crowded around a smaller screen, because that can get uncomfortable.
There are a couple of methods you can use to beam your iPad to your TV, both of which require purchasing some extra equipment if you don't already have it, but you'll likely get a lot of use of it if this is something that you desperately want to do.
The television sector is something that Apple is improving on, and the company wants to keep getting better at it. In fact, a new Apple TV model is rumored to arrive at some point later this year with a whole host of new features.
Without further adieu, though, here are some ways that you can connect your iPad to your living room television and enjoy iPad content on the big screen.
Using an Apple TV
Perhaps the easiest method for connecting your iPad to your television is using an Apple TV as the middle man of sorts. Apple has a feature called AirPlay that allows you to wirelessly beam content from your iPad to an Apple TV, and then the Apple TV automatically displays the content on your television.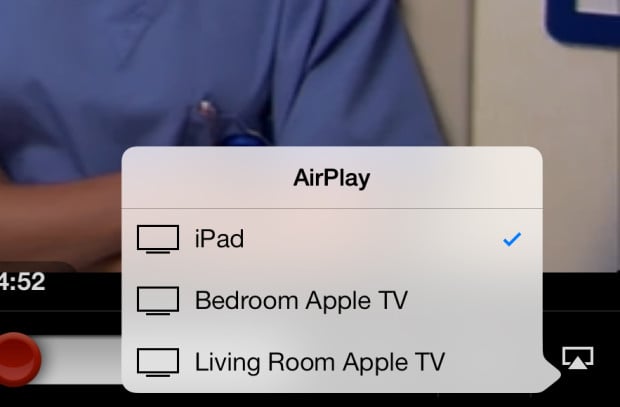 Obviously, this is the best option if you already have an Apple TV (and we even have a handy guide on how to set up AirPlay), but if you don't have an Apple TV, it's a $99 cost that you'll have to pony up if you want the privilege of using AirPlay. However, the Apple TV is definitely a product you will get a lot use out of, so the cost can be worth it.
You can read the guide we linked to above, but the gist is that you simply tap the AirPlay icon in any app that supports it and then select the Apple TV that you want to beam content to. You'll want to make sure that both your iPad and Apple TV are connected to the same WiFi network in order for it to work.
Using an Adapter
The cheaper way of connecting your iPad to your television is by using a cable adapter. Apple sells Lightning to HDMI adapters, as well as 30-pin to HDMI adapters for older iPads. This allows you to connect an iPad to your TV over HDMI.
There are some limitations, though. Connecting your iPad to your television using HDMI only allows you to mirror your iPad's display on your TV. This is probably fine for most casual users, but since the iPad has a 4:3 aspect ratio and all HDTV's have a 16:9 or 16:10 aspect ratio, you'll end up with black bars on the sides.
Nevertheless, this is an alternative to Apple TV that a lot of users should consider, especially if you don't want to spend the money for an Apple TV, and if you only connect your iPad to your television every once in a while, simply buying an adapter is good enough for most users.
Using Your iPad with a Mac or Windows Display
So those are a couple of ways you can connect your iPad to your television, but what if you want to connect your iPad to your Mac's or Windows machine's display? Luckily, there's a way to do that as well.
For this, we use an app called AirServer, which allows you to connect your iPad to your computer's display. The app essentially turns your Mac or PC into an AirPlay receiver, so your computer acts like an Apple TV as far AirPlay is concerned.
You simply install AirServer on your Mac or PC and make sure it's running. Then, take your iPad and beam a video to your computer just like you would with an Apple TV; you'll tap on the little AirPlay icon and your computer will show up in the list of available AirPlay streaming devices. From there, tap on your computer that's listed and the video will begin playing on your computer.
This is the closest that you'll get to using AirPlay without having to need an AirPlay-compatible device like the Apple TV. However, you'll be limited to the size of your laptop's screen or your desktop's monitor. However, if you have an HTPC connected to your big screen television, you can use AirServer to stream content directly to your TV this way.

This article may contain affiliate links. Click here for more details.