How to Control Your Facebook News Feed
Facebook is a great tool to keep in touch with your loved ones, stay on top of news, and keep track of your favorite public figures. However, when your friends list reaches the high hundreds and all you see on your News Feed are people's political rants or ten versions of the same depressing news story, it only means one thing: your Facebook News Feed is a mess.
There are many ways to manage and control your Facebook News Feed – some of them require a lot of patience, while most are instantly available through a simple tap of a button.
Just follow the simple tips we've outlined below to ensure that your Facebook is relevant and easier to use.
1. Define the Facebook friends that really matter to you
Accepting friend requests from every single person who adds you on the platform may seem like the polite thing to do, but bear in mind that every connection you make clogs up your information highway: your Facebook News Feed. Do yourself a favor and keep your contact list pruned to only the people whose posts and updates you actually care about. (Author's note: If your life is an open book and the only reason you add so many Facebook friend requests is to give them access to your posts, consider posting updates in Public mode rather than adding people back. That way, your Facebook News Feed stays manageable and people have the option to follow you.)
Prioritize 30 of your most important friends so you see their posts first.
Facebook has made it easy for you to keep your closest friends atop your News Feed heap so you don't have to sift through countless posts just to stay updated with their lives. To access this feature, tap on the Settings icon on the upper-right corner and scroll to the bottom until you get to the "Help & Settings" section. Tap "News Feed Preferences."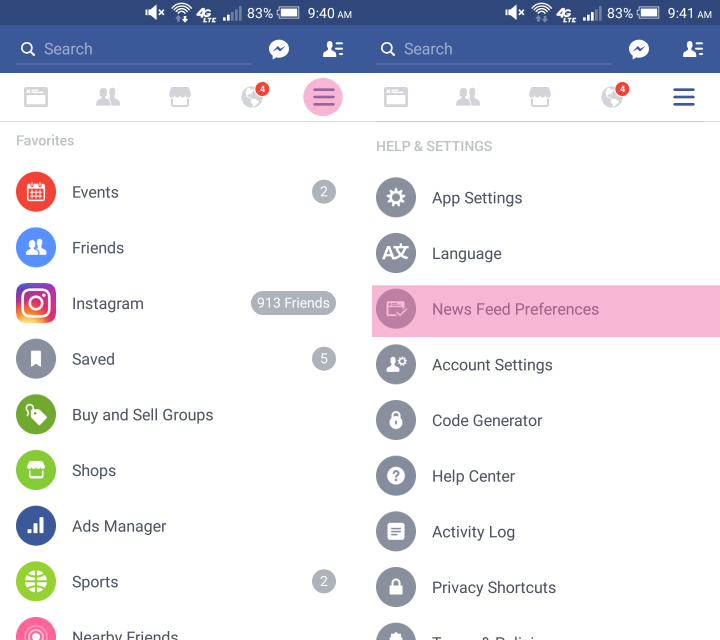 Tap on "Prioritize who to see first." There, you will find a list of your friends you can choose to see first, AKA on top of your News Feed. To choose a friend to prioritize, tap on their icon. A star should appear next to their profile photo with the words "See First" underneath.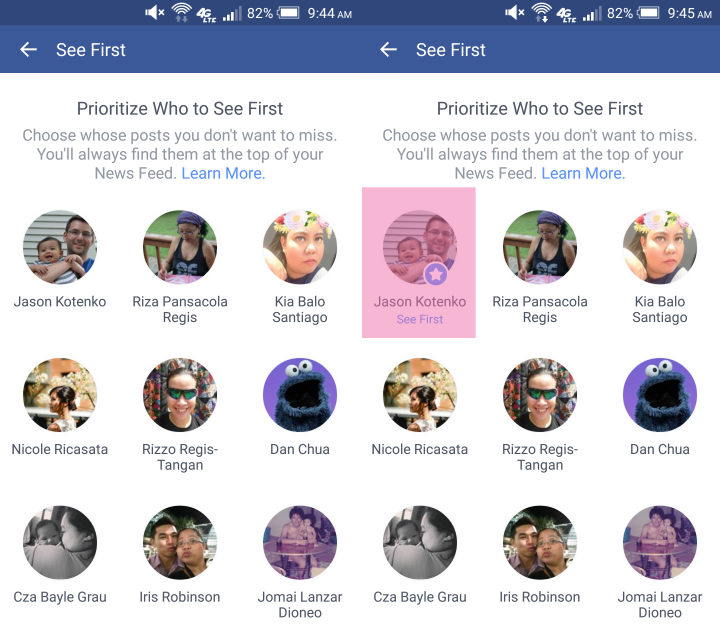 You can also prioritize seeing certain friends by going directly to their Facebook profile pages, tapping on the  "Following" icon, and choosing "See First."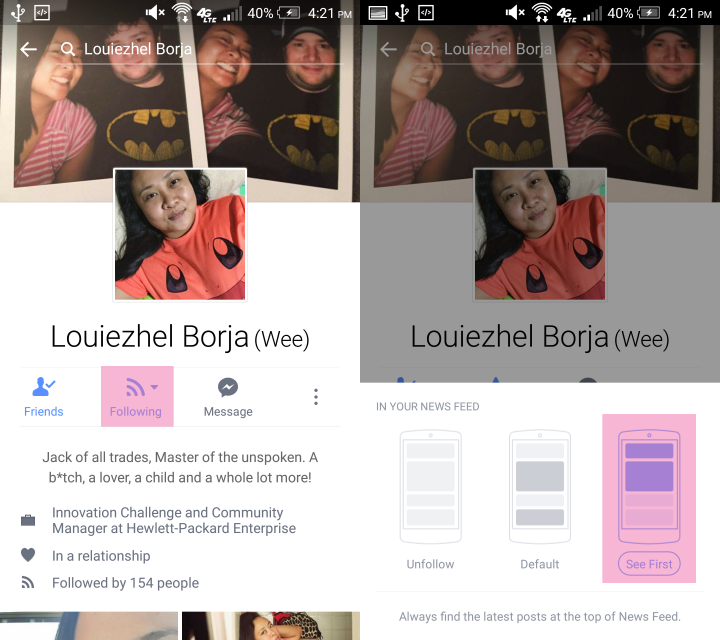 An important thing to note about the "prioritize" feature: You can only prioritize a maximum of 30 Facebook friends, so choose wisely.
Conduct a quick Facebook friendship survey.
What your Facebook contacts don't know won't hurt them, but will certainly benefit you in the form of a finely tuned News Feed. Feel free to unfriend anyone on your list that fulfills any or all of the following conditions:
You haven't talked in the last six months and you don't really have any desire to initiate contact any time soon
He or she is an older relative that mostly writes inappropriate comments on your posts
He uses Facebook primarily for reasons you don't deem acceptable, i.e. cyber bullying, racism, sexism, and/or annoying Facebook games
He or she is an ex who is solely on your list so you can occasionally compare your lives with theirs (or you know, stalk them)
A colleague you're not comfortable enough to have drinks with or hang out with outside of work
Anyone who added you on the guise of keeping in touch, only to recruit you in their pyramid scheme
You don't remember who the hell they are, where and when you met, or how they ended up on your Facebook friends list
If their posts bore you to death
The old adage applies to Facebook friendships: If you (don't necessarily) love someone, set them free. If they come back (and request to be added as friend again), they're yours (to add back, if you want); if they don't, they never were (worth keeping in your friends list).
As previously said, your News Feed is for your benefit and should only contain updates that matter to you. If anyone would like to keep in touch with you, they can either follow you or re-request to be added as a Facebook friend again.
If you don't have the heart to pull the "unfriend" trigger on anyone just yet, consider hiding or unfollowing, which we'll discuss next.
2. Be generous with the Hide and Unfollow buttons
Hiding or unfollowing is a great way to stop seeing posts from certain pages or people without unfriending them. Your friends list count will remain the same, but your News Feed will be a bit tidier and more relevant. Additionally, you avoid the drama that comes with unfriending because they will never know that you hid or unfollowed them.
First, let's discuss the merits of unfollowing.
Back when Facebook was brand-new, it was hilarious to Like pages such as "it rough" because it generates a pretty funny notification. These days, however, it only makes it harder for you to access pages that are useful to you on a daily basis. Similarly, if you Liked pages of certain public figures you don't genuinely like but only did to keep track of the ridiculous stuff that goes on in their Facebook profiles, not only does it make you seem like a person other people might want to hide or unfollow, but it also inundates your News Feed with updates that will eventually piss you off.
There are multiple ways to unfollow people or pages.
You can re-visit "News Feed Preferences" and tap on "Unfollow people to hide their posts."
Again, you will find a list of people and pages you would like to unfollow, along with the number of stories they've posted. Doing so will stop their posts from showing up in your News Feed but will not remove them from your friends list or Likes. The word "Unfollowed" should appear underneath their profile photo.
If you change your mind and would like to reconnect, you can always access the people you've unfollowed through News Feed Preferences. Furthermore, you can also follow pages that match your interests. They are organized by category, so you can hone in on a specific type of content you'd like to see more on your News Feed.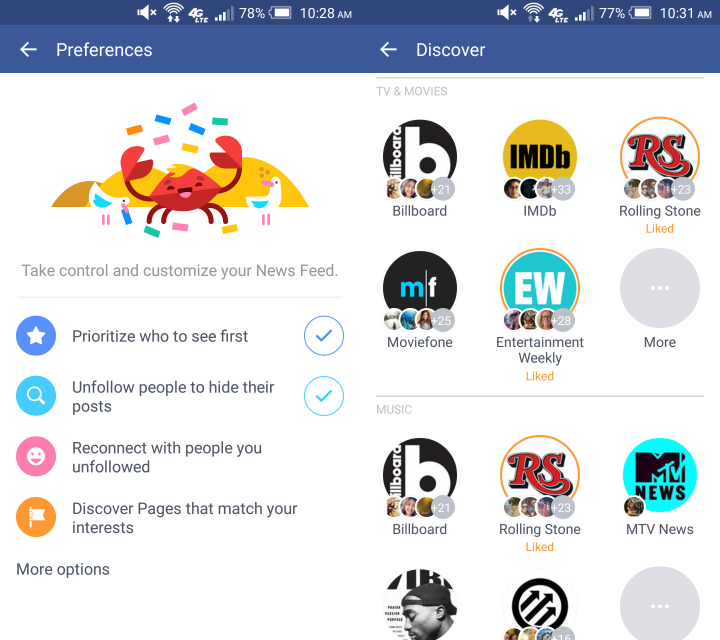 You can also unfollow people or pages by doing so directly on your news feed.
If you chance upon a person or page you'd like to see less of, tap the tiny dropdown arrow on the upper-right corner of the post then choose "Unfollow" to stop seeing their posts. (You can also choose "Hide post" if you don't want to unfollow yet, but would like to see less from them.)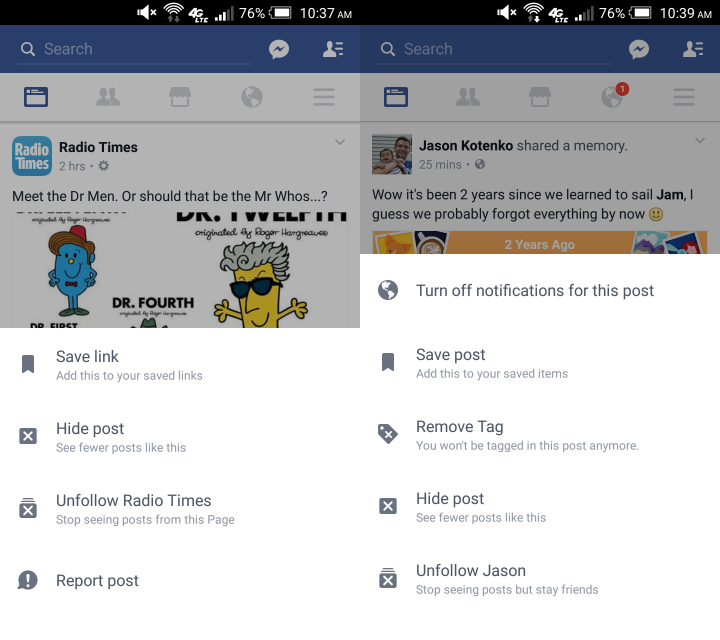 Unfollowing people or pages will make them appear less on your News Feed, but will remain your contact or one of Likes, respectively.
Lastly, you can unfollow people or pages by going directly to their Facebook profile.
By default, you "follow" all your Facebook friends, but you can modify the setting by clicking on their names when they show up on your News Feed or by searching for their profile on the search bar. Once you are on their page, you will see a "Following" icon. Tap it and choose "Unfollow." Unfollowing this way will allow you to stay Friends on Facebook.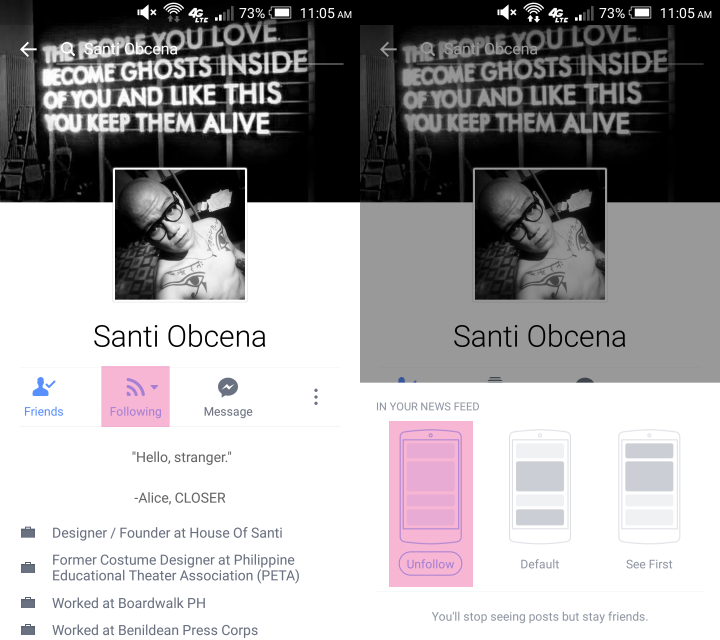 For pages, however, the only way to unfollow directly through their Facebook profile is by simply tapping Like. When it goes back to being gray as opposed to being blue, you'll know you've stopped following that page. Note that unfollowing pages this way will permanently remove said page from your list of Liked pages.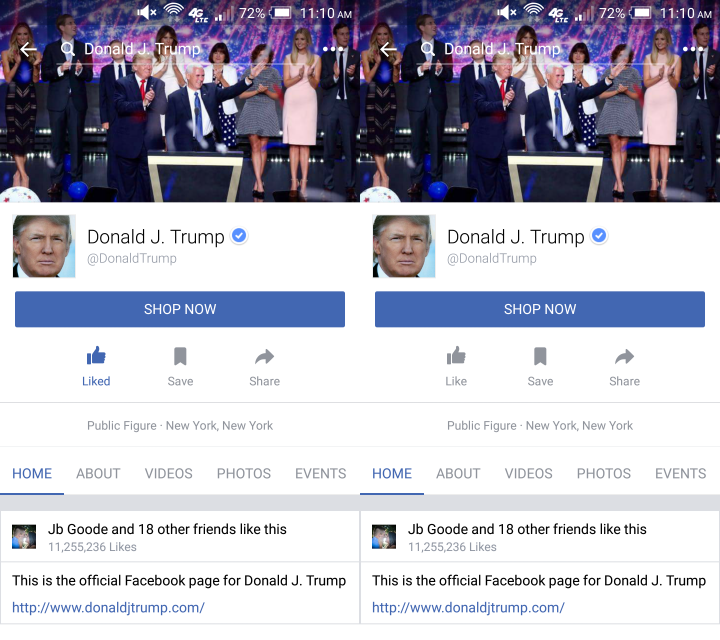 3. Categorize people and pages you follow according to lists
Your News Feed is a constant stream of random information by nature, but it doesn't have to be. Keeping your contacts organized into lists can certainly provide you with a sense of order and make your Facebook browsing a less stressful experience.
There's a way to view posts according to list, but before we get to that, let's first learn how to start populating lists that are already available to you.
Assign contacts to a list.
Go to your friend's profile page and tap on the left-most icon, "Friends." Choose "Edit Friend List."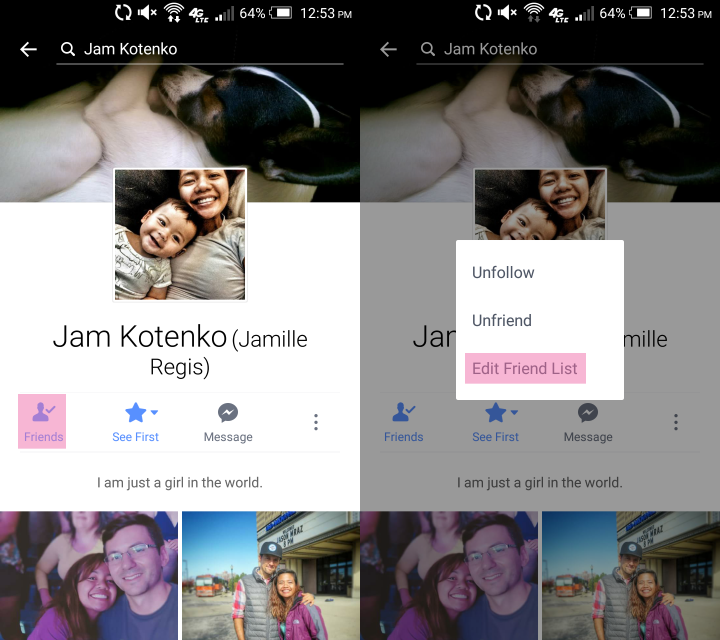 This should bring up a couple of lists that are already saved on your Facebook account – select the ones you'd like your friend to be filed under. Some of them are there by default:
Close Friends is essentially where you place the people you've prioritized earlier in this how-to. Why? Because by default, you will receive notifications on your Facebook app every time contacts in this list post anything. You can turn this option off any time by tapping on the Settings icon and scrolling down to Account Settings. Tap on Notifications, Close Friends activity, then uncheck "Get notifications."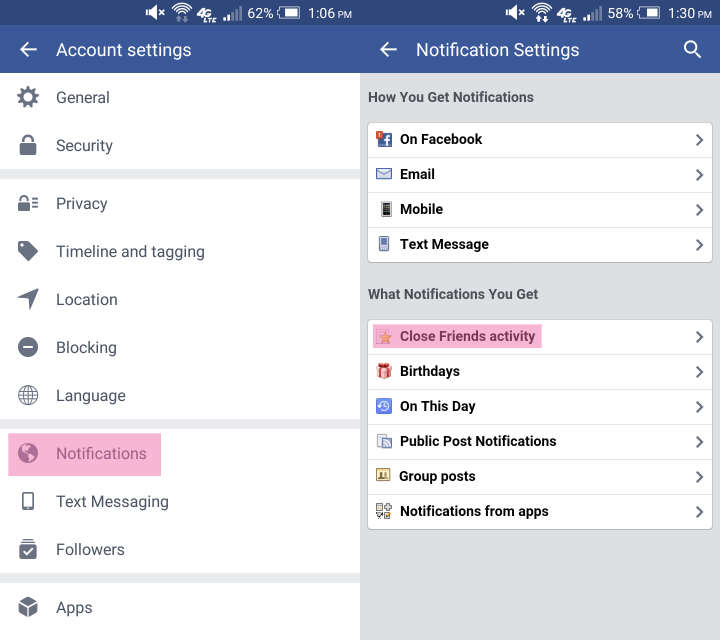 Acquaintances are for Facebook contacts you don't mind not hearing from on the regular. This is the perfect place for those people you've unfollowed but didn't unfriend. Anybody placed in this list will supposedly appear less on your News Feed.
Restricted is for people you want to have limited access to your posts without unfriending them. Contacts on this list will only see posts that you put on Public view and will protect everything else. This is a safe space for colleagues and bosses to be placed in. (That way, they don't see your vacation photos taken when you should be "sick.")
Others are "smart lists" that are generated based on details you've provided in your account, like where you went to school, where you worked, and where you've lived, among other things. Facebook automatically places contacts with whom you share similar details in their respective lists.
Make sure you've filled out the Work, Education, Current City, and Hometown in your profile's details to activate these smart lists. Visit your profile page and tap "Add Details About You."
There's also an additional Family smart list that lets you keep your relatives' updates all in one place.
Create custom lists.
Filing your friends into the available default and smart lists should be enough to get your social network in order, but since your News Feed mixes your actual friends with pages that you follow, creating customized lists might be a helpful extra step that will let you peruse posts in smaller, digestible groups.
Right now, there doesn't seem to be a way to create a custom list via the Facebook app, but once you do a few through your computer, you will be able to access them on your phone, along with the rest of your feeds. To create a new list on your desktop, scroll down the left-side navigation of your News Feed until you find the "Friends" section. Hover on it and click "More." Click "Create List." Name your list something that will describe the people and/or pages you will add to it. (Remember that you can add or remove people from lists at any time, so feel free to leave the "Members" field blank. Pages, on the other hand, should be added into lists while you're on your computer.) Click "Create."
Once a custom list is created, it will show up every time you click "Edit Friend List" on any of your Facebook contacts, either on your computer or your phone's Facebook app. Custom lists are especially useful when you want a quick and easy way to isolate updates specifically posted by your favorite brands, the news publications that you regularly read, or the celebrities that you follow, to name some.
Pro tip: Once you put a page on a custom list, the next time you see their posts on your feed, you can unfollow them so they don't clog up your News Feed. You can always check their posts through your custom list any time you want. For example, if you follow too many pages that post recipe videos, it'll be easier to just add them all to a list (while on your computer) then unfollow them on your News Feed (while on your computer or your phone).
View posts according to list.
Now that you've learned about the different lists and how to add people and pages to them, the next step is to figure out how to actually use them.
Through your computer, you can add lists to Favorites to have instant access to them. This will essentially create a shortcut of sorts on top of your News Feed sidebar that will let you see only posts of people or pages that are in said list.
To do this, access all your lists by again finding Friends and hovering on More (or use this link). Hover on the list you'd like to create a shortcut for and click on the gear icon. Choose "Add to Favorites."
Any list you've put in Favorites should be easily seen at the very top of your left-side navigation, along with News Feed, Ads Manager, Messages, and Events. On your mobile app, lists under Favorites will show up after Groups. Just tap on the list name to view posts from people and pages under that list.
You can also view all your lists by scrolling down your app's Settings until you get to "Feeds." Tap "See All" to view all your lists, led by a default feed entitled, "Most Recent."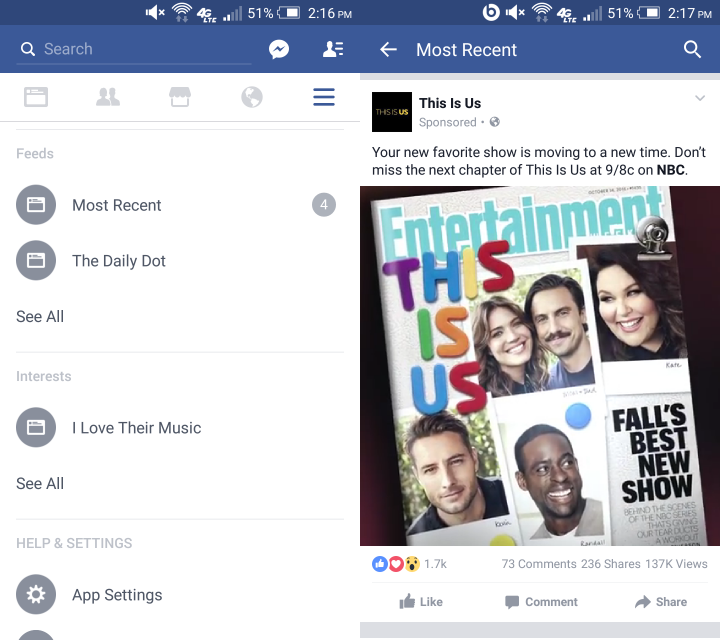 4. Define the type of ads you don't mind seeing
There's no escaping ads on Facebook – that's just the way it goes. You do, however, have the option of specifying just what kind of ads you see.
Go through your Ads settings.
First, let's do it the manual way. Go to Account Settings and tap "Ads."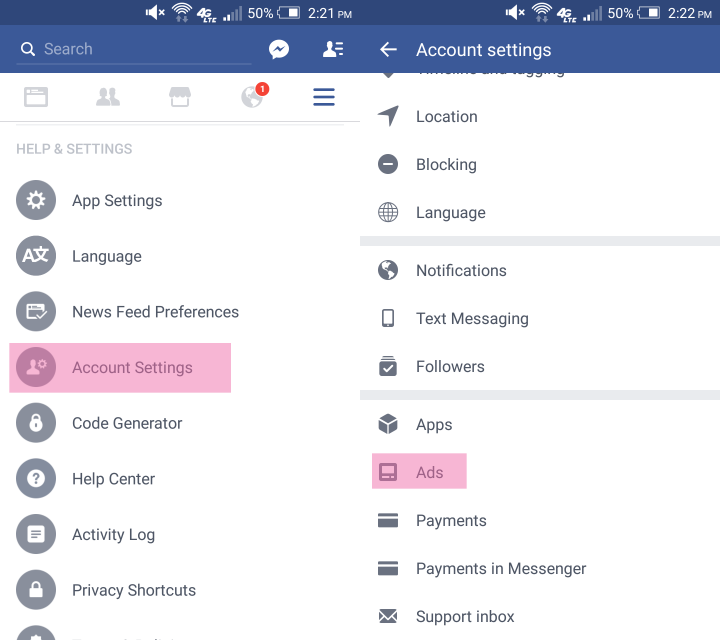 There are a few settings on there that you'll have to go through to make seeing ads on your News Feed a less annoying fact. Each one provides a quick explanation of how changing the setting affects how you see ads, but to save some time, just say "Yes" to the first two. (It won't lessen the ads that you see, but it will at least keep them relevant to you.) As for ads connected to your social actions, pick "only with friends" if you don't mind people seeing ads based on actions you take, such as liking a page or sharing a post.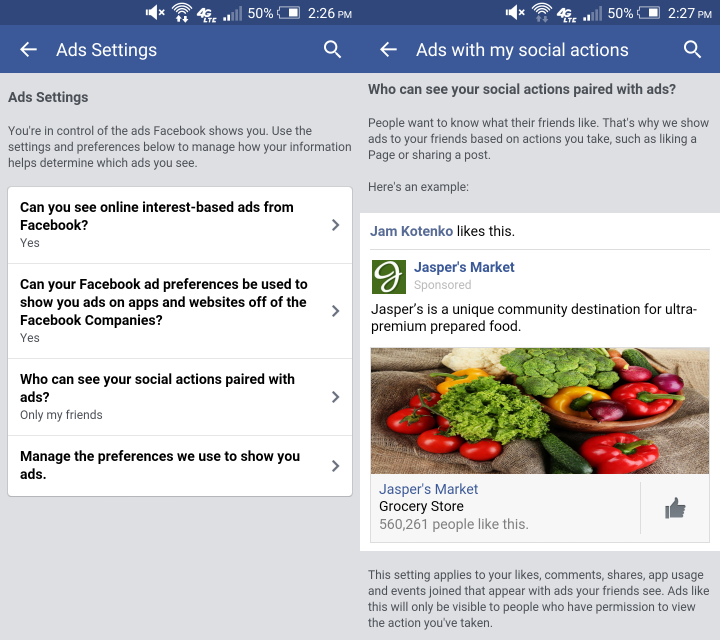 Finally, go to "Manage the preferences we use to show you ads" and tap "Visit Ad Preferences." Under "Interests," tap "More" to see all the categories your interests fall under.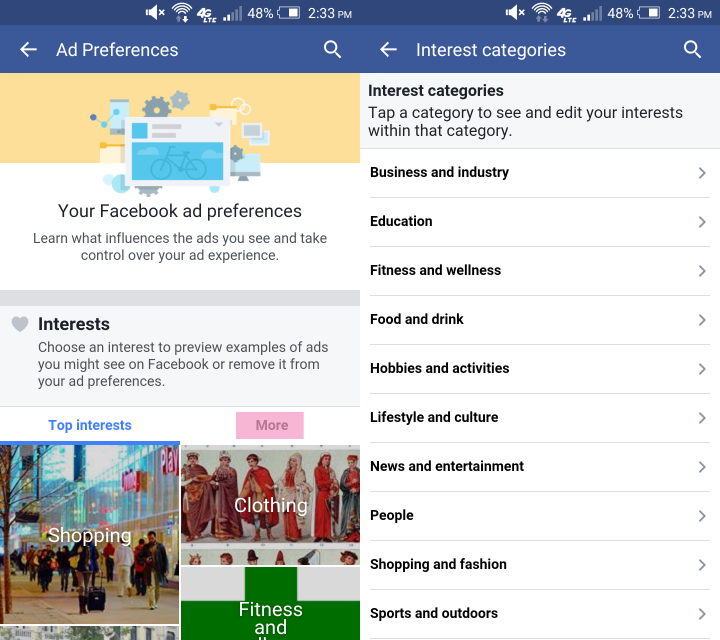 Explore the categories by tapping each and every one. Under a category, click on a preference to see example ads; If you don't like what you see, remove the preference by clicking on the sad face or by choosing Remove in the preference page.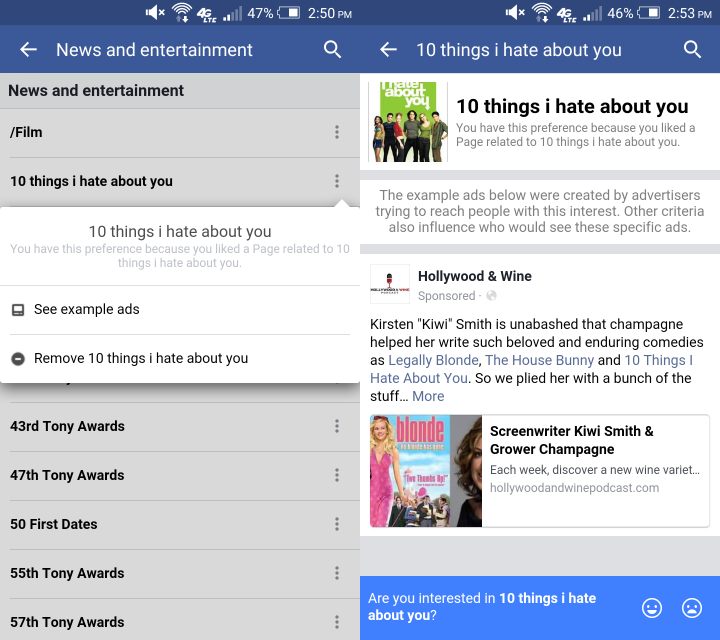 Block ads as you go.
If all that is too much for you, then just block ads that aren't relevant to your interests on the fly. If you chance upon an ad (which will usually show up as a Sponsored post) you don't like while perusing your News Feed, just tap on the dropdown arrow on the top-right corner of the post and click "Hide ad." It will replace the ad with "Why don't you want to see this?" Make sure you tap it and choose a reason to fine-tune your ad experience.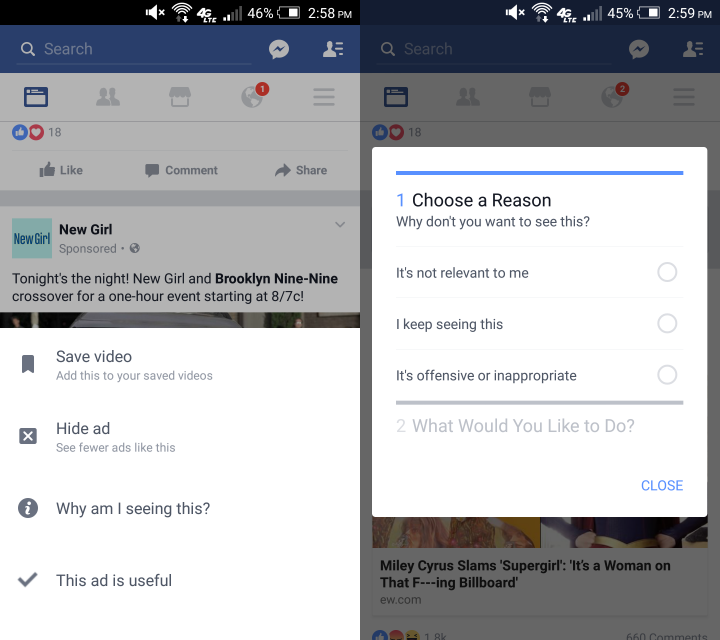 If you like the ad, feel free to tap "This ad is useful" instead.
5. Figure out a News Feed view that works for you
There are actually two ways you can view posts on your News Feed on your computer. By default, it shows the most popular stories first ("Top Stories"). If you'd like to view updates as people post them, you can by clicking on the dropdown arrow next to News Feed in the left-side navigation and selecting "Most Recent."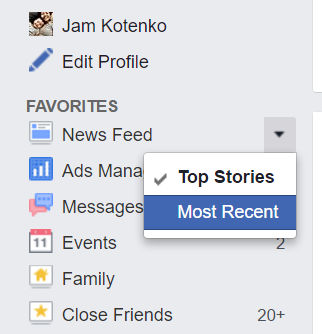 You can always switch back to Top Stories view by clicking "Back to top stories" or choosing it through the dropdown arrow next to News Feed.
Currently, there doesn't seem to be a way to switch between Top Stories and Most Recent view on the Facebook app, but you can always check "Most Recent" under Feeds if you'd like a change of post pace. (See section above for Lists.)
6. Control your notifications
If you only have a limited amount of Facebook time to spare, utilizing your notifications is an efficient way of checking in on your contacts and pages. You can turn them on for your most important friends, as well as pages you'd like to always keep tabs on.
To turn notifications on for a page, go to its main profile and tap the three-dot icon on the upper-right corner of the screen. Tap "Notifications." Specify the types of notifications you'd like to receive from the page.
To turn notifications on for a person, you'd have to be on your computer to do so. Hover a friend's name in your News Feed, then hover over "Friends" so you can check "Get Notifications."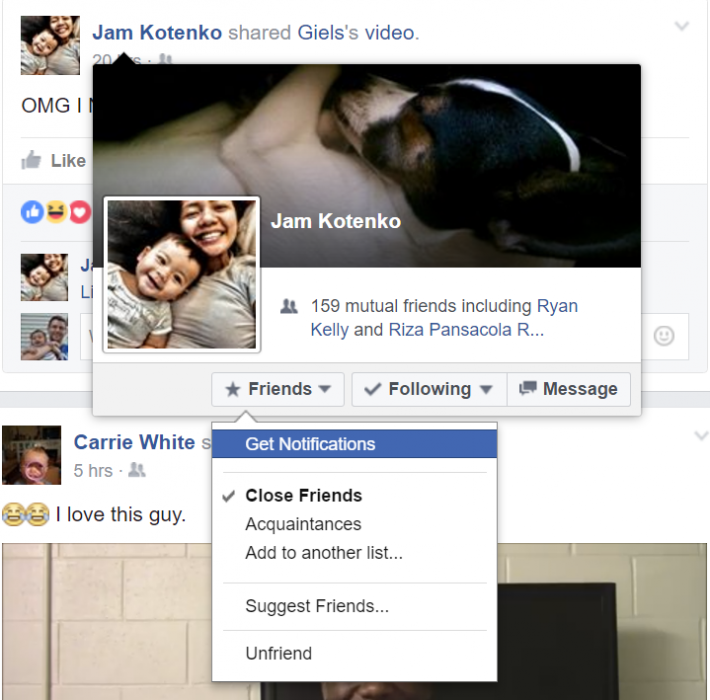 You can always turn notifications about a friend off by clicking on the dropdown arrow next to one of their notifications and choosing the option.