How to copy iOS 8's Continuity Using Windows Phone 8.1 and Windows 8.1
When Microsoft announced and launched the original version of Windows Phone, industry insiders had no idea that the operating system would inspire changes across the entire company. It was Windows Phone that brought the flat colorful tiles and gradient-less interface to the masses. It was Windows Phone that first included effortless cloud syncing with SkyDrive. Windows Phone has had such an impact on Microsoft's software and services that the team in charge of creating Windows Phone now oversees the team that manages Windows.
As of late, the synergy between Windows and Windows Phone has started to show some very unique results. Today, Windows Phone 8.1 and Windows 8.1 users can have their Internet Explorer favorites, passwords and accent colors sync across their phone, tablet and desktop PC. Additionally both operating systems allow users to purchase an app once and download it on a desktop, laptop or tablet.
This week Apple stepped into the syncing fold. Its iOS 8 and OS x Yosemite operating systems will let not just users work across multiple devices. It'll also let a user's Mac and iPhone work together to make sure that a user is receiving their text messages and only ignoring the phone calls they mean to.
Read: 51 Cool iOS8 Features 
Windows Phone and Windows users can't replicate the calling and texting features of iOS 8 and OS X Yosemite, but they can integrate more closely. Here's how to copy some of iOS 8's Continuity features on Windows Phone 8.1 and Windows 8.1.
Editing Documents & Spreadsheets Without Transferring Them
One of the features Apple showed off was the ability to start working on a document on an iPad or iPhone and finish it on a tablet.
That experience is pretty easy to replicate in Microsoft's ecosystem if you have the right software: Office 365 or Office 2013. Essentially, they're the same thing, and by default Microsoft enables OneDrive integration so that users can upload new files created in Office 2013 directly to the cloud.
Open a file in its respect Office 2013 app. We're using Word. Now tap or click on File.
Now tap or click on Save in the menu on the right hand side. Any other computer that you open up Word 2013 in will reveal the document you just saved. Additionally, that document will also surface on your Windows Phone 8 or Windows Phone 8.1 device by going to the Office app.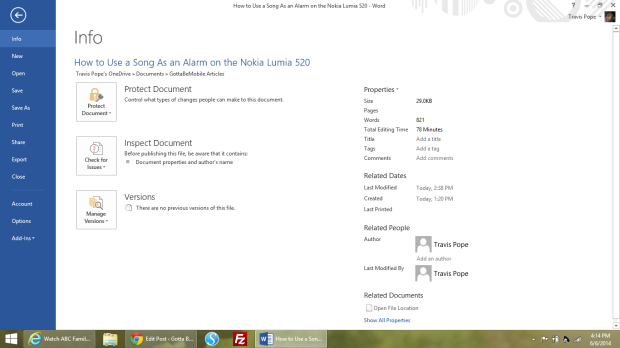 While OneDrive is only built into the latest version of Office, users can avoid the cost of upgrading by using Microsoft's Office Online Web Apps. Saving documents and spreadsheets there will also surface those same documents in the mobile versions of Office.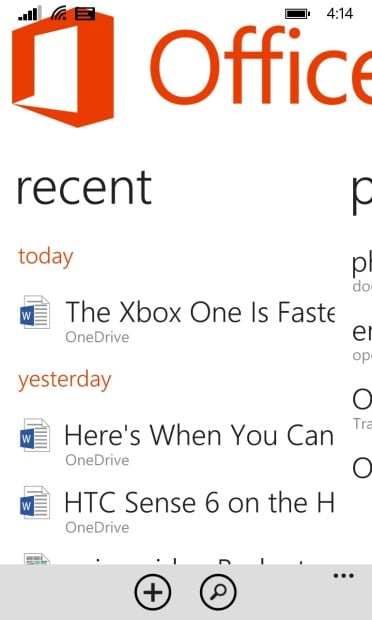 Continue Browsing the Same Sites
Both Windows Phone 8.1 and Windows 8.1 share Internet Explore favorites, as one might expect from any modern ecosystem. What most users haven't realized yet is that Windows 8.1 also enables tab syncing across devices. This allows users to open up the website they were last browsing and pick up where they left off on their Windows Phone device.
Using the Windows Store version of Internet Explorer on your Windows 8.1 device, browse to a website. In this case we're browsing to Bing.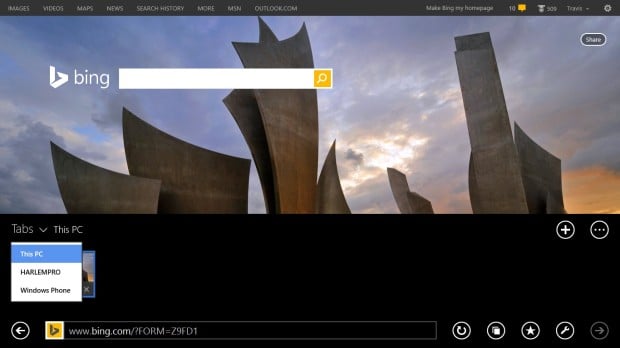 Now pick up your Windows Phone 8.1 device or other Windows 8.1 tablet, desktop or laptop and open Internet Explorer.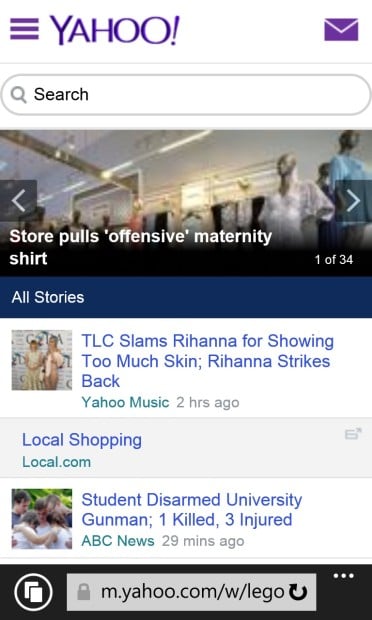 Tap the Tabs button just to right or left of the address bar.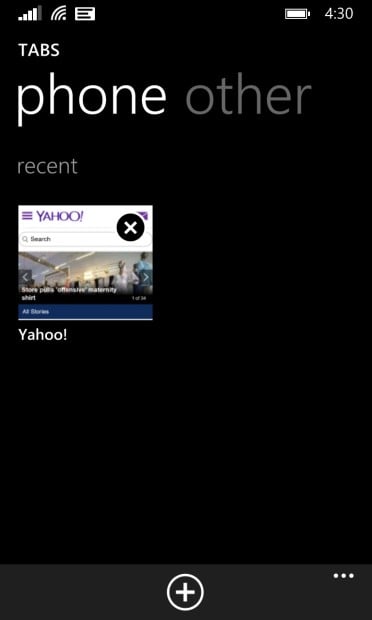 Now swipe to the right to reveal the websites you have open on your other devices.
Syncing Text Messages and Phone Calls
There's no denying that Apple's adding the ability for the Mac and iPhone to work together and manage messages and phone calls caught everyone by surprise. It's not just a cheap parlor trick or a thing that users might love but never use. Instead, it's the closest Apple has come to solving a real world problem since the introduction of the iPad.
Microsoft has no feature like this for its devices, no first-party way of integrating different kinds of communications without some set up work. Instead, what Microsoft offers is Skype. More specifically, Windows Phone 8.1 and Windows 8.1 users can pay for a Skype Premium account and pair it with a phone number to send and receive text messages and phone calls wherever they are. It's not ideal, but it is possible.
A Skype Premium Account costs $2.99 in the United States. When paired with a Skype number users will be able to call you wherever you are. Unfortunately, sending and receiving text messages isn't nearly as simple through Skype. You'll have to pay for each text message you send or receive. Today each message will cost you $.11.
The Skype app is included on every Windows 8.1 device. Windows Phone users will need to download it from the Windows Phone Store. Skype is also available on the Xbox One.
Again, none of these solutions are perfect. That being said, they are a way to reap some of the benefits that iPhone and Mac users can expect when iOS 8 and Mac OS X Yosemite debut this fall. Hopefully by then Microsoft will have more to share on its integration plans for Windows and Windows Phone.

As an Amazon Associate I earn from qualifying purchases.