How to Create a User Account on Mac
If you bought a Mac and plan to use it as a family computer, here's how to create a user account so that each family member can have their own.
While you could just use one user account that everyone logs into and uses, it's a lot better to have individual user accounts where each user has their own space to store their files and applications, rather than having to share space with other users.
It's especially handy to have different user accounts when there are a lot of family members in the household. Usually, sharing a user account between three people or so is fine, but anymore than that and individual user accounts simply just makes more sense.
It's also beneficial when each user has their own set of files that they want to store on the computer. Sometimes just having all of these files in one user account that people share can be okay, but if you have sensitive files that don't really need to be seen by anyone else, having your own user account is a good way to keep it all to yourself.
Read: How to Create a Guest Account on Mac
Plus, if you're a parent, you can enable parental controls on certain user accounts, by restricting what websites they can visit and restricting how long they can spend on the computer in the first place.
If having multiple user accounts is something that you're interested in, here's how to create a user account on Mac.
Creating User Accounts on Mac
In OS X, it's actually really easy to create a user account and customize its options. Just follow these simple steps.
Open up System Preferences from the dock or go up to the Apple logo in the menu bar and select System Preferences from there. Then click on Users & Groups within the window that pops up.
If you have an admin password set up (which you mostly likely do), click on the padlock in the lower-left corner and enter in your admin password in order to begin make changes.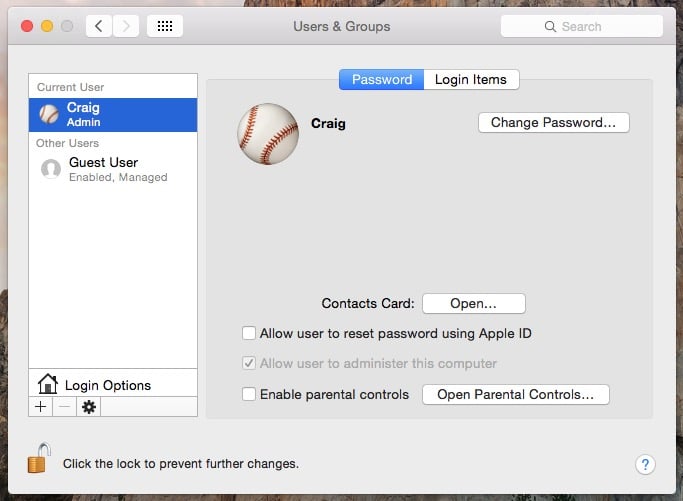 You should see that you have at least one user account and it's most likely your account as the admin. To add another user account, click on the small plus icon toward the bottom and a pop-up will appear that will allow you add in some details about the new user account.
Most of the time, you'll just want a Standard user account, but if you want one that's controlled by parental controls, be sure to click the drop-down menu and select Managed with Parental Controls.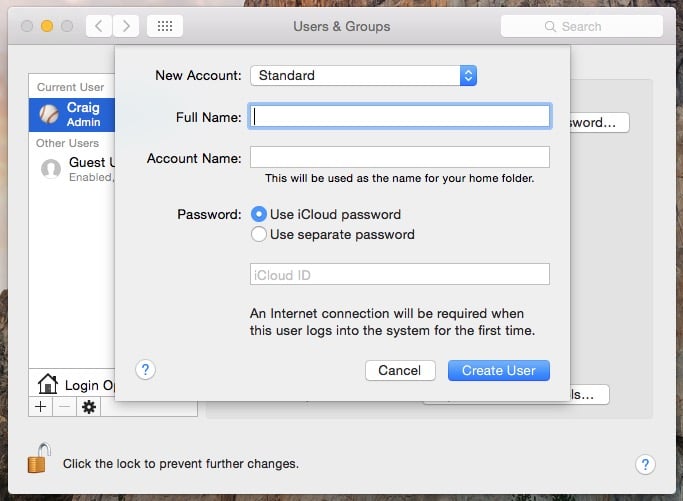 Then, enter in the name of the user, as well as an account name. After that, you can set a password for that user account, either by using that user's iCloud password or creating an all-new password specifically for logging into that account.
After you're done, click Create User to finalize the creation process of that user account. From there, you can select the user account and then click Open Parental Controls to manage those settings for that user account.
Parental controls are great to have if you have kids, as it keeps them safe when they're browsing the internet, and it also keeps them from spending spending all of their time on the computer, especially if they have homework to get done.
With parental controls, you can adjust a while bunch of settings and set up a handful of different restrictions. For instance, you can set which applications users can and cannot access, as well as create a list of websites to block when they access the internet. You can also let Apple try to block all of the inappropriate websites automatically.
Furthermore, you can even set time limits as far as how much time they spend on the computer. You can adjust it so that they can only get on the computer during set hours and only have a certain number of minutes that they can use.
You can also block or limit other random features of OS X, like disabling the front-facing camera, blocking dictation, and preventing them from burning CDs and DVDs. You can also hide profane words in the dictionary and limit printer access, which can restrict kids from changing printer settings and risk messing something up.