How to Customize the Mac Notification Center
Introduced with OS X Mountain Lion in 2012, the Notification Center quickly became a big feature for Mac users. Here's how to customize it and get the most out of it.
The Mac Notification Center can be accessed by clicking the Notification Center icon up in the very top-right corner of the screen. This will pop out the Notification Center. There are two sections in Notification Center: Notifications and Today.
Notifications will obviously consist of any notifications that you receive, and you can customize which apps give you notifications and which ones don't. As far as the Today section, it includes any widgets that you want quickly accessible when you open up Notification Center. You can display the weather, world clocks, reminders, upcoming events, and much more.
If you're looking to get the most out of your Mac's Notification Center, here's how to customize it to make it your very own.
Customize Notifications
To customize which apps you receive notifications for and what apps you have silenced, you can do so in System Preferences and clicking on Notifications.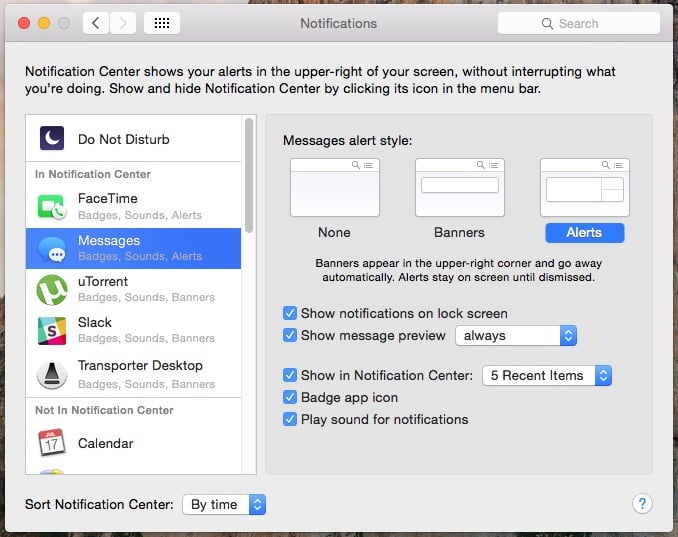 It's very similar to how it works in iOS 8, but you can simply choose which apps have notifications enabled and which apps don't by clicking and dragging apps into the two different sections in the left-hand sidebar.
Personally, I only have notifications enabled for a small handful of apps, simply because I don't like receiving a bunch of notifications all the time, but you might be one who thrives on them, so customize your apps accordingly.
Customize Widgets
In the Today section in the Notification Center, you'll see that you can add widgets for quick access to a variety of information. To add widgets to this section, just follow these simple steps:
Click on the Notification Center icon all the way in the upper-right corner of the screen in the menu bar. This opens up Notification Center.
Click on the Today tab if it isn't there already and then click Edit down at the bottom.
One the right-hand side, there will be a list of widgets that you can add. Simply click the small green button to the right of a widget to add it to the Notification Center.
Click Done at the bottom to save the changes.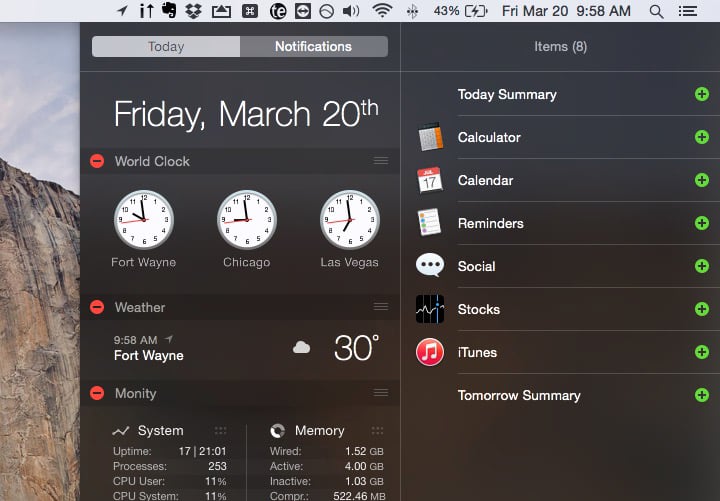 To remove a widget, all you have to is go back into Edit and then click the small red button next to the widget that you want to delete.
A word of caution, though: Widgets can decrease performance and have a noticeable effect if you have an older and slower Mac, so be aware of this as you add widgets. It might be a good idea to disable all widgets entirely if you're seeing a performance decrease.
Disable Notification Center Altogether
For some users, the Notification Center in OS X is great, but for other users, it's simply never used. If you're never going to use it, then why have it running in the background taking up resources?
In fact, you can disable the Notification Center altogether. Just follow these simple steps:
Open up the Terminal app in Applications > Utilities.
Copy and paste this command into the Terminal window and press Enter: launchctl unload -w /System/Library/LaunchAgents/

com.apple.notificationcenterui.plist

Next, paste this command into Terminal and press Enter: killall NotificationCenter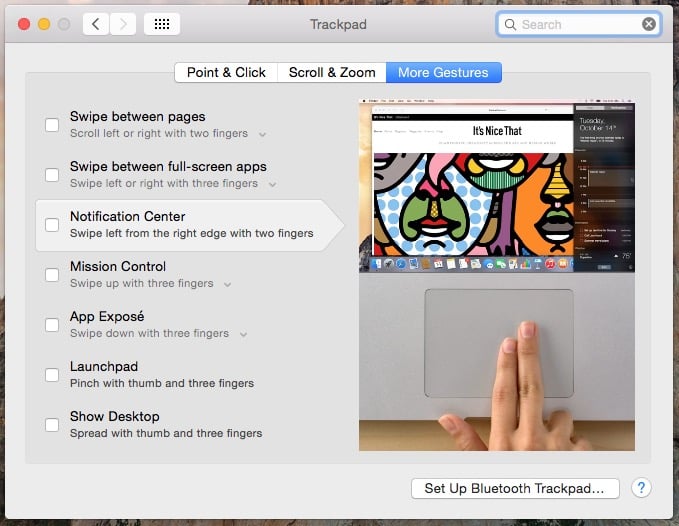 Notification Center will officially be gone and the little icon will disappear from the menu bar. However, when you two-finger swipe from the right side, it'll still bring up a gray space marking where Notification Center used to be. To disable this swipe gesture, follow these steps:
Open up System Preferences and click on Trackpad.
Click on the More Gestures tab and uncheck Notification Center.

As an Amazon Associate I earn from qualifying purchases.