How to Customize the Notification Center in iOS 10
Here is a guide to better understand and customize your notifications in Notification Center in iOS 10. When we receive an update from any application, such as an incoming iMessage, an email or a Game Center update, there are different ways these can appear on our iPhone screen.
There are certain type of notifications that we may want to be privy to, yet some we don't need front and center during our normal daily usage. There are ways that we can customize how we receive our notifications with a little tinkering in settings to customize your iPhone to your needs.
How to Customize Notification Center in iOS 10
Here is a guide on how to customize your notifications further in iOS 10.
Watch the above video for more information on how to further customize how you receive notifications in iOS 10.
Customizing Notification Center
When we receive notifications on our iPhone screens, there are a few different ways they can appear. We can receive a banner at the top of the screen, have an alert that requires action appear over the screen or have nothing at all and just a sound or vibration.
In order to customize these, navigate to the Settings > Notification Center. Here you will see all of your applications that are currently installed, as well as their current notification types that are enabled. For example, App Store may have Badges, Banners enabled.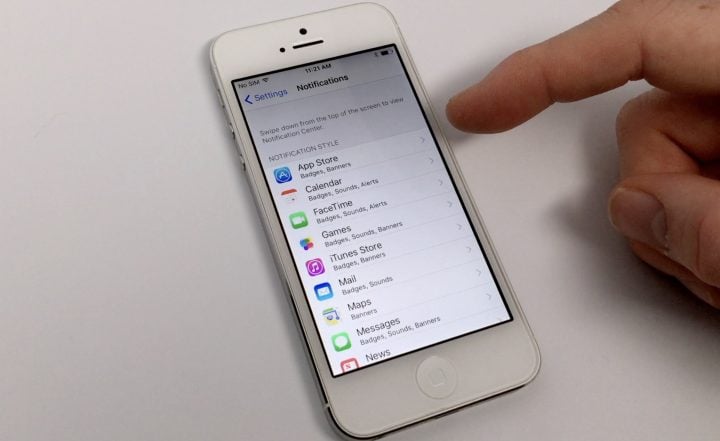 By tapping on each individual application, you are able to selectively choose how you are notified by them if at all. You will see a master Allow Notifications slider which will turn all notifications off or on for this app. Below that are the options for how it appears on your screen. You can select to Show in Notification Center, Badge App Icon and Show on Lock Screen.
Each of these options can be toggled to fit what you are looking to do with a given application. You then can lastly choose Alert Style. There will be a moving illustration for how these alerts appear and you can tap to choose which one you want to use.
Many applications have quite a few notifications to offer and this customization will allow you to not clog up your Notifications Center and actually be alerted by apps you frequently use. When you are satisfied with your selections for each App, you are ready to start receiving notifications in your newly configured Notification Center.
Notifications are meant to be current and it is a great rule of thumb to clear out notifications after addressing them. You can do this by swiping down to reveal Notification Center and tapping the X icon next to each notification. Or you can use 3D Touch to Clear All Notifications. Customizing this tool in iOS 10 will ensure that you have the most current information from your Apps as well as not wasting battery life or screen space with unnecessary notifications.