How to Customize the Windows 8.1 Lock Screen
The first thing that users who are new to Windows 8 are going to notice when they pick up their new device is how fast it starts up when compared to devices that ran Windows 7. The second thing they're going to realize is that Microsoft has made some huge changes to the way users log in to those devices.
In the days of Windows 7, what was then usually referred to as the login screen was sparse and mostly utilitarian in nature. Users simply clicked on their picture and username to login to their account, if the device had more than one user or if they'd locked it with a password. There were customization options available to users, and those Windows device makers who choose to change the login screen background often did a pretty awful job of choosing the specific picture for their users. In short, the log in screen until Windows 8 was more pit stop than destination. The lock screen wasn't awful, it just only did what users expected of it.
The lock screen in Windows 8, however, can be equipped with a picture of the users choosing, and if a singular picture isn't enough, users can also have their device cycle through photos loaded from Microsoft's OneDrive cloud storage service or from their device.
Notifications now feature prominently on the Start Screen as well. Users can assign different apps to surface relevant information there, even when they are not logged into their device.
Here's how to customize the Windows 8 lock screen to your liking, and make it more than a landing page that your device takes you to before you put in your password.
Before we begin, it's important that your device has the Windows 8.1 update installed. This is a free update that's available to users through the Windows Store. Go to the Start Screen, open the Store app and look for the "Install Windows 8.1" banner on the left side of your screen. If the banner is there then click on it and begin the hour-long installation process. If the banner isn't there then you already have Windows 8.1 installed on your device. You can customize the lock screen in Windows 8 before downloading the Windows 8.1 update, it'll just involve a different process than what's explained here.
Go to the Start Screen by pressing the Windows key on your keyboard or by pressing the Windows button near your device's touchscreen.
Mouse users should place their cursor in the top-right corner of their screen to open the Charms Bar. Touch users should place their finger on the right edge of their device's screen and swipe slightly to the right to reveal the Charms Bar. Tap or click on Settings.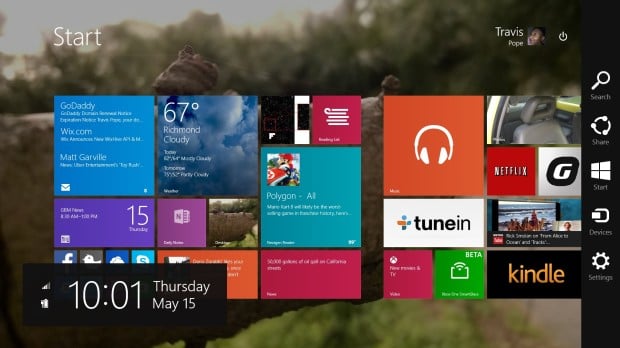 Tap or click on Change PC Settings.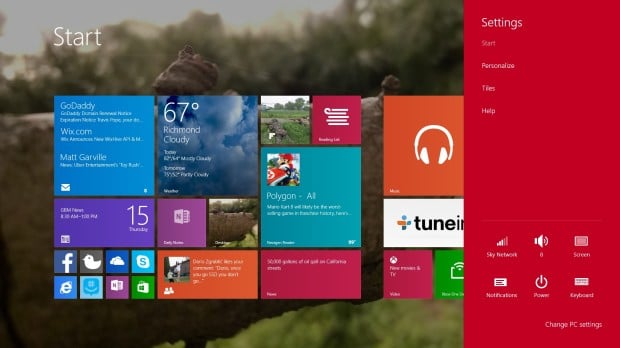 By default the Settings app presents users with a quick list of their Personalization settings. Tap or click on the lock screen option in the middle of your device's screen. In the above screenshot, it's the scenic picture with a lamppost and a sunset. Users who don't see this option should tap or click on PC and Devices.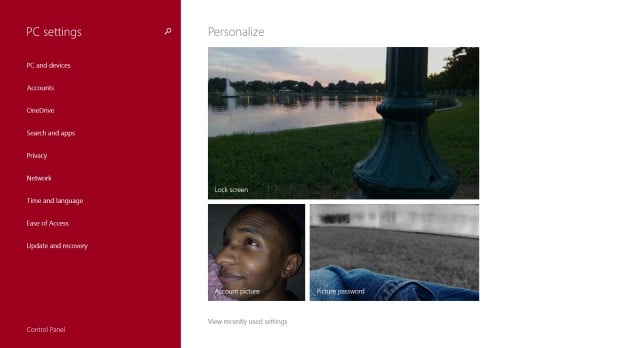 Welcome to the lock screen customization area. The top area showcases the last six pictures that have been used for your device's lock screen. You can choose either of these or find more pictures to choose from on your device by tapping or clicking on Browse.
Slideshow
Tap or click on the Play Slide Show switch to have your device scroll through your picture. You'll only see this slideshow if your device is locked.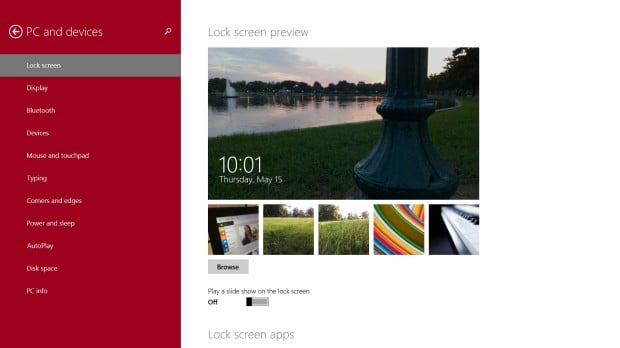 Most tablet buyers use the feature to turn their device into a sort of digital picture frame. By default this option will pull photos from the pictures area of your device and the Photos area on OneDrive. Use the different switches to customize how pictures surface and whether your device does a slideshow while running on battery power.
Lock screen apps
Before the slide show options there are the settings for lock screen apps. Essentially, locks screen apps run in the background on your device, which Windows Store apps aren't explicitly allowed to do unless you give them permission.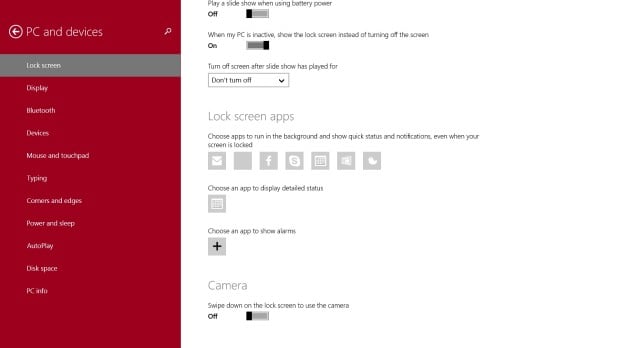 Tap or click on each square to assign an app's notifications to that particular square. In order for an app to run on the lock screen it must support some kind of updating functionality. For example, communication apps are usually what users choose to put on their lock screen because since they want to know about incoming messages by just glancing at their device.
Some apps can display a more detailed update on the lock screen. This is configured to be the Calendar app by default, but it can be changed.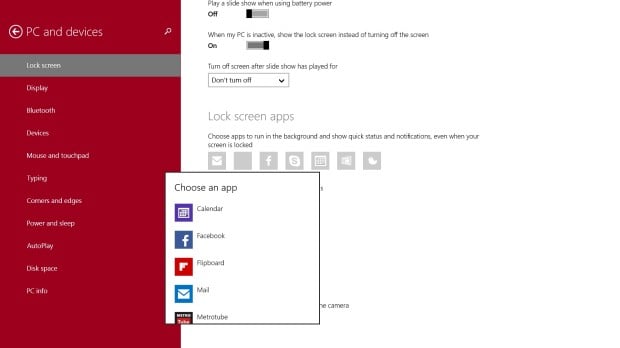 Finally, users can configure the default Alarm app in Windows 8 to run on the lock screen as well. Choosing the Alarm app will fill a slot in the seven default lock screen apps. Without the Alarms app added here, the Alarms app won't be able to set off notifications if an alarm is set.
That's it. It's very important to remember that choosing options here will automatically sync those same settings to any devices that you've also configured with the same Microsoft Account. Any change made here can be reversed by heading back into the lock screen settings menu in the control panel.

As an Amazon Associate I earn from qualifying purchases.