How to Delete the Free U2 Album From iTunes
This week along with the announcement of the all-new iPhone 6 and iPhone 6 Plus, Apple gave over 500 million iTunes users a free copy of the brand new U2 album Songs of Innocence. The problem isn't the free album, it's that Apple forced the entire album on everyone. Below we'll explain how to quickly delete or remove the free U2 album from iTunes or your iPhone.
U2 made a surprise appearance to sing a song off its new album, Songs of Innocence, live on stage and then everyone noticed it instantly on their smartphones, iTunes, or in their iCloud. Obviously users would rather choose to download it, over it being forced on them, and many users aren't too happy with the move.
Read: Verizon iPhone 6 Release Brings Early Upgrade Option
After tons of backlash all over Facebook and Twitter, this morning Apple has released a U2 Album removal tool to help users remove this unwanted album, and clear up some of that precious space for its users. Read on for all the details.
While U2 has millions of fans all around the world, not everyone wants their music on their device or iTunes, and didn't like that Apple did this automatically instead of offering a free download page or opt-in option. Instead it simply gave everyone the album without asking.
Users woke up to find the brand new U2 album on iTunes, iCloud, iPhones and even people with an old iPod received it free, without asking. Free things are nice, but not when they're forced on you. This has caused quite an uproar, not to mention most reviews of the new music has been mixed. Below are a few rather amusing reactions on Twitter from the free album, as well as instructions to quickly remove it if you wish.
https://twitter.com/_LetsReminisce/status/509614484877770752
#Apple and #U2 break another record: "Most deleted album of all time"!

— ℒÅℕℂℇ ➡️ #MVPSummit (@lancewmccarthy) September 15, 2014
and my favorite one so far
In other news, your ringtone has been changed to 'Beautiful Day' and Bono is now your friend on Facebook.

— Tom Bromley (@BromleyEsq) September 10, 2014
Whether you're a fan of U2 or not, you may want to save that precious space on your 16GB iPhone, or clear the room on iTunes for other music, and here's how to do it.
Instructions
After all the complaints and comments (like what we've shown above) Apple quickly made a move to make customers happy by releasing a removal tool. Even if you delete the songs from your iPhone, they're still on iTunes or iCloud. Thankfully though one quick click will remove it for good.
Simply start by heading to this U2 Removal tool page, then follow the instructions which will have users go to https://itunes.com/soi-remove.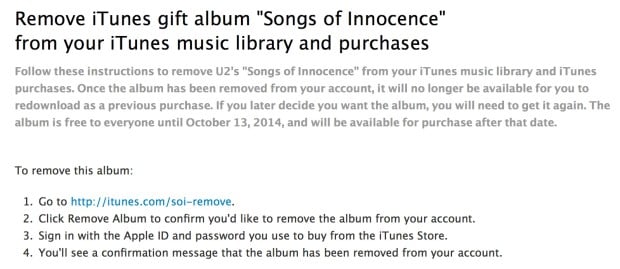 Hit Remove Album, and you'll be prompted to sign into your Apple account, which will be followed with a notification that you've successfully removed the U2 album from your account.
Apple also wants users to know that this is a free gift, and it will remain free (even if you remove it now) until October 13th, 2014. Users will not be able to redownload it as a "previous purchase" and if they want it later, they'll have to get it again. It will remain free until the 13th of October, and will be available to purchase after that date.
Also, if you downloaded the songs to iTunes on your Mac or PC or to the Music app on your iPhone, iPad, or iPod touch, you'll need to delete them manually.
Thankfully Apple provided this quick help guide, removal tool, and additional instructions and information to remove the free U2 album, as we've been hearing a lot of negative feedback from the move. With over a half a billion people owning the album in one day it's technically the biggest album launch in history, but we'll have to put an asterisk next to it in the record books.
Did you listen to the free music, or have you deleted it already? Let us know in the comments below.

This article may contain affiliate links. Click here for more details.