How to Delete Your Galaxy Note 5 Browser History
As we continue to use our smartphones more and more for anything and everything during daily life, privacy is becoming more important than ever. Samsung's new Galaxy Note 5 is the latest device to hit shelves, and many users will need to know how to do certain things. This quick guide will explain how to clear or delete your Galaxy Note 5 browser history from prying eyes.
The new Note 5 and Galaxy S6 Edge+ are very secure smartphones with lots of features, including a fingerprint scanner built into the home button for improved security. That may not be enough though. Browser history or form data is something many users will want to clear and erase. There are many different reasons a user may want to delete their internet browser or search history on a smartphone, and we're sure you have your reasons, so here we'll explain how to do so on the new Note 5.
Read: How to Reset a Frozen Galaxy Note 5
Most Android smartphones have more than one browser, which means users will need to clear or delete the history for the browser they use most often. Samsung's Note 5 has its own browser called "Internet" but by default most users will simply stick to using Google Chrome. As a result, we'll focus on Chrome in this how to, even though clearing Samsung's Internet browser history is almost exactly the same. Read on to learn how.
Users that are logged into a Google account, which we're assuming all are when you use Android, every website viewed or searched for will be saved and remembered. That is unless you have history turned off completely or are using an incognito tab or an incognito browser, which we'll mention again below.
Below we'll explain how to clear the browser history on the Samsung Galaxy Note 5. It's worth noting this doesn't clear the Google Search history, as that's something completely different. Clearing the history may be needed for an array of reasons.This could be regarding typical privacy concerns, so children or significant others can't see what was bought for a birthday on Amazon, or for other reasons we won't get into. Read on for the quick instructions.
Instructions
As we mentioned above the Note 5 has two browser out of the box, but here we'll be focusing on Google Chrome, as that's what everyone uses or should be using. The same steps essentially apply for the "Internet App" but are labeled slightly different but located in the same spot.
Open Google Chrome and in the navigation bar at the top users will see three dots, tap this, as this is the settings button. Tap the three dots, then select History.
Shown above are the steps a user will need to take to get to the browser history on the Galaxy Note 5. From here we have two choices. One thing I like about Google Chrome is users can hit the X on each viewing session one at a time. This means you can clear a specific search or website visit, rather than everything at once. This makes it so it doesn't look like a user is trying to hide their tracks.
Simply tap the X on each one and they'll disappear, and be completely deleted from the browser history forever. However, there is a much better method that clears everything at once. At the bottom tap "Clear Browsing Data" which will bring up a pop-up window with a few options.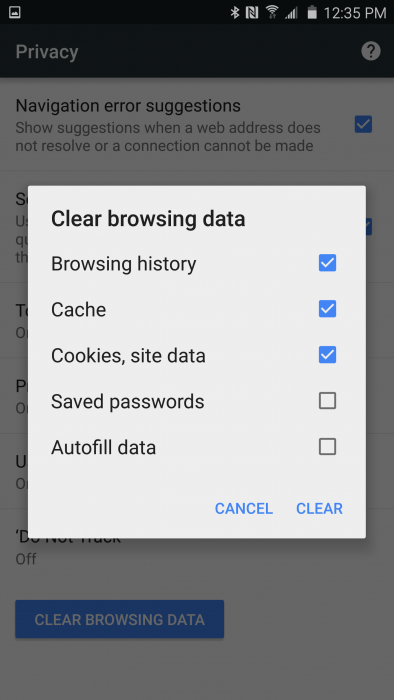 Don't clear everything here, as this can cause issues and more trouble than good. Most Note 5 owners will want to leave the three boxes checked, and that's all. Those being Browsing history, Cache, and Cookies. If you check Saved Passwords and AutoFill data than website login information and other things you've set to be remembered, will be deleted. Being able to go to Amazon.com and have the Note 5 remember my login info is nice, but if you select the last two boxes those will all be erased as well.
Choose what works best for you by checking each box, then simply hit "Clear" and it will erase everything. Depending on how often you do this it will take a few seconds, or up to a few minutes before completion.
Samsung's "Internet" browser is a bit more difficult. Hit More > Settings > Privacy > Delete Personal Data > and select the same boxes as Chrome.
Incognito Mode
Something called Incognito mode will prevent any of this from being a problem to begin with, as this mode simply doesn't save anything at all while users browse the web. On either browser hit the "More" or 3 dots button at the top and open an Incognito Browser Tab. During that session the browser won't remember or save any history, passwords, login, or track what you do. This is the safest route, and something many users should consider.
There are a few browsers on the Google Play Store that do this by default and will never remember any user data. Dolphin Zero is a good one, and the Opera Browser has a browser-wide privacy mode that can also be easily enabled in settings. I'd stick to the stock browser or Chrome, but everyone likes something different, and there's plenty to choose from on Android.
Keep what you do and view on your smartphone private by following the steps above. Incognito mode is a nice way to go, or just delete things as needed or necessary if the situation presents itself. Anyone with questions can leave a comment below.

As an Amazon Associate I earn from qualifying purchases.