How to Disable Auto Screen Rotation on Android
If you're like me, you've probably been laying in bed browsing Gotta Be Mobile or scanning through Twitter, and had to deal with and fight the battle of your phone or tablets screen rotating. This is actually a feature, believe it or not, and in settings there's an "auto-rotate screen" option that can be disabled.
While average users will probably head through setting and setup a phone within minutes of getting it, you wouldn't believe the amount of family members who've asked this very question. Why does my screen rotate? Or how can i disable the screen rotation feature? So, below you'll find the dead simple three or so taps you'll need to do in order to disable it, and even a quick video as well.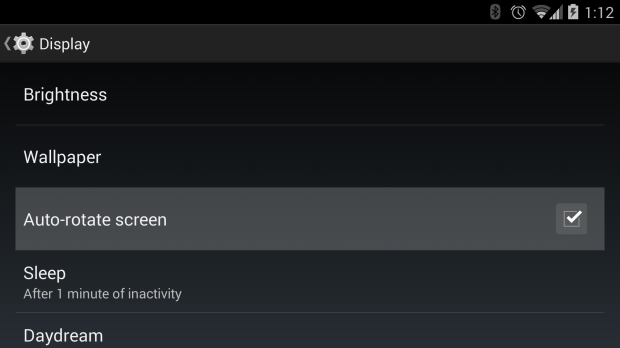 It gets really old when you're laying in bed and the display keeps switching to landscape mode, then you have to tilt it just a bit to get it back to the regular portrait view we're all use to using. While some will leave this feature enabled, many will just opt to uncheck it to make things easier in the long run.
Just a few quick and simple clicks, or taps of your finger in settings will completely disable this feature, and you'll be able to hold the phone any way you'd like and have the screen stay put.
Instructions:
It really is so simple you'll laugh that you had to Google for an answer. For those absolutely new to Android though, this will be extremely helpful. You'll want to head into settings. Whether that be by finding the gear shaped "settings" button in your app tray, or by tapping menu and heading into system settings on your phone. Alternatively, newer Android devices have a settings button in the pulldown bar from the top. Start with heading into settings.
Settings > Display > Auto-Rotate Screen (uncheck that box)
Okay, so maybe that was four clicks instead of three, but it's that simple and you're done. Now no matter if you're browsing the web, hanging out on the Facebook mobile app, or scanning through apps on the Google Play Store the screen will stay put, and never rotate when you don't want it to.
Alternatively there's widgets you can get from the Play Store that you can place on your homescreen for easy access to quickly enabling and disabling this feature in seconds, but heading to settings isn't that hard.
Read: How to Cut, Copy & Paste on Android
As promised, we also made a super quick video showing the same steps details above for those who'd rather watch for instructions than read them. It was recorded with Google Glass, but should get the job done.
That's it. Just as promised it only takes a few seconds and a couple of taps of your finger and you've now disabled the auto screen rotation feature that bothers hundreds of thousands of Android users. If it were up to me, this would be disabled out of the box, but then we'd be writing a how to enable guide instead of how to disable. To each his own.

As an Amazon Associate I earn from qualifying purchases.