How to Disable My Magazine on the Galaxy S5
The brand new Samsung Galaxy S5 is an impressive and powerful smartphone that is absolutely packed full of hardware and software features, but not everyone needs or wants all of them.
With a stunning camera, fingerprint sensor, heart rate monitor, tons of S-Health apps for fitness and all those motion controls, the Galaxy S5 has a lot of features. One in particular is the My Magazine app (basically Flipboard) that completely takes over an entire aspect of your smartphone.
Read: Galaxy S5 vs. LG G3: 5 Things You Should Know
The Galaxy S5 has plenty of homescreens for owners to add apps and widgets, but one swipe to the left from your main screen and things end. You're greeted with a massive full-screen "My Magazine" that takes over the entire device. Below we'll explain what it does, and how you can disable My Magazine on the Galaxy S5.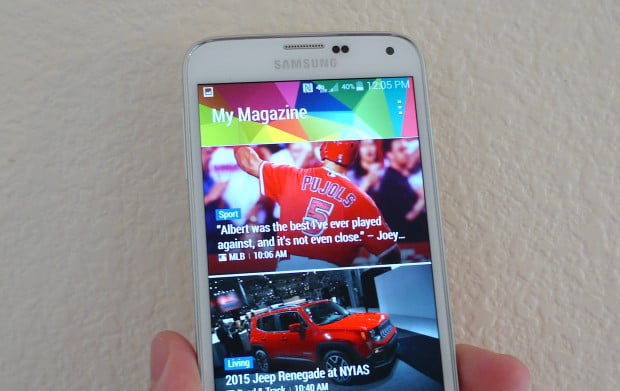 Much like HTC Blinkfeed this serves a purpose. My Magazine is highly customizable and allows the user to get tons of content front and center right on the device. Whether that's news alerts, sports scores and highlights, business, art and beautiful photos or wallpapers, and even social alerts. Everything can be customized, and that includes Facebook, Twitter, and tons of other social networks.
While it's a great news and content aggregation tool, we've received a lot of questions on how to disable it. If you enjoy the Galaxy S5 but don't want My Magazine taking an entire homescreen, here's how to remove it.
Disable My Magazine
There is more than one way to turn off the My Magazine feature on the Galaxy S5, but neither of them are very obvious. The new settings menu isn't extremely user friendly, and hidden deep in settings you'll find My Magazine, and how to disable it.
The easiest way takes only three taps right from your homescreen, and is extremely easy. Long press anywhere on your homescreen where you don't have any application icons, and the Galaxy S5 will go into homescreen edit mode. This is where you change wallpapers, add widgets, or change homescreen settings with the bottom right settings icon. Tap the gear-shaped  "Home screen settings" button, and then uncheck My Magazine.
Users can also fumble through the large settings menu on their Galaxy S5 and disable My Magazine in the same fashion. Simply head into Settings > Scroll halfway down and select the blue Home screen icon > and uncheck My Magazine in the same fashion as shown above. That's it, you're all set.
Read: How to Change the Galaxy S5 Lockscreen
You can now long press anywhere on your homescreen and go back to edit mode, and add pages to the left side of your main homescreen to add additional apps. If you like a certain layout with apps on each side of the homescreen, this is how you get that back. Pretty easy right?
Turn Off My Magazine
Another step some users may want to take to preserve as much space and battery as possible is to completely turn off My Magzine. The Galaxy S5 is full of bloatware and unnecessary apps, especially 3rd party bloatware from Verizon and AT&T. All of this can be disabled and actually turned off in settings. If you don't want that application tray full of Verizon apps, turn them all off, and they'll be gone. They're still on the phone, but won't show up in your app tray.
Settings > Application Manager > Swipe right to ALL > Scroll down to My Magazine > Turn off
Once you do this the My Magazine feature will be completely disabled, and also completely turned off. It will no longer be taking up valuable space on your homescreen, and won't be visible anywhere except the list off applications in the manager detailed directly above.
If for any reason you decide you'd like to give My Magazine another try, or return the feature to show a friend, simply do the same steps above but backwards and turn it on, or re-enable in homescreen settings.
Should You Do This?
Every smartphone owner is different, and everyone uses a device a certain way. While many users and Galaxy S5 buyers can benefit from and enjoy everything My Magazine has to offer, it isn't for everyone. This is simply a personal choice, so do as you will.
It is worth considering that My Magazine will constantly be updating multiple sources (based on customization and preferences) to deliver tons of news and information, which could negatively impact battery life. If you're trying to get as much battery life from the Galaxy S5 as possible, disabling My Magazine may be a good idea.
In the end though it's all about you, the user, and what you'd like to do with your smartphone. If having loads of information just a swipe and eye away is something you'd like, give My Magazine a try. If you'd rather launch Bleacher Report and Facebook manually, you're more than welcome to do exactly that. Enjoy!
For even more Galaxy S5 information check out our 50 Tips, Tricks & Hidden Features.

As an Amazon Associate I earn from qualifying purchases.