How to Turn Off the Galaxy S6 Notification LED Light
The Samsung Galaxy S6 and Galaxy S6 Edge both have a notification LED light at the top of the device that flashes for incoming alerts, notifications, missed calls and more. This guide explains how to turn off or disable the Galaxy S6 notification light.
Now that Samsung's latest smartphone is in the hands of millions of owners, we're constantly getting emails and questions about certain tasks. One of them being how to disable the notification LED. While the feature is convenient, often-times it blinks all night and can be a nuisance, and we've even heard reports of it constantly blinking even when there's no notifications present.
Read: How to Reset a Frozen Galaxy S6
Previous Samsung devices allowed users to select what apps used the notification light, and what didn't, to streamline and minimize it's usage, but that's no longer the case. And while some apps like LightFlow can completely customize it, below are instructions to simply disable it.
The Galaxy S6 notification light glows when the device is charging, and switches from red when low to orange, then green when full. Then it constantly blinks when you have unread messages, emails, missed calls and other notifications, which is nice.
While I love the notification LED as I don't have to turn on or check my phone to see if I have missed calls or messages, others don't want it blinking all day and night. As a result, here's the steps to turn it off completely.
Instructions
If you're having problems where the Galaxy S6 or S6 Edge notification light blinks all the time, or simply want to disable it so it won't bother you, here's the few steps. It can be done in less than one minute.
Users will start by heading into settings by tapping the gear-shaped settings button in the notification pulldown bar, or finding the settings app in the app tray. Once you're in setting head to "Device" then "Sounds & notifications" and scroll to the very bottom.
At the bottom of Settings > Device > Sounds & notifications you'll find the last option listed is "LED indicator". Simply tap or swipe the switch to turn this off. That's it, you're all done and you've now completely turned off the notification LED light on the Galaxy S6.
Read: How to Speed Up the Galaxy S6 in Seconds
It will no longer flash when you have missed notifications or alerts, it won't be on while recording, and you'll never see the notification light while charging either. Personally I wish I could disable it for notifications, but leave the charging status as that's a handy feature, but sadly that's not an option.
So head into settings and switch LED indicator to off and you're all done. It's that simple. If you decide you want the notification LED back or want to try and customize it with the app above, just re-enable it in the same menu by turning it back on.
This is just one small trick or feature of many on Samsung's impressive Galaxy S6. For those who just bought the phone, check out our extensive 65 Galaxy S6 Tips & Tricks for more details.
5 Best Galaxy S6 Battery Cases
Mophie Galaxy S6 Juice Case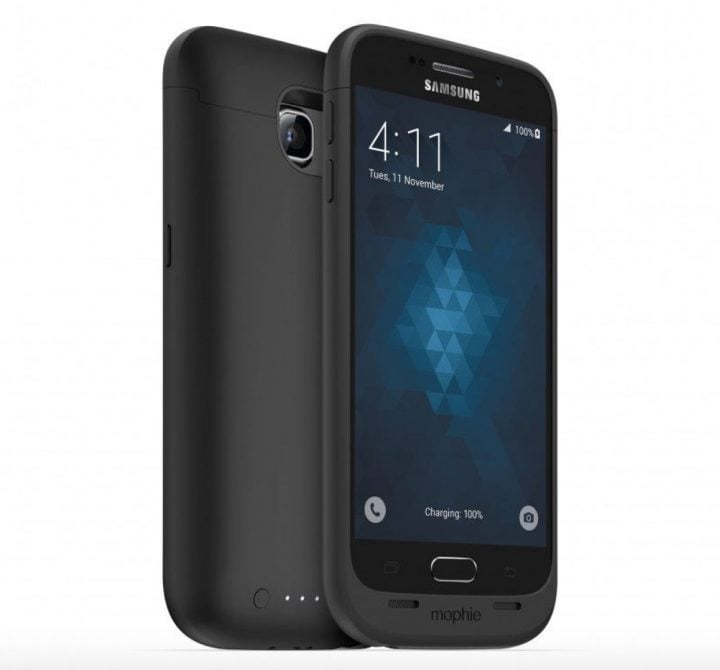 One of the most popular names in smartphone cases, and battery cases, is Mohpie. This year the company has one of the best Galaxy S6 battery cases available, but it costs a pretty penny.
The Mohpie Galaxy S6 battery case more than doubles the 2,550 mAh battery life by adding an additional 3,300 mAh of battery to the smartphone. However, that isn't all this case has to offer. It features two ports that aim the bottom speaker to the front, delivering improved sound output with front facing speakers, and has integrated rubber bumpers for an additional layer of protection in case of drops.
The Mophie Galaxy S6 protects your phone, more than doubles battery life, improves sound and more, but this all comes at a high price. It's available now in Black, and coming soon in white and gold.

This article may contain affiliate links. Click here for more details.