How to Downgrade to iOS 9.2 from iOS 9.2.1
iOS 9.2.1 just released this week, and if you updated to the latest version, but are having problems with it, here's how to downgrade to iOS 9.2 from iOS 9.2.1.
Normally, Apple doesn't allow you to downgrade to an older version of iOS, and it doesn't officially have an option to do so. However, there's a neat trick that you can use in iTunes to make it happen, just as long as Apple is still signing the version that you want to downgrade to.
UPDATE: iOS 9.2 can no longer be downgraded to.
Apple "signs" its iOS updates, which just means that users can install that version on their devices. If Apple is no longer signing a specific update, you won't be able to install that update. Whenever a new iOS update releases, Apple usually keeps the previous iOS version signed for a week or two, giving you a small window that you can use to downgrade if you'd like.
With that said, you can downgrade to iOS 9.2 from iOS 9.2.1 for a limited time, and here's how to do it.
Before You Start
Before you get down to business and downgrade your iPhone or iPad, it's important that you back up your device through iTunes.
Even though you'll be backing up your iPhone while it's running iOS 9.2.1 and you'll downgrade anyway, it's still important that you back up because downgrading requires that you completely wipe your device, so having the backup handy will allow you to restore everything once you're back on iOS 9.2.
Plus, if anything goes awry during the downgrading process, you'll have all of your apps, music, photos, etc. all saved and out of harm's way.
We have a thorough guide that takes you through the process of backing up your iPhone or iPad, so be sure to do this before you downgrade your device.
Downgrade to iOS 9.2
Now comes the fun part. Here's how to downgrade to iOS 9.2 on your iPhone or iPad.
The first thing you'll want to do is go to this website and download the iOS 9.2 install file for your particular device. These files can range anywhere from 1.5GB to 2.3GB so be patient while they download.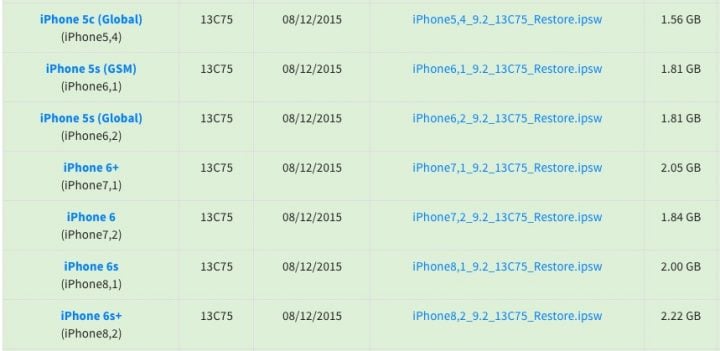 After the file finishes downloading, plug in your iPhone or iPad into your computer and open up iTunes.
Go to your device's summary page and hold down the Alt/Option key (Shift in Windows) while clicking on Restore iPhone at the same time. You'll need to disable Find My iPhone before you can do this by going to Settings > iCloud > Find My iPhone.
After you select Restore iPhone, a file explorer window will pop up, where you'll navigate to the file that you downloaded above. Select it and then click Open.
A pop-up will appear to confirm that you want to wipe your iPhone and install iOS 9.2. Click Restore to continue and then follow the on-screen instructions to restore your iPhone and downgrade to iOS 9.2. The process could take around 10-20 minutes, so be patient while it does its thing.
After it's complete, you'll have an iPhone running on iOS 9.2, but you'll now need to restore a backup to the device to get all of your apps and other data back. To do this, click on Restore Backup on the device's summary page.
You can also just start from scratch and not restore a backup, so you won't have to do anything after the restore process is complete, but we're guessing you'll want your apps, photos, and other data back on your device like before.

As an Amazon Associate I earn from qualifying purchases.