How to Downgrade to OS X Yosemite from El Capitan
If you updated your Mac to OS X El Capitan, but aren't too fond of the new version and would rather downgrade to OS X Yosemite, here's how to do it.
OS X El Capitan was officially released today and many users are already running the new version of OS X, which isn't too surprising as it comes with a bevy of new features that users can take advantage of.
There's a new Split View multitasking feature that allows users to snap windows to the sides and run two apps at once (similar to Windows' Aero Snap feature). Of course, you were able to do this before, but you would have to manually resize the windows instead of them automatically resizing for you.
There's also new swipe gestures that you can use across a handful of apps, like Mail and Safari, making it easier to manage email, as well as pin tabs in Safari to save them for later.
Read: How to Perform a Clean Install of OS X El Capitan
In OS X El Capitan, there's also better Spotlight Search results and improvements all around, and it can now show you weather, sports scores, and more information that it wasn't able to provide in the past.
However, new features aside, if you're not a big fan of the update or are having issues with the new version of OS X, you can actually downgrade to OS X Yosemite, and there are a couple of ways to do it.
Downgrade to OS X Yosemite
No matter which method you choose for downgrading, it's important that you have a backup of your Mac, either with Time Machine or some other backup service, but the first method that I'll describe requires that you have a Time Machine backup.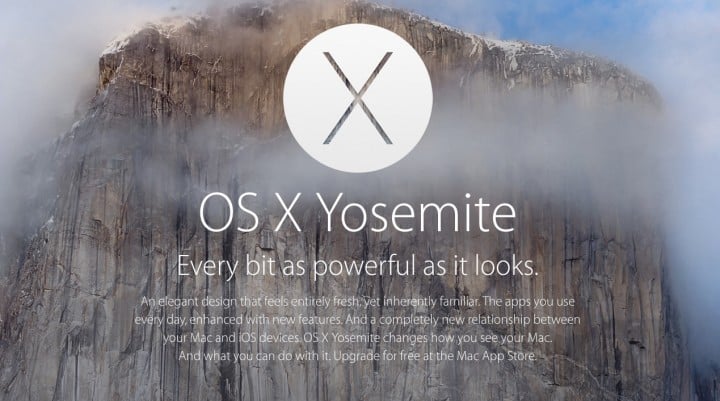 This method simply involves restoring a Time Machine backup to a point where you had OS X Yosemite, and it's perhaps the easiest method to use in order to downgrade to OS X Yosemite.
If you already use Time Machine and have been using it, you most likely have the required backup needed, since it will automatically back up your Mac every day. However, before you begin, make sure to back up your Mac one last time before you begin the downgrading process. I would recommend taking all of your ultra-important files and transferring them to a USB drive separately from your Time Machine backup, just to be extra safe.
Now, you'll want to restart your Mac and hold down Cmd+R. This will enter Recovery Mode. You can also hold Option/Alt and simply choose Recovery-10.11 from the menu that appears.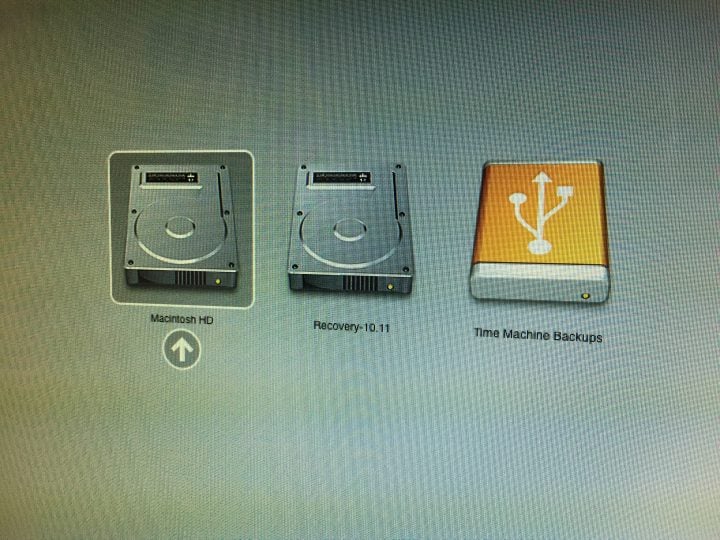 At the OS X Utilities menu, click on Restore From Time Machine Backup and then plug in the hard drive that you use for Time Machine if it isn't already. After that, click Continue.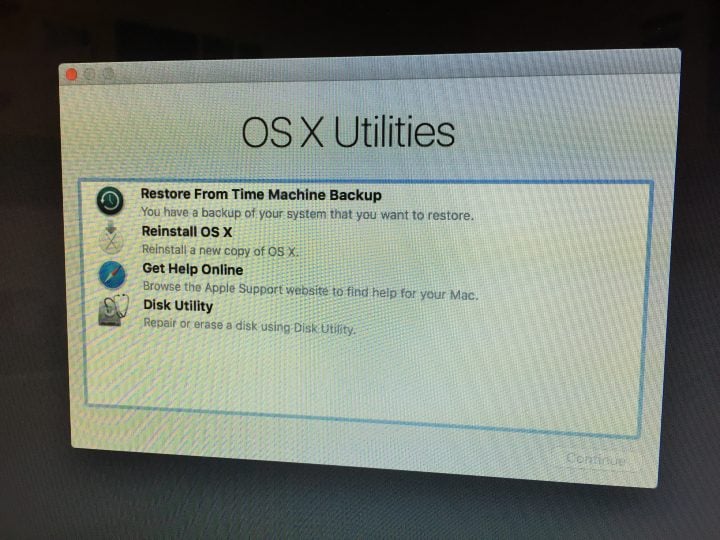 You'll eventually see the Select a Backup Source screen, choose the Time Machine drive that you use for backups and then click Continue.
The next screen will have you select a date and time that you want to revert back to. Select the latest date and time that you remember running OS X Yosemite on. You can easily see the OS X version off to the right-hand side. Click Continue.
On the next screen you'll choose a destination drive where you want to restore the backup to, which will be your main disk drive on your Mac, usually titled Macintosh HD. Click Restore to begin the downgrading process.
The process could take a couple of hours, so sit back and relax while it does its thing. If you have a lot of data to restore, the process could easily take all day or night, so make sure you set plenty of time for your Mac to restore.
After it's done, your Mac will automatically restart and you'll now be running OS X Yosemite!
Alternative Method: Creating a USB Boot Drive
If you don't use Time Machine to backup your Mac, then you'll have to use this alternative method, which is a bit more complicated, but not too hard to do. Plus, it will completely wipe your Mac, so make sure that you have all of your important files backed up to a USB drive.
You'll need the OS X Yosemite installer, so open the Mac App Store and click on the Purchased tab at the top. Scroll down to find OS X Yosemite and click Download next to it. This will download the OS X Yosemite installer. Keep in mind that Apple only allows you to do this for short time before they remove the installer from their servers, so eventually you won't be able to use this method, but for now you still can.
Next, you'll need to create a bootable USB drive that will allow you to install OS X Yosemite over OS X El Capitan. This can easily be done using an app called DiskMaker X.
After you download and install the app, plug in a USB flash drive, open up DiskMaker X, and then click on OS X Yosemite 10.10. It will handle the rest for you and you'll eventually be left with a bootable USB drive.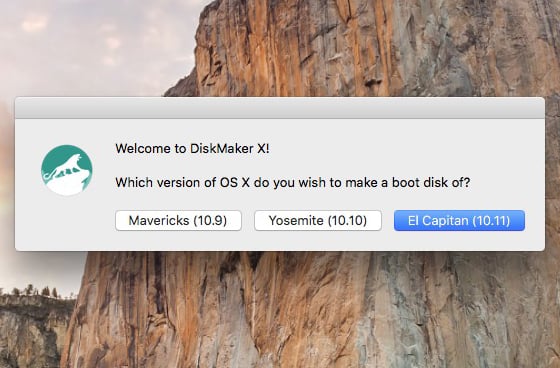 Keep the drive plugged in and restart your Mac. Hold down the Option/Alt key as it reboots. This will bring up a menu where you'll select a drive. Choose the USB drive that you just made.
When you get to the Install OS X screen, go up to the menu bar at the top and navigate to Utilities > Disk Utility.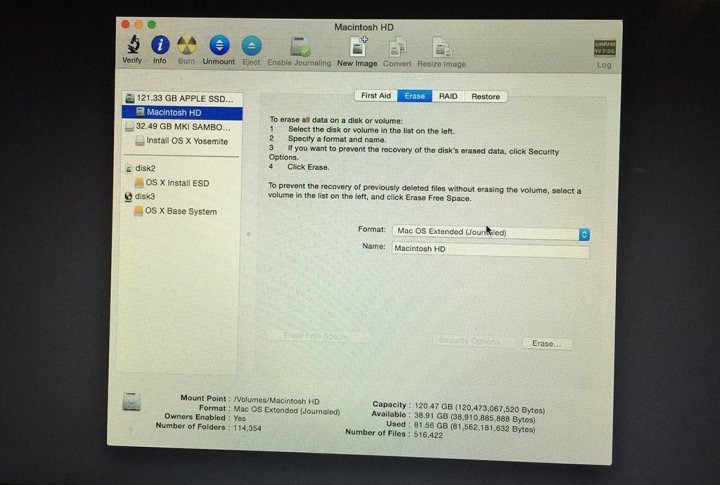 Select your main hard drive in the left-hand sidebar (usually called Macintosh HD) and then click on the Erase tab. Make sure Mac OS Extended (Journaled) is selected in the Format field. Then give the hard drive a name (preferably Macintosh HD, but you can name it anything you want).
Click Erase in the lower-right corner to begin the wiping process. After it's done, close out of Disk Utility, where you'll be brought back to the Install OS X screen. Click Continue to install OS X Yosemite as you normally would.
This will give you a fresh copy of OS X Yosemite and you'll now be downgraded from OS X El Capitan. If you ever want to update to El Capitan in the future, just visit the Mac App Store and download the new OS from there, or you can perform a clean install.

As an Amazon Associate I earn from qualifying purchases.