How to Download YouTube Videos on iPhone for Free
If you'll be stuck in an area without an internet connection on your iPhone and want to watch YouTube videos to pass the time, here's how you can download YouTube videos to your iPhone for offline viewing.
According to YouTube itself, more than half of all YouTube video views come from mobile devices. While Google doesn't say how many hours of YouTube videos get played every month, it's safe to say that it's a very large number. That's a lot of bandwidth, and it's going through either a WiFi connection or an LTE/3G connection on your iPhone.
Ideally, you'll watch YouTube videos on your iPhone over WiFi, there are times when you just can't get a WiFi signal, like during a flight or at a place where WiFi isn't available (or it costs to use it).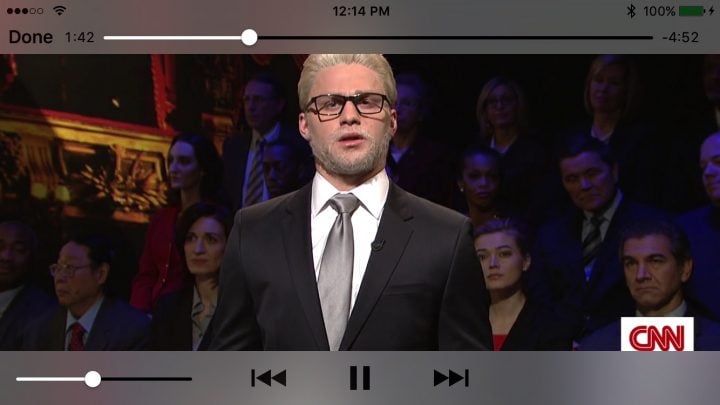 YouTube Red is a new service that recently launched that lets you save YouTube videos for offline viewing. However, the service costs $9.99 per month, which might not be something users are willing to spend. The good news, though, is that there's an alternative to downloading YouTube videos for offline viewing, and it's completely free to use.
How to Download YouTube Videos to iPhone
The easiest way to download YouTube videos to iPhone is by using a free piece of Mac software called Softorino YouTube Converter. It's made by the same developers as WALTR, which we've covered in the past.
The software only works on Mac for now, but the developers say that a Windows version is coming soon.
To download the YouTube Converter app, head to this website and click Free Download. From there, install the app like you would with any other Mac app by opening up the .DMG file and placing the app in your Applications folder.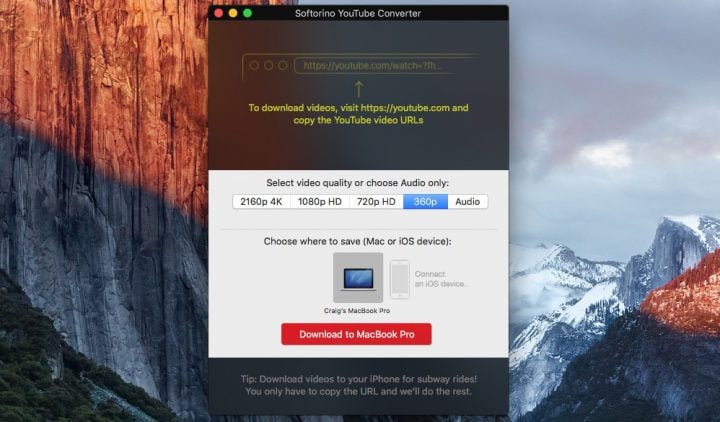 From there, fire up YouTube Converter and it'll be ready to go. The next thing you'll want to do is go to YouTube in the web browser on your Mac and select a YouTube video to watch. Simply copy the video URL in the address bar and the YouTube Converter will automatically detect the URL from your Mac's clipboard, which is pretty cool.
Next, plug in your iPhone if it isn't already plugged into your Mac. Then select your iPhone at the bottom. Above that, make sure to select the video resolution that you want. You can go all the way up to 2160 4K, but that should only be used for YouTube videos that are actually in 4K. Otherwise, go with 1080p HD.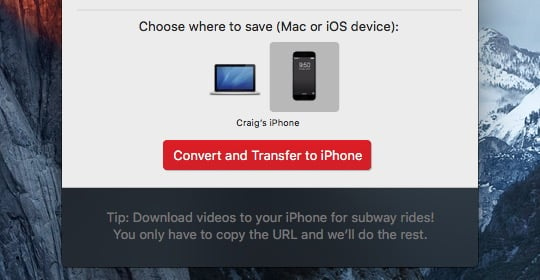 From there, click on Convert and Transfer to iPhone. Depending on the length of the video, it will take a few minutes to download, convert, and transfer the video to your iPhone, so be patient.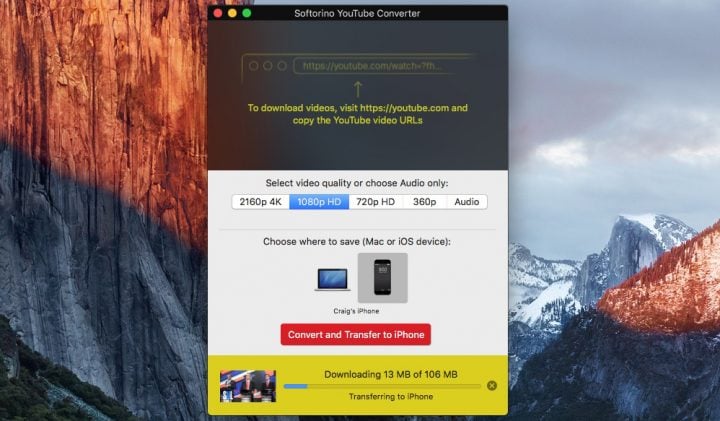 Once it's done, you can open up the Video app on your iPhone and the YouTube video will be there ready to play whenever you want it to.
We've covered methods for this in the past using iPhone apps from the App Store, but many of them have shut down and the ones that are still standing usually cost a few dollars to download. With Softorino's YouTube Converter, you can do it for free, and while it requires a Mac, it's really easy and quick to use.