How to Download YouTube Videos on Mac
If you find a YouTube video that you want to watch later on, but may not have an internet connection at that time, here's how to download YouTube videos on Mac.
If you know you'll be in an area without WiFi, like on a plane ride or in the car during a road trip, downloading YouTube videos ahead of time can be a great way to pass the time and enjoy your favorite YouTube videos while you're at it.
Of course, you can do this on your iPhone, and if you have a YouTube Red subscription, then you have this feature built in, but if you watch videos on a larger screen, then you'll likely use your MacBook.
YouTube is more than just short funny clips of cats and other funny stuff. There are a ton of YouTubers out there making some great entertaining videos that can keep you occupied for hours.
If you're someone who doesn't quite do movies and TV shows while on a flight, here's how to download YouTube videos on Mac and watch them without an internet connection.
How to Download YouTube Videos
Downloading YouTube videos to your computer has been a controversial subject for a while, and YouTube is unsurprisingly against the idea, shutting down countless online services and browser extensions that let you download YouTube videos.
However, one piece of software that still stands (mostly because it's rather new still) is called YouTube Converter from Softorino. We've covered Softorino before, as they're the makers of WALTR, which is an easy-to-use Mac app that lets you transfer music and movies to your iOS device without iTunes.
https://youtu.be/_LiN_TpuYx4
YouTube Converter is just as easy to use as WALTR and it makes it really easy to turn a YouTube video into a playable file on your Mac that just about any video player can read.
First off, you'll want to download the YouTube Converter software onto your Mac. It's only available for OS X currently, but Softorino says that a Windows version is coming soon.
After you download and install YouTube Converter, open it up and you'll be introduced to a small window where all the magic happens.
Next, simply just go to YouTube in the web browser on your Mac and select a YouTube video to watch. Copy the video URL in the address bar and YouTube Converter will automatically detect the URL from your Mac's clipboard.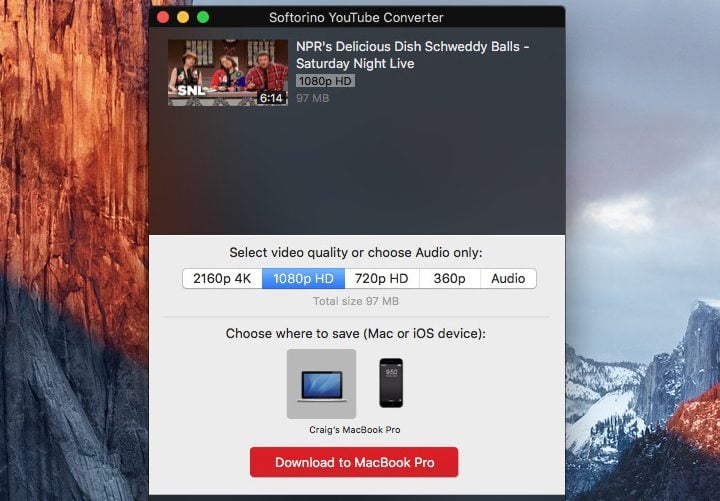 From there, select a video quality (1080p HD is the best) and the click Download to MacBook Pro (or whatever Mac you have). You can select 2160 4K, but that should only be used for YouTube videos that are actually in 4K. Otherwise, downloading a smaller video in 4K will simply upscale the resolution and make it look like crap.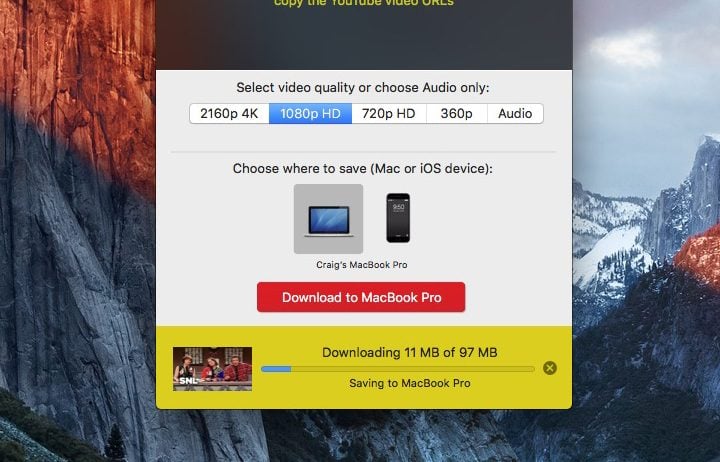 Depending on the length of the video and the quality, it may take a bit of time to download the video to your Mac, so be patient while the download process does its thing.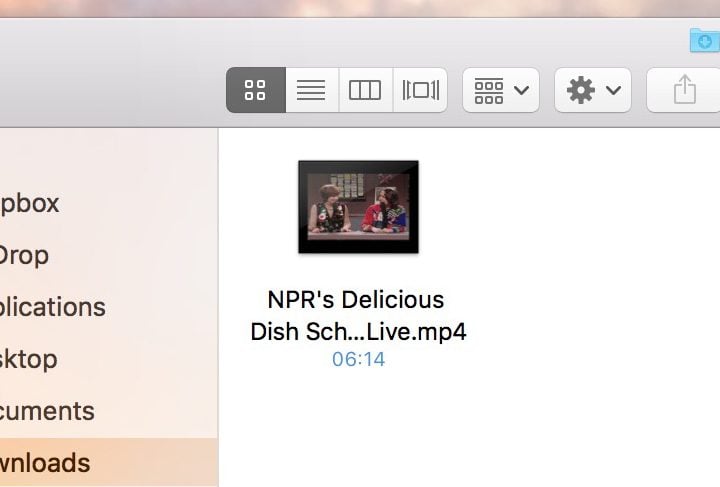 When the download is done, the video will automatically be located in your Downloads folder, but you can transfer it to wherever you want on your Mac. You can also change the default download location for videos in the app's preferences.
This is perhaps the best way to download YouTube videos on Mac, and it's the easiest way we've found so far.