How to Edit Photos on iPad Pro
The Apple iPad Pro changes the way photographers edit their images thanks to the touch user-interface, the Apple Pencil and the excellent apps available now for iOS. The platform's maturity advances mobile photo editing way beyond what it was in the early days of the iPad in 2010. With the better screen of the 9.7-inch iPad Pro and the Pencil on both the smaller iPad Pro and the 12.9-inch iPad Pro, hobbyist and pros alike can achieve amazing results. Many amateur enthusiasts could make use of the iPad Pro exclusively. Professionals could use it while they're away from their desktops or laptops for quick edits, organizing photos and sharing them even if they still the extra power of a desktop or laptop photo editing environment.
We'll look at some of the best photo editing apps. Then we'll list a few accessories that can make photo editing easier. Finally, we'll suggest a simple workflow for beginning iPad Pro photo editors. We'll focus on beginners since the pros will likely have a good workflow already.
Apps for iPad Pro Photo Editing
There are several useful and powerful photo apps for the iPad Pro. Let's start with Pixelmator ($4.99) which does a great job of photo editing all by itself. Users can import photos from the iPad's camera, iCloud Drive, Photos or create an image from scratch. This last option lets you create something using the artistic tools in the app.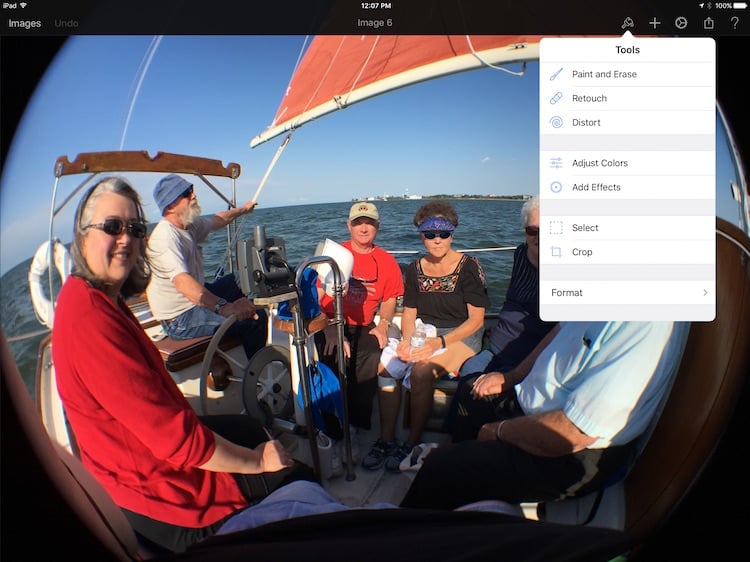 Pixelmator includes:
Painting tools – will make the Apple Pencil a useful accessory
Retouch – used to remove spots, annoying distracting background elements, fix red-eye, sharpening photos and more
Distort – tool used to create crazy looks or even some fine touch up
Adjust Colors – fix color problems like tint, temperature and adds filters. This also shows a powerful curves function like you'd find in high-end photo editors on a computer
Select – to do things like cut or copy parts of an image
Crop – start here to get the best composition
Pixelmator brings with it iOS 9 compatibility which lets you access the app's filters from within the iOS 9 Photos app. You can't use the more advanced Pixelmator features unless you open it directly in Pixelmator. If all you want to do is add filters, this is a great way to efficiently do so from within the iOS 9 Photos app.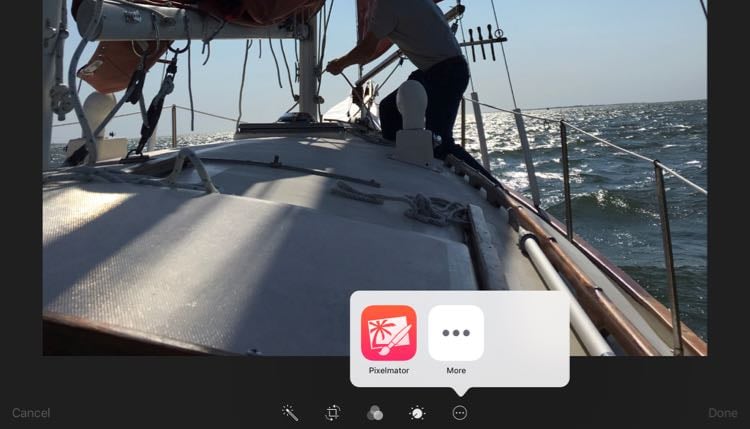 The iOS 9 Photos app organizes your photos and offers some simple photo editing and sharing. However, the Adobe Lightroom Mobile (Free) app does a better job of all three.
Adobe Photoshop Lightroom Mobile works like the computer program. Organize photos and group them into collections. Adobe gave the demo below at their 2015 Max conference.
These collections can sync with Adobe's Creative Cloud apps installed on other mobile devices or on a computer. Users will need a Creative Cloud subscription which starts at $10/month and costs as much as $70/month with all the Adobe apps plus access to Adobe Stock photos.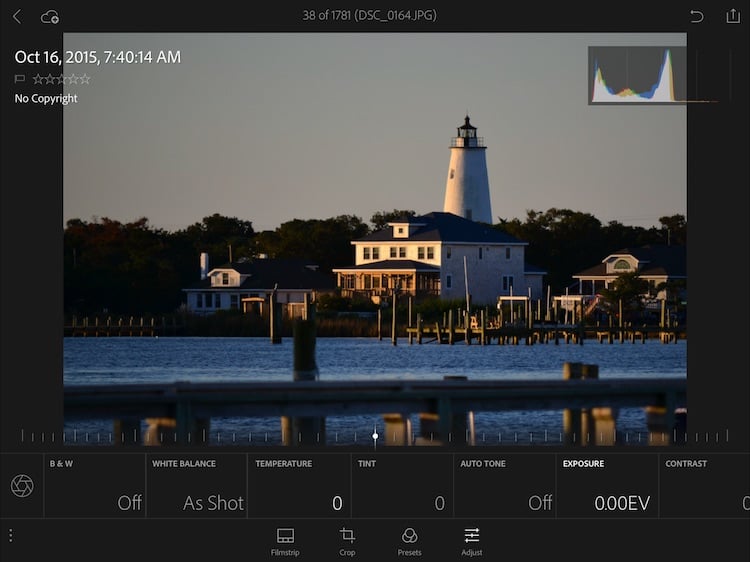 The built-in editing tools transform an average photo into something special with the right adjustments. Once the user learns how to use the program, they can do some amazing things all using touch. Moving the adjustment sliders using touch feels more organic that trying to drag them with a mouse on a computer.
I took the photo below recently on Ocracoke Island along the North Carolina coast. I edited it using Lightroom. It wasn't a great shot, but thanks to the tools in Lightroom, it's not bad for 15 minutes of work on an iPad Pro.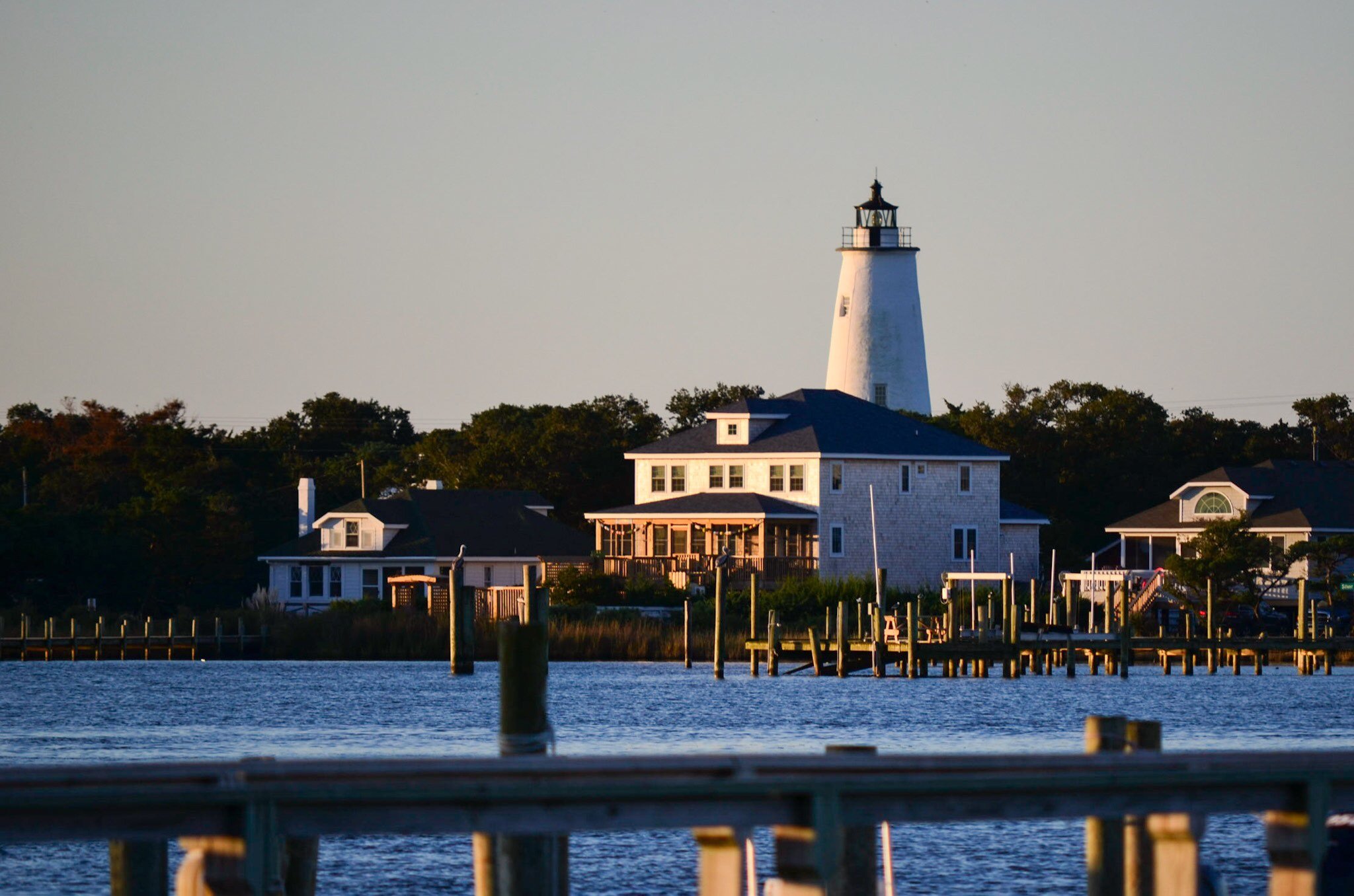 A third app that deserves mention comes from Google. Snapseed (Free) also handles iPad Pro photo editing with some advanced features as well as simple tools. Each editing tool comes with X and Y axis manipulation. Slide up and down to choose the editing tools in that section. For example, under Tune Image slide up and down to choose from …
Brightness
Ambience
Contrast
Saturation
Shadows
Highlights
Warmth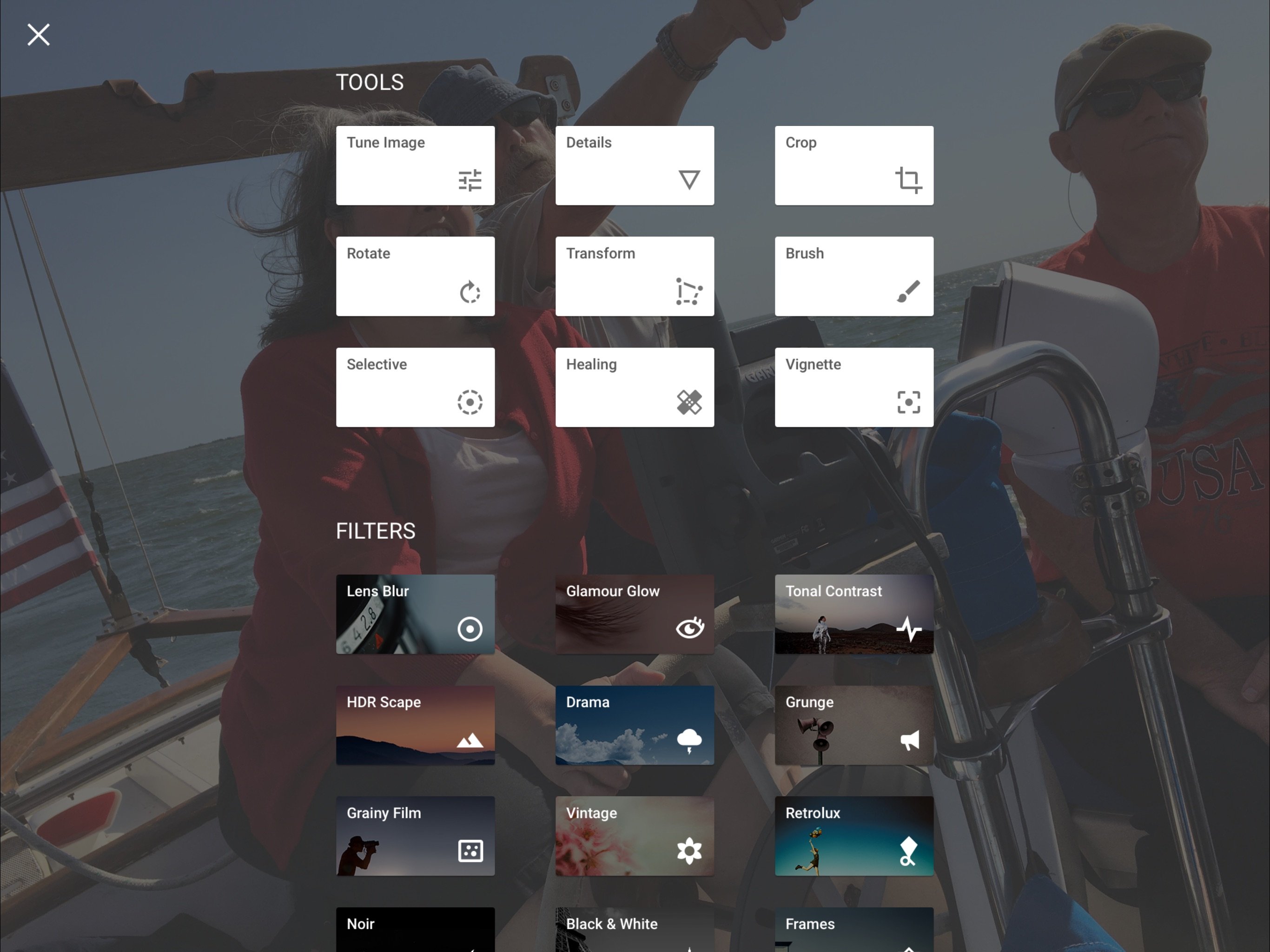 Slide until you see Shadows. Then slide left and right to decrease or increase the levels of the darker areas (shadows) of the photo.
The app also includes filters that quickly apply several adjustments at once. Once the user applies a filter, there's a series of thumbnails across the bottom of the screen. Select them and then fine tune the filter by sliding left or right to decrease or increase the degree to which the filter is applied.
Snapseed's touch-focused adjustment tools makes editing photos easier than using a mouse on a computer or a trackpad on a laptop.
A couple of other "honorable mention" editors include Polarr Photo Editor (Free), an advanced photo editor with pro-level editing features. Also, the great Camera+ ($2.99) app from Tap Tap Tap includes some awesome photo editing tools.
Accessories for iPad Pro Photo Editing
No one needs any accessories to edit photos on an iPad Pro, but a few will make life easier. First, get the Lightning to SD Card Camera Reader from Apple. At $29 it's the fastest and easiest way to import photos from your point-and-shoot or DSLR camera.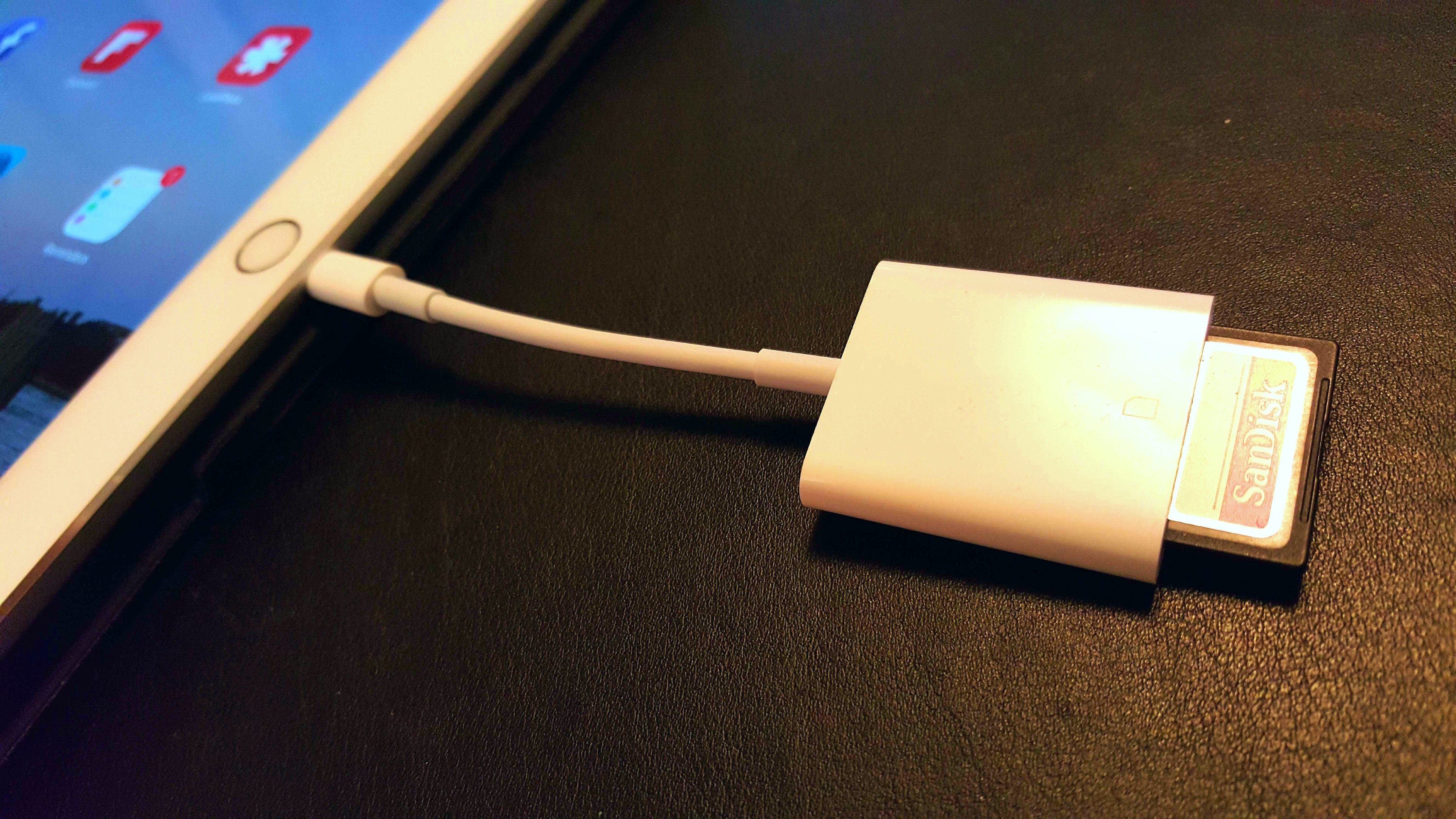 It plugs in to the iPad Pro and when the iPad Pro finds pictures on the card it opens the Photos app and offers to import all of them or just the ones you want to work with.
Next, get the Apple Pencil ($99) because it gives the user fine control over drawing and touch up tweaks. Adobe supports it in some of their mobile iOS creative apps. At launch the Pencil was hard to find, but availability may loosen up by the time you read this.
A third cool product comes from TwelveSouth, makers some of the best iPad accessories. The TwelveSouth ParcSlope ($49.99) stand holds the iPad Pro at a nice 18-degree angle, perfect for working with your pictures on the iPad Pro, whether you're using the Pencil or your fingers.
An Eye-fi card (starting at $29.99 for 8GB) will help users easily move photos from camera to iPad Pro. The SD card includes Wi-Fi built into the card. Be careful because this drains the battery more quickly than a traditional SD card.
iPad Pro Photo Editing Workflow
Photographers use different steps in their photography work flow. However, here's a few general steps everyone needs to follow.
Get photos onto the iPad Pro and back them up.
Organize them and select the best shots to edit first while marking the ones you don't want to bother with.
Process the photos using digital photo editing tools.
Share the best photos.
Go back to the shots you didn't select or reject in step 2 and find photos you'd like to work with further to turn them into usable images by repeating steps 3 and 4.
We don't have the time or space to cover the above steps in detail, but lets look at them briefly.
Import Photos and Back Them Up
A photographer will import photos and back them up differently depending on the source of where the shots came from.
Shot on a point-and-shoot or DSLR camera – use the adapter above and import them to the iPad. Back them up using iCloud photos sync, using a service like Dropbox, OneDrive or some other app that automatically backs up all of your photos.
Shot on an iPhone – set the phone to sync your photos using iCloud (Settings, iCloud, Photos, turn on iCloud Photo Library, Upload to My Photo Stream, iCloud Photo Sharing and any others you wish to turn on).
Shot on an Android Phone – use a service like Google's Photos app or Dropbox on the Android phone and then load the iOS versions of those apps on the iPad Pro. Then save the Photos you want to work with to your iPad Pro Photo library.
Shot on iPad Pro – nothing needed. They're already on the iPad Pro. The iPad Pro's camera isn't the best choice for taking quality shots, but you can use it when there's nothing else available.
Organize Photos
My favorite photo organization tool on the iPad is the Lightroom Mobile app. Follow the link to learn more about it and how to use it.
The above video shows off the iPhone app, but it works the same way on the iPad Pro. It also syncs with the desktop version on Mac or Windows.
If you don't subscribe to Adobe Creative Cloud, consider doing it. It's only $9.99/month to get Lightroom and Photoshop on the computer and the mobile versions. The full suite will cost $40/month for the programs and access to mobile apps. Add Adobe Stock Photos for another $30.
For those who can afford an extra $10/month, the Lightroom Mobile app offers the best solution for organizing photos, doing basic edits and syncing with your desktop system.
After you import photos, tag or select the best shots that you want to work with. Also tag the shots that you don't want to bother with, like blurry shots or images that just don't work. Lightroom mobile calls this rejecting the photo.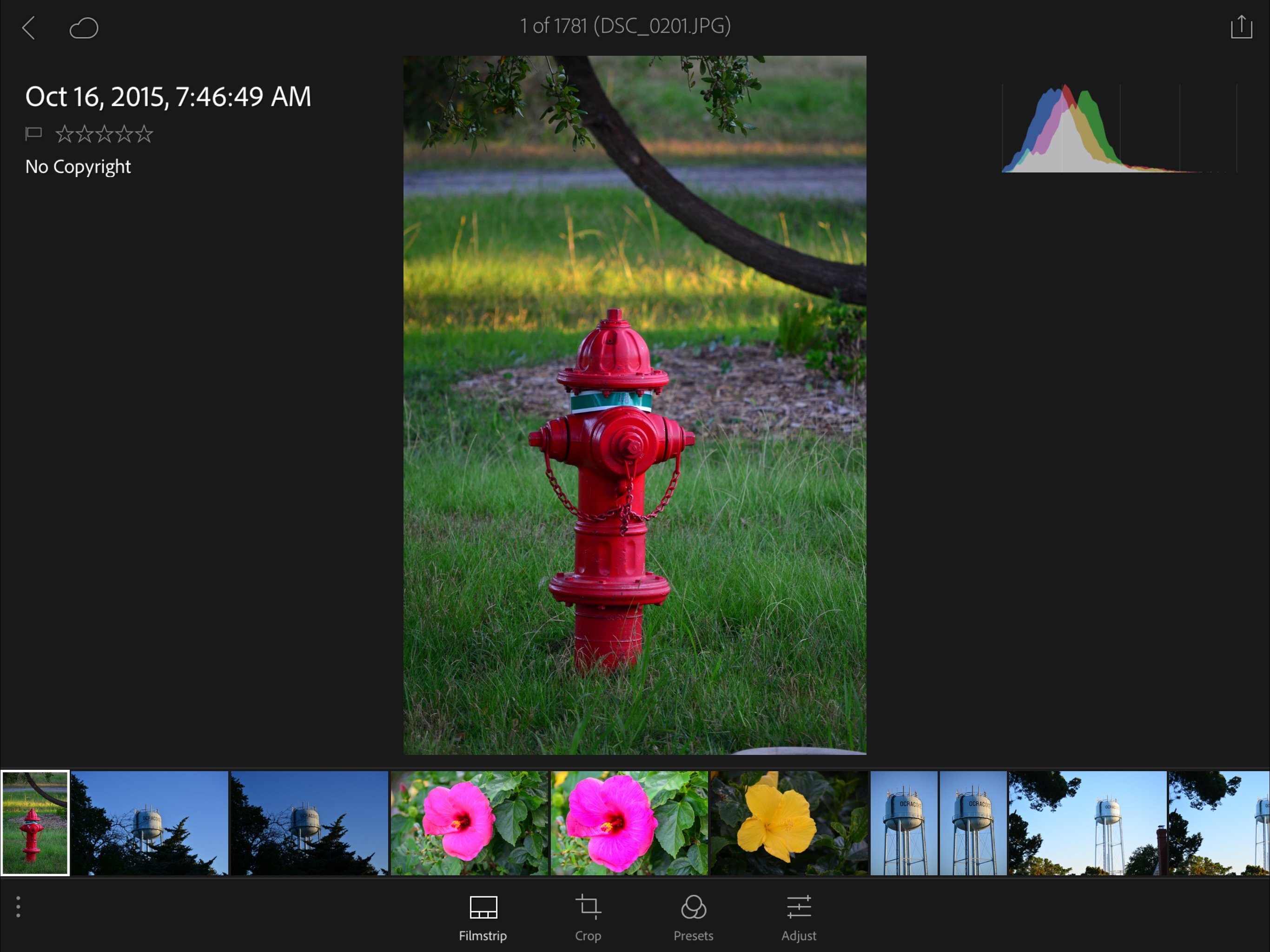 Once you finish selecting the best shots and rejecting the useless shots, take another look. This second round focuses on images that you could turn into quality works of art or that you want to save for memories, even if they're not the best pictures.
In Lightroom or Photos, the user can create collections and tag shots with subjects or locations. In Photos, do this by hitting the Select button and then choose the shots you want to work with and tap on Add To button and either add the shots to an album or create a new one. Lightroom offers a similar feature.
Photo Processing
We won't talk about Photo Processing in detail. Each app works differently and the user should learn how to master their favorite app. Here are the steps most users should follow:
Crop the image.
Fix photo temperature (warm or cool).
Fix exposure, color and saturation.
Correct blemishes, like dust spots, distracting backgrounds or red-eye.
Add creative touches like Photo filters or lens flare.
Share the image.
Share the Best Photos
Find a good online photo sharing service. The pros like 500px (Free), but that can get intimidating for a beginner. The best shots online often come from 500px. Flickr also offers a nice photo sharing service. Some like to use Facebook, iCloud photo sharing, or Google Photos. Flickr's app will automatically upload photos from the iPad's Photos. Next, select the photos from within the app and create a collection, make them visible publicly or with Flickr followers, and/or share a link to the photo collection with social networks like Facebook or Twitter.
Don't forget you can still share photos in printed form. Users can either grab a nice photo printer that supports iOS printing or use a good photo printing service. One of our favorite services for printing digital photos is Apple's photo printing service. The photographer can make nice prints, photo books, cards and digital sharing using iCloud sharing.
Apple's service won't let photographers print directly from the iPad Pro. Users will have to edit the shots and then sync them using iCloud's sync services built into Photos. Then open the Mac OS X version of Photos and select the photos. Choose to Create a Photo Book, Card, Calendar, Slideshow or Prints from the Photos File menu.
SizzelPix! offers a beautiful and unique way to display your works of art. They print your photo on a large piece of "durable, though lightweight metal base." The company prints the images on a metal canvas from 18-inches to 6-feet starting at $199. One of the best Photography podcasters/bloggers, Derrick Story, recommends them on his website. The company offers multiple hanging and framing options. They look amazing.
A few other services come with apps that you can install. They include…
Many of them will also force the user to sync the photos to the service and use the browser to order prints.
Finally, consider a Mosaic photo book. Upload the photos using the service's app. Then order the book, which costs about $20 and arrives within a week.