How to Email Big Files From Your iPhone with Mail Drop
Email is still the easiest way to send files to people (or even to yourself), but it all tends to fall down if you have to send something much larger than a picture. Fortunately, Mail Drop can help you email big files from your iPhone. Here's how to use it.
There are any number of reasons why you might find yourself with a big file on your iPhone or iPad that needs to be sent to somebody else. Numerous third party solutions have cropped up that attempt to solve this problem – especially successful have been cloud storage providers such as Dropbox – but they tend to require extra apps to install, or could be confusing for your recipient to navigate.
Email, on the other hand, is about as simple as things tend to be. Press on your message, tap to insert the file you need to send, and send your email – the iPhone will upload your file to your mail provider's servers (think: Google's Gmail, or your company's email server, for example), and the recipient can easily click on the file to download it on their end.
Things start to flake out a little bit when you need to send something big. Sometimes, your mail provider won't support large attachments, or maybe the person to whom you're sending the file has a full mailbox.
6 Things to know about Mail Drop:
Mail Drop works automatically. You can't force its use if you have one or more files to send; it has to be big enough that your iPhone thinks you might have trouble sending it to someone else.
It does require the use of your iPhone's built-in Mail client – if you prefer to use an alternate app, you'll need to find another way to transfer your files.
Mail Drop works with files of up to 5GB in size – it doesn't matter what the files are, as long as they are – taken as a group – less than 5GB. If you need to send more than 5GB over email, you'll have to split it across more than one message. If it's a single file greater than 5GB in size, you should try a service like Dropbox.
Mail Drop uses Apple's cloud service, iCloud, as its backbone. Attachments sent via Mail Drop will stay live on iCloud's servers for up to 30 days.
You're limited to a terabyte of storage (1000GB) on iCloud for free use with Mail Drop. How could you hit that limit if you're stuck at 5GB per message, you ask? It's not that difficult to send several messages in a day; still, chances are good that you'll never hit this hard limit. If you manage to do it, your capacity will slowly be restored as your sent messages hit their 30-day limit and are deleted from the iCloud servers.
Finally, if you send your message (with Mail Drop attachment) to a large number of people (or if your recipient shares the link, say), Apple might disable the link for getting a big spike in traffic. Sharing with just one person or your small group of family or friends shouldn't incur this penalty, so don't worry.
How to use Mail Drop to Send Big Files from your iPhone:
Open up your iPhone's x app and fill out the fields as if you were sending any normal email.
Once you've typed up your email message, press on an empty spot in the body of your email (the body is the part where you type the main message) to bring up a pop-up menu. Select the photos, videos, or other files you wish to upload (insert photo or video will go to your Photos app, while Add Attachment will select files from iCloud Drive or other pre-installed services / apps).
---
Note: you can also attach your files to an email directly from various apps – just click on their share button, and pick your Mail app as the means of sharing.
---
After your desired attachments are showing up in your email message, just click on send. If you have media files like photos or videos, Apple might show a pop-up asking you about the quality and resolution of the images – unless you're severely limited on bandwidth, there's no real reason to not send the originals.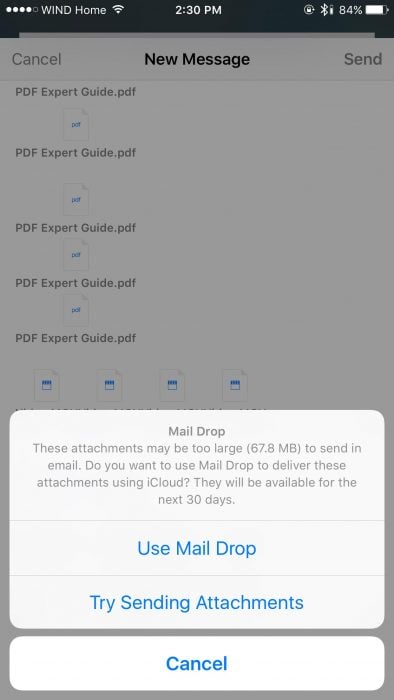 Past that screen, Apple will, if it's triggered, ask if you wish to send the files via Mail Drop. Simply tap on 'Use Mail Drop' and your iPhone will upload your files in the background and send them off, inserting an iCloud link in your message instead of the original files.
Once your target receives the email, all they'll need to do is open it and click on the iCloud link in order to download the original files.