How to Email Multiple Attachments on iPhone and iPad
Sending attachments via email is practically second nature for most computer users. Create a set of documents that need to be distributed to your colleagues an off they go as attachments. On desktops and laptops its easy to send multiple attachments. On Android and Windows Phone devices you can also easily attach multiple files to an email. On the iPhone and the iPad, not so much.
In iOS, sending multiple attachments in an email is not something for the faint of heart. The word cumbersome gets new meaning when applied to this process. In fact, for those who like or need to quickly send multiple attachments on an iOS device the lack of an easy way to do this is enough to make you wonder where all the talk about iOS devices being used for business and the enterprise comes from.
But, as they say, "there's an App for that." Actually there are several. While they will all get the job done, none of the available solutions make this an easy task. That's not the App's fault. The blame lies squarely with Apple. iOS doesn't let Apps talk to each other easily, and iOS doesn't have a file system. Files you create on an iPhone or iPad are stored in separate file stores within the App that you created them in. These limitations make sending multiple attachments difficult. Even third party storage and syncing Apps like Dropbox and Google Drive are challenged by this. Bluntly, to email multiple attachments on iPhone or iPad is a black-eye for Apple.
Apple prefers you to think of sending an attachment as "sharing" a file to an email recipient. Sharing sounds nice, but when it comes to sharing multiple documents the limitations can turn you into a selfish miser. You go to the App where you create the file, or to Dropbox, open or select the file (some Apps approach this differently) and use a Share Sheet to share the file as an attachment via email. That's great if you only need to share one file at a time. Unless it comes to photos, and then you can select and share up to five photos at a time.
But you can't natively share multiple non-photo files you may have selected in an App. For those trying to get "real work" done, that can quickly turn into an exercise in frustration.
In fact if you begin an email in the Mail App, and then decide to include a non-photo attachment there is no way to include even a single non-photo attachment from within the Mail App. Talk about missed boats. Apple missed the harbor on this one. Logic would seem to suggest that there would be a button in the Mail App that would allow users to quickly add an attachment. But you need a file system for that to occur.
As mentioned previously there are Apps and methods to allow you to send multiple attachments in an email. Be warned that while these Apps will allow your to attach multiple files to a single email, the solutions are far from what one would call elegant. We won't look at every solution out there in this post, so if you've got a method or App to share multiple attachments on your iPhone or iPad that we don't cover here let us and everyone else know in comments.
GoodReader 4.0
GoodReader just pushed through a major update. The new version is now a new and distinct App called GoodReader 4.0. For those using the previous version there is even a migrate function built in that automatically transfers your GoodReader settings over to the new version. GoodReader 4.0 is a great tool for those who have documents and files shared across multiple cloud and WebDav systems. You can almost think of GoodReader 4.0 as a file manager for all of your files wherever they are.
Within the App you setup your Cloud storage accounts (Dropbox, OneDrive, Google Drive, etc…) Access one of those servers in the right pane and you'll see a list of your documents stored in that service. If you want to work with those files or documents you download them into GoodReader 4.0.
Once the files are in GoodReader 4.0 you can select multiple files. You do so by tapping and holding on the first file you want to select. This will highlight the file in green and you then can select additional files. Again, remember you have to have downloaded the files from your Cloud server into GoodReader for this to work.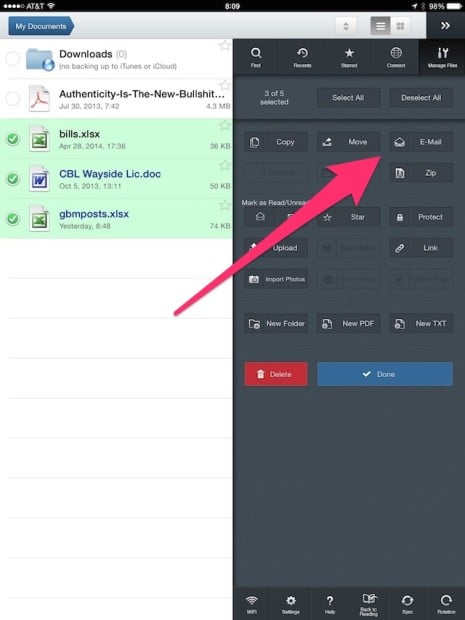 From there it is simple enough to select the email option. On the iPad that option will be in the right pane. On the iPhone that option will be below the list of files. All files you selected are included in the email you choose to send.
Yes, this is a multiple step process. You are correct that you shouldn't have to jump through that many hoops to send multiple attachments in an email.
By the way, GoodReader 4.0 is a a great power tool beyond offering this functionality. For those who work with PDFs it is a great mark up tool. GoodReader 4.0 is available currently for $2.99  as a special promotion.
Multiple Attachments
Sometimes the name of an App says exactly what its function is. Multiple Attachments is just that: an App that allows you to send multiple attachments in an email on an iPhone or iPad.
Once you've installed Multiple Attachments, the App uses the Open-In API to make itself available in the Open-In functionality of other Apps.
But don't think you can just go to any word processor and use this functionality. You can do that in Pages. But for Word for the iPad or Google Docs, you'll need to select your files in the OneDrive or Google Drive Apps respectively. Yep, that's a bit annoying.
Even more meddlesome you'll have to select each document one at a time and then choose Open In and choose Multiple Attachments as the destination for the document.
After selecting each document you'd like to attach (one at a time), Multiple Attachments holds them for you while you add more to the list. This can come in handy if you have documents in multiple Apps. You can add them all to a single email as attachments.
Once you're done selecting everything you need to send, you then tap the Share icon in the upper right corner of the Multiple Attachments App, compose your email and send it to your recipient.
Again, the process is clunky and requires more steps than it should, but it works. Multiple Attachments is available for $1.99.
Sharing more than Five Photos as Attachments
If you've ever tried to send multiple photos via email from your iPhone you probably know there is a five photo limit if your starting place is the Photos App. You can choose to add a photo as an attachment from the Mail App, but you're limited to one photo per email with that method.
You'll notice that if you select more than five photos in the Photos App that you don't get an option for email. Five might be an OK number in many circumstances, but if you want to send more you'll have to send multiple emails.
Here's a procedure to get around that.
Go to the Photos App and choose Select at the top right of your screen. Select more than five photos. Then go to the Share or Send button in the lower left of your screen. Choose Copy from the options.
You'll be returned to your Photo album and you'll notice the little blue check marks are gone from the photos you've selected. Don't worry, they've been copied to the clipboard.
Now open the Mail App and start to compose a new email. In the body of the email tap and hold until the black bar of choices appears. Choose Paste.
Your photos are pasted in the email. You'll get the option to choose the size of the photos once you hit send.
Now, as caveated several times in this post, none of these solutions for sending multiple attachments can be described as pain free or effortless. With Apple pushing the iPad as a device for creation and not just consumption, and Microsoft and Google ramping up their efforts with their productivity Apps, Apple needs to address sending multiple attachments in email if it doesn't want potential customers looking at an iOS device as inferior in a "real work" environment.

As an Amazon Associate I earn from qualifying purchases.