How to Enable Dictation in OS X Yosemite
Typing away on your Mac is second nature, but if you'd rather turn your speech into text instead, here's how to enable dictation in OS X Yosemite.
Just like on the iPhone, Mac users can talk into the microphone and have it translated into text, saving you from having to type out long-winded responses. It's a feature that's especially convenient on the iPhone, as the small on-screen keyboard isn't exactly ideal for typing out long messages.
The same could be said for any typing in general. Your wrists can become tired after a long period of typing, which can lead to carpal tunnel and other discomforting effects. This is why dictation can be a useful feature on computers.
OS X Yosmite has dictation abilities, but you have to enable the feature first before you can start using it. Luckily, it's really easy to get it set up and begin using. Here's a brief explainer on what dictation is and how to set it up on your Mac.
What Is Dictation?
If you look up the word "dictation" in the dictionary, it means "the action of saying words aloud to be typed, written down, or recorded on tape."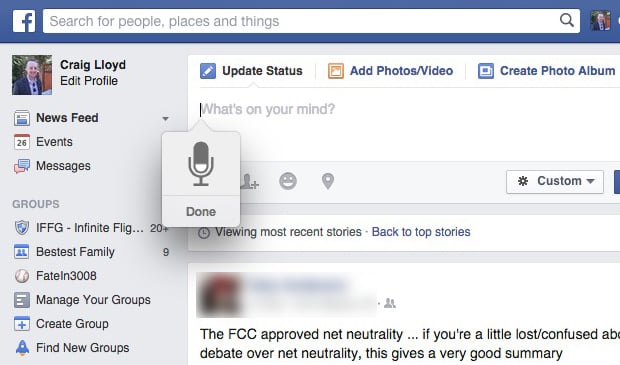 This means that dictation can be all sorts of things, liking jotting down notes in class or writing down ideas that someone shouts out during a business meeting. However, in OS X Yosemite, dictation is essentially speech-to-text, and it allows you speak what you would otherwise type. The microphone picks up your voice and translates it into text.
In some instances, it can be faster than typing, but dictation in OS X Yosemite does have its drawbacks that can make it less convenient. Specifically, there are some flaws in its accuracy. You have to speak clearly in order for OS X's dictation to properly convert your speech into text. Otherwise it can mess some words up and you'll have to manually go in there and fix it using the keyboard.
However, dictation is something that's worth trying if you've never used it before, and if you're not sure if it's something that you would use regularly, it never hurts to give it a go and see how you like it.
How to Enable Dictation in OS X Yosemite
Enabling dictation in OS X Yosemite is really easy and simple. Follow these steps to turn the feature on and get going.
Open up System Preferences.
Click on Dictation & Speech.
Next to Dictation, click the On button to enable the feature.
You'll immediately receive a pop-up asking if you want to enable Enhanced Dictation, which allows you to use dictation offline without an internet connection, but it does require a hefty download.
From there, dictation will be enabled, but you can change some of the settings below, like the language and the shortcut that activates dictation.
If you enabled Enhanced Dictation, it will take some time to download, and you won't be able to use dictation until the download finishes.
After it downloads, you can simply double-tap the Function (Fn) button to begin dictating a sentence. For the best results, speak clearly and enunciate. It might sound weird and robotic at first, but you'll get to use to talking like that whenever you use dictation.

As an Amazon Associate I earn from qualifying purchases.