How to Enable the LG G5 Always On Display
This quick and easy guide will explain how to enable the LG G5 always on display feature. Similar to the Galaxy S7, LG's latest flagship smartphone has an option to have a small notification area on the screen 24/7 giving users the time, date, and incoming notifications at a glance. It's called an "Always-On Display" but it's turned off out of the box.
During the LG G5 announcement and in many of their commercials, this feature is highlighted and shown off. We were surprised to see it disabled by default, which could be due to LG trying to save battery life. However, it's very convenient and many owners will want to turn it on.
Read: 15 Exciting LG G5 Cases
Announced on February 21st the LG G5 was finally released in the United States on April 1st. It's available now from all major carriers, retail stores, and LG has tons of excellent accessories, cases, and add-ons to make it a great smartphone. Those who want to enable more features will want to read on for additional details and a quick how to guide.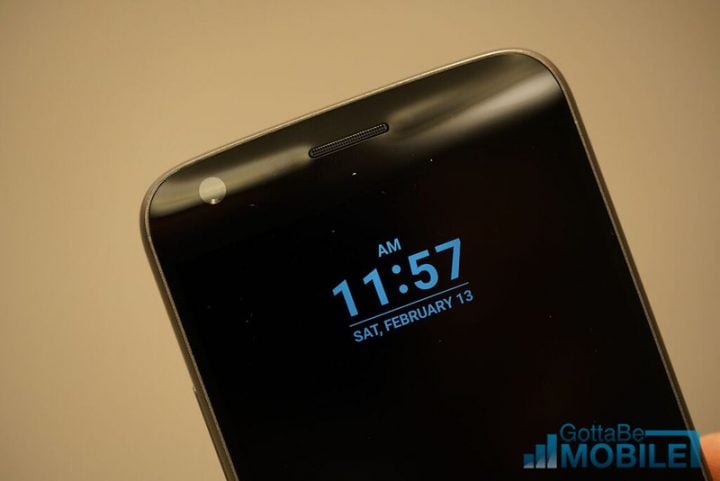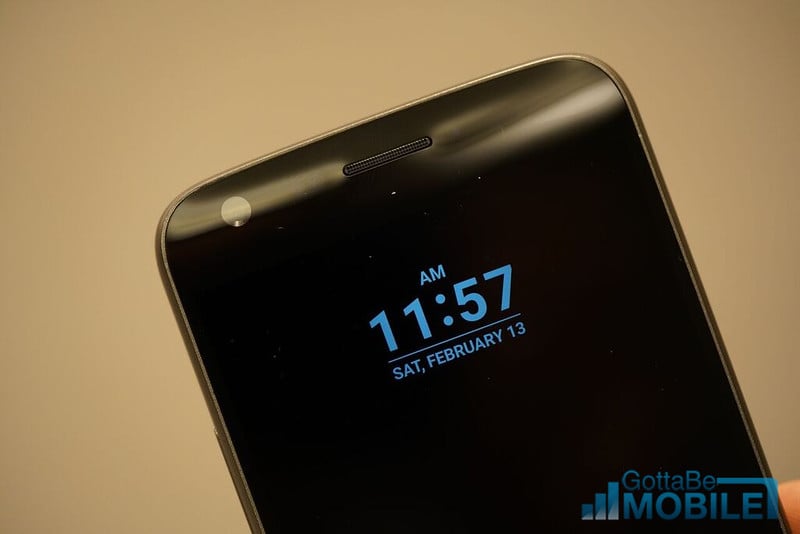 The LG G5 Always-On display is a great feature that many users will want to enable. Once turned on, even when you turn off the screen, it's still on. A little area is lit-up with the time, date, and even some notifications for emails or incoming messages.
Touching the screen won't turn it on, so users don't need to worry about this feature causing them to accidentally turn it on, pocket dial, or accidentally do things. It's a simple area that is very dimly turned on. It sips battery life, gives information at a glance, and can be very useful. Rather than turn on the phone hundreds of times a day, enable the Always On Display feature and enjoy all the LG G5 has to offer.
For whatever reason this was disabled out of the box on our AT&T LG G5, so here's how to enable or turn on the LG G5 always on display.
Instructions
Owners simply need to head into settings and toggle on a quick option, and we're all done. It's that easy. Start by pulling down the notification bar and hitting the gear-shaped settings button near the top right. That, or find the "settings" app icon on the homescreen. From here we'll need to select the "Display" column near the top, as shown below.
From here simply select the Always On Display option under the Display column, then turn on the feature, and we're all done. See the image below for additional help enabling this.
Settings
Display
Always On Display
Toggle On/Off Switch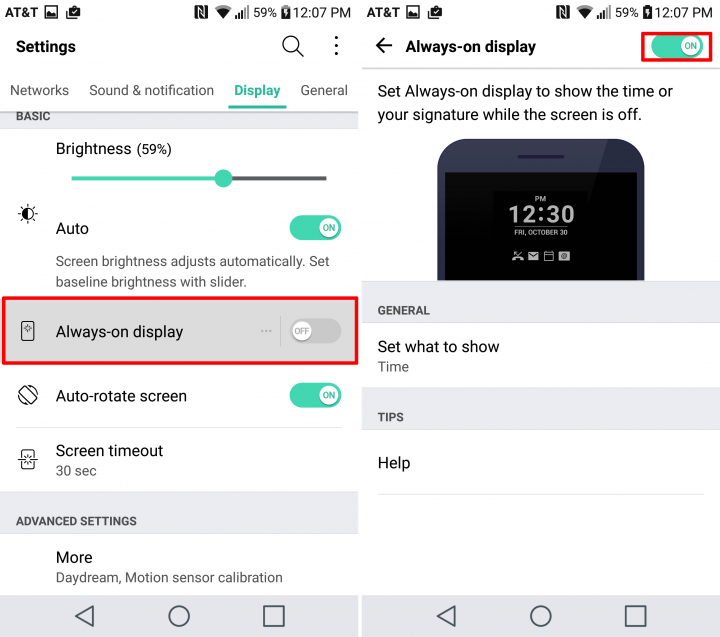 From here users can simply hit the home button or turn off the screen, and a very dim, barely visible area near the top of the screen will be on at all times sharing important information at a glance. It's worth noting that LG doesn't have any customization options like Samsung, except to replace the clock with a signature or "lost if found" message.
Those concerned about battery life will be happy to know this only consumes roughly 1% of battery life every hour. Meaning 8% during an entire 8-hour work day. This isn't too much, but considering this new phone has a smaller 2,800 mAh battery (smaller than the LG G4) some may not want to enable it.
Read: 5 Quick Chargers for the LG G5
LG confirmed the very dim and hard to see always-on notification will get brighter or darker based on a users surroundings, and actually turns off if the phone is in a purse or pocket, to further preserve battery life.
It's that easy. Not enjoy more information with ease on the LG G5. Stay tuned for more details, how to guides, and more. Owners with any questions can leave us a comment in the box below.

As an Amazon Associate I earn from qualifying purchases.