How To Erase All Data and Factory Reset Your iPhone
Before you give your iPhone away or sell it, be sure to erase everything and reset your iPhone so you won't have your identity stolen.
People who buy used phones often mine them for personal information so they can steal your identity so they can empty your bank account, run up charges on your credit cards or apply for loans using your Social Security Number. While I recommend not storing your social security number on your iPhone, it's been known to happen and with personal finance and shopping apps all the rage, your phone is a treasure trove of information.
You can choose between two methods of backing up and erasing the phone. If you don't mind using a computer, the traditional method of plugging the iPhone into a USB port using the sync cable works. However, with iCloud, you can do this without ever tethering to iTunes. If you prefer to use iTunes skip the next section and jump down to "Backup and Restore Using iTunes" below.
[You may also want to read How to Erase All Data and Factory Reset Your iPad]
Backup and Reset Using Just Your iPhone
Thanks to iCloud you can back up all of your data, apps and music using your phone. This doesn't work for videos, so if you bought any TV shows or movies using your phone, then you will have to back them up first to your computer. Apple won't let you download them again like it will with music, apps and books. If you're sure you don't need to restore movies after you wipe your phone, then proceed.
How to Reset Your iPhone Video
This video shows you how to reset the iPhone, it will work on all iPhones form the almost dead iPhone 3GS to the newest iPhone 4S. Watch for a step by step guide to hard reseting your iPhone.
Backup Data Using iCloud
Before we go any further you need to back up the phone. You can back it up to iCloud if you have enough space in your iCloud account. You can buy more if needed.
To backup to iCloud open Settings and then choose iCloud. Select which of the items listed that you want backed up to iCloud by setting them to On. You will have to tap both Photo Stream and Documents & Data to turn those two items on in the screens shown after you tap them.
Once done setting up what gets backed up, go to Storage & Backup at the bottom of the screen. You will see the amount of storage you have in total followed by the available storage left. To manage each device you are backing up to iCloud, tap the Manage Storage item. You can control which apps you want to have backed up. iCloud will backup the data from these apps, things like Pages files or GoodReader PDF documents.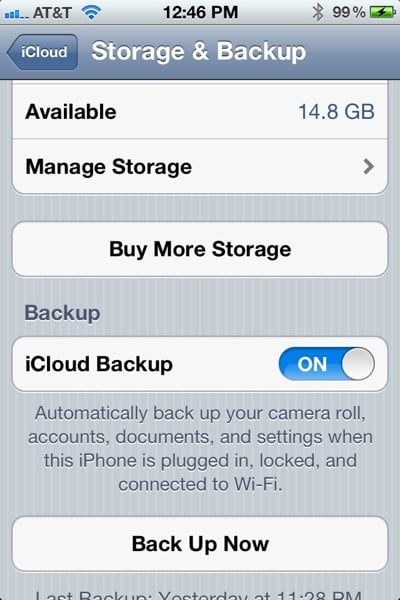 Once finished, go back a screen and turn on iCloud Backup the second item from the bottom. Now tap the last item, Back Up Now, to have everything you selected backed up.
Apple assures us that your data will be safe in iCloud and you can restore from your iCloud backup. I don't believe them, so I do a local backup too. If you want to do the same for extra protection, then skip down to the section Backing Up Data Using iTunes. If you trust Apple, the go to the next phase.
Reset Using Your iPhone Only
Open the Settings app on your home screen (or wherever you put it) and find General. Go to the bottom of the list and choose Reset. There you will see a number of options.
You want to reset using one of the first two. The bottom three will only reset the items listed. The middle selection works with your network settings only.
If you want to keep your data and apps, then choose Reset All Settings which returns your iPhone settings to the factory default without erasing any of your apps or data. This helps if your iPhone starts behaving badly. Try this one first since it's not as destructive. If that doesn't solve your problems, then choose Erase All Content and Settings. Your phone will look like it did when you first turned it on the day you bought it.
It's a good idea to do a complete restore about once a year anyways to get rid of old apps you don't use or documents you don't need any longer.
After you reset the phone using the second item, it will erase itself and restart giving you three options:
Set Up as New iPhone
Restore from iCloud Backup
Restore from iTunes Backup
Pick the first one if you plant o sell the phone or give it away. Better yet, just turn it off and let the recipient choose unless you feel the need to set things up for a friend or family member who might not understand how to do it.
The other two apply only if you want to quickly get your phone up and running using the backup you created above using iCloud. To use the third option you must do a backup using iTunes, so proceed to find out how to do that now.
Backup and Restore Using iTunes
If you don't trust iCloud for backing up your data or if you have videos on the iPhone, then the best option to back up is to use iTunes.
Backup Up Data Using iTunes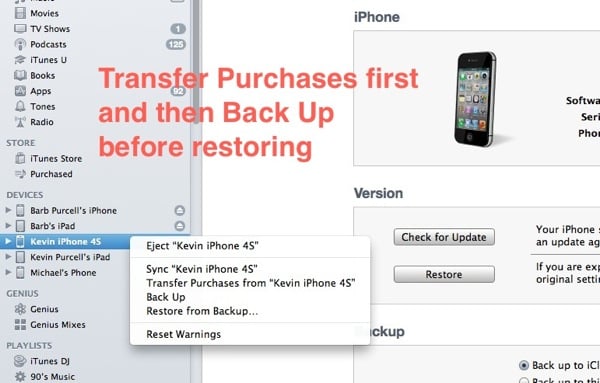 Connect your phone to your computer using the USB-Dock cable. Let the phone sync with iTunes and iTunes will back it up. To be sure, right-click your device in the list along the left. I first choose Transfer Purchases… to make sure iTunes copies any movies, video, music, apps or books I bought on my device over to my computer. When the transfer finishes, then I makes ure I have a good backup by choosing Back Up from the right-click menu. This is overkill, but I'm extra cautious with my precious data.
The video below shows you how to transfer purchases to your computer, this is also handy if you need to sync with a new computer. The process could take some time if you have a lot of apps and movies to transfer over.
Restore Using iTunes
With your phone plugged into your computer and iTunes running, make sure you backup all your data as per the instructions above. Then, with your device selected (1 in image below) and the Summary tab selected (2 below) first click Check for Updates (3 below), if you want to restore your phone using the latest version of iOS. This will download iOS for your device giving you the most recent build available. This step isn't really necessary, but I like to do this first if Apple just shipped a new version of iOS. You will have it stored on the hard drive ready for the next step.
If iTunes finds one it will ask you to download it only or update the phone. I choose download, but you can pick update. iTunes will update over the top of your data theoretically preserving all that is already loaded on your phone.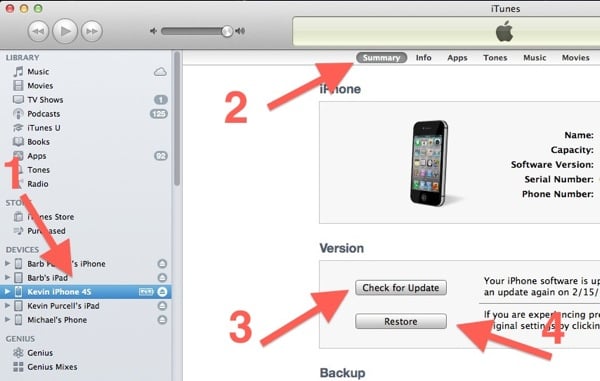 Once iTunes finishes either downloading or updating the phone, then click the Restore button (4 above) and it will ask you if you want to either Backup or Don't Backup. Since you already backed things up, you don't really need to now, but you can for an extra measure of precaution. iTunes will then install the new version of iOS. Once finished it will restart and ask if you want to restore from a backup or not. At his point you can choose one of three options, setting the phone up as a new phone, restoring from iCloud or from iTunes. If you plan to sell or give the phone away, don't restore it. Set it up as a new device or just unplug it and it will be ready to sell or give away.
If you plan to give the phone to a friend or family member who will use this computer and iTunes installation, then you may want to go ahead and set it up as a new device.
If you get stuck, you can see the Apple support page for this procedure.

As an Amazon Associate I earn from qualifying purchases.