How to Erase Your Android Phone Before You Sell It
One question we continue to get month in month out, is how to factory reset, wipe, or erase an Android smartphone or tablet before selling it. With 2014 approaching many of you will be getting new phones soon, not to mention the holidays are always full of new gadget gifts, which has owners looking to sell or hand down an old smartphone.
So if you got a fancy new Nexus 5 smartphone, or something from LG or Samsung this holiday season and plan to sell your old Android device or donate it to a family member, below is an extremely quick and simple guide on how to wipe your Android before you sell it. The steps are nearly the same for all manufacturers, on smartphones and tablets, but may be located in slightly different places. You'll have your phone wiped and ready to sell in no time!
If you just upgraded to the latest and greatest Android smartphone, you'll want to quickly wipe out your old app data and get it ready to sell. Either that or use it for a dedicated Google Music All Access Media Player, or to stream to your Google Chromecast. Selling your old phone is an easy way to make some quick cash, or help pay off your new purchase, but here's what you should do first.
While we won't get into a full out guide here, we'll quickly explain how you can wipe and factory reset the device to that "out of the box" state for the new owner. If you're looking for a detailed guide to not only wipe, but also backup all that important data, read the link below.
Read: How to Backup & Erase Your Android Smartphone
Obviously a factory reset or erasing a smartphone or tablet will wipe all your data, so make sure anything valuable has been backed up to your computer. Usually all your pictures, videos, notes, and other things are worth saving, but the rest can automatically be restored by the Google Play Store, or synced passwords with Google's Chrome Browser.
Instructions:
Assuming you've already backed up all your pictures and important documents from your smartphone or tablet, below is the extremely quick few steps you'll need to erase and factory reset it before you sell it, or handy down it to a family member.
Step 1: Find the settings button in the notification pulldown bar, or by hitting the physical menu button most Samsung devices have and tap settings or system settings.
Step 2: Scroll down to Personal or security (depending on manufacturer) and click "backup & reset" or reset, and then click "Factory data reset"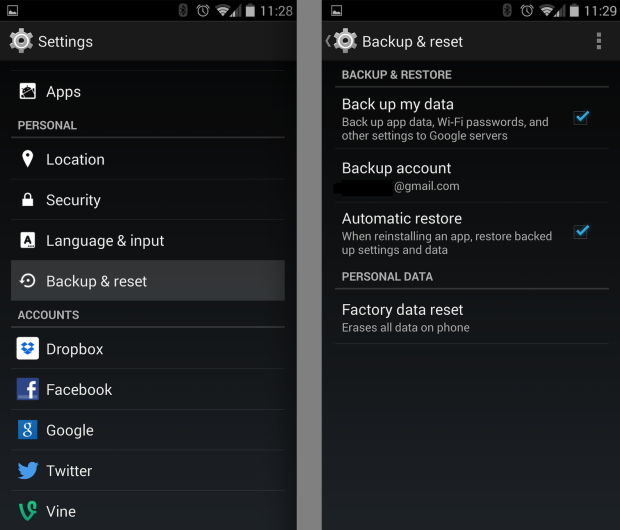 Step 3: Confirm you'll be deleting all the information displayed on this last screen. Things like your Google account, app and system settings and data, as well as any picture or other data on the phone. (If pictures are on your micro-SD card, just remove it and put in new phone). Here is also where you can have Google backup app data and settings, use it.
Step 4: Tap "Reset Phone" on the final image you see below, and make sure the phone has at least 50% battery left. It will proceed to shut off, wipe all user data and important information, and reboot in a factory out of the box state.
From here the device will be like new. It will ask the user to go through all the usual setup procedures to sign into their Google account, WiFi, and restore any previously backed up apps using Google's stock backup system on most smartphones and tablets. As a reminder, you don't want to proceed with any of these steps, as the new owner will want to start fresh.
Of course from this point you'll want to hold down power and turn it off, then make sure to remove your SIM card before handing it off to the next owner. There's other steps you can take, but this is the quickest way to easily wipe and get the phone back to a factory state before you sell it. It's that easy.

As an Amazon Associate I earn from qualifying purchases.