How to Find Nearby Apple Pay Stores on iPhone
If you want to find stores nearby that accept Apple Pay, here's a quick way to look up nearby Apple Pay stores right on your iPhone.
It's been a little over a year since Apple Pay first launched, so it's still a fairly new technology, but its availability is growing more and more every month with more stores hopping on board. However, not every store under the sun accepts Apple Pay, which can make it a bit difficult to know which locations accept Apple's new payment platform.
Apple Pay allows iPhone users to buy goods at the store using their iPhone at the checkout lane. All you do is hover your iPhone over the pay terminal and Apple Pay will automatically appear. From there, simply place your finger on the Touch ID home button to authorize the payment. If you have an Apple Watch, it's even easier. Just double-click the side button and hold the watch up close to the pay terminal — no need to get your iPhone out.
Read: How to Set Up Apple Pay
However, before you can use Apple Pay, you need to be at a store that accepts Apple Pay in the first place. You can probably think of a few places on the top of your head that accept Apple Pay, especially if you've been there before or seen advertisements for it, but if you're wanting to know if that new store down the street accepts Apple Pay, here's an easy way to find out.
Finding Nearby Apple Pay Stores
If you're out and about and want to see which stores around you accept Apple Pay as a payment method, there's a new iPhone app that makes this easily possible.
The app is called Pay Finders, and it provides you with a either a list or a map of stores that accept Apple Pay nearby.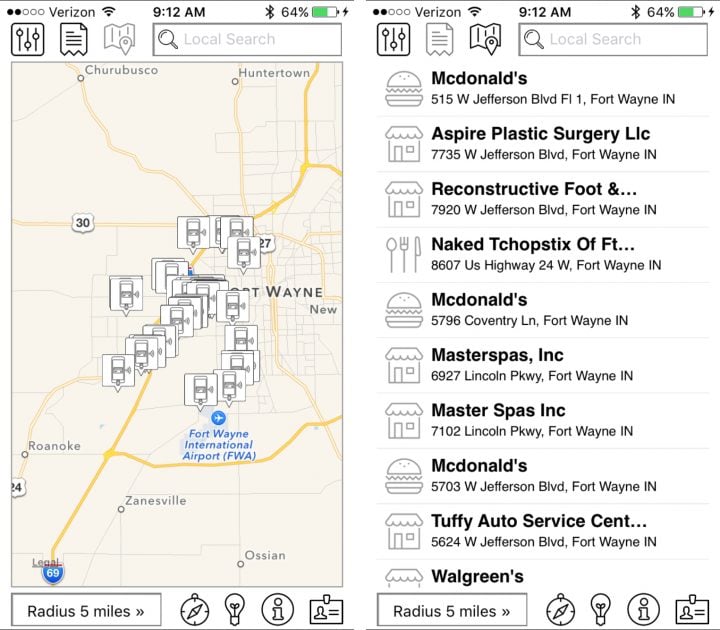 The app takes your current location and gives you a list of stores that accept Apple Pay within a given mile radius, which can be changed at the bottom. Tapping on a store gives you the address and from there you can get directions or tap on the eye where you can rate your experience with Apple Pay at that store.
Read: Where iPhone Users Can Use Apple Pay
Pay Finders is a crowd-sourced app, which means that users can submit a store that accepts Apple Pay if it isn't on the list. The app even claims that you can submit a store that you wish had Apple Pay and the app will contact the business to hopefully persuade them into supporting Apple Pay.
Within the app, you can set up favorites, so if there are some stores that you visit frequently or locations that you want to save for later, you can favorite them and they'll show up in a favorites list, which you can access in the bottom-right corner of the app.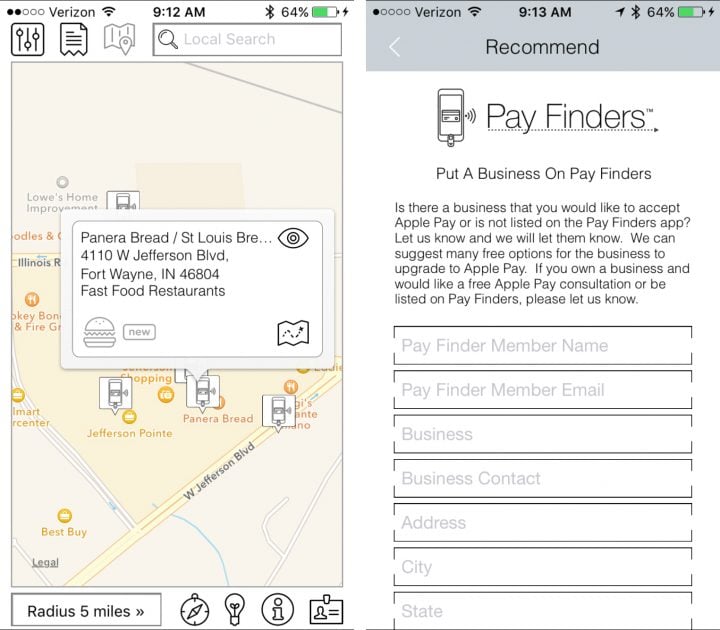 You can also search for a specific store using the search box at the top, so if you know what store you want to go to, you can search for it and see if they accept Apple Pay.
Pay Finders is a free app to download and use, and there are no in-app purchases to deal with. There aren't even ads plastered everywhere, so it's truly a unique app.
The only downside is that Pay Finders probably won't list every single location that accepts Apple Pay, especially mom-and-pop local stores. However, as mentioned above, you can submit a store that accepts Apple Pay have it added to the app.
If you want to view a quick list of all the stores that accept Apple Pay, we have a handy list that you can skim through, which also includes a list of iPhone apps that accept Apple Pay as well.

As an Amazon Associate I earn from qualifying purchases.