How to Fix Bad Galaxy Note 7 Battery Life
The Galaxy Note 7 is an excellent smartphone with a lot to offer, but it's not perfect. It has the biggest battery of any Note ever released, but we can make things even better. With a large 3,500 mAh battery and fast charging it should last all day. If it doesn't, here we'll be going over a few tips to try and help owners fix bad Galaxy Note 7 battery life.
Last year when Samsung debuted the Galaxy Note 5 with a small non-removable battery many Galaxy Note 4 owners weren't happy. The phone lasted pretty long but it could have been much better. For 2016 with the Note 7 the situation isn't just better, it's the biggest battery to date and charges faster than ever before.
Read: 5 Fast Car Chargers for the Galaxy Note 7
With the Note 7 the battery still isn't removable and probably never will be again, but it shouldn't be an issue thanks to fast charging, fast wireless charging, and of course the big 3,500 mAh battery. If your Galaxy Note 7 is lasting as long as expected, here are some tips and tricks to help improve battery life.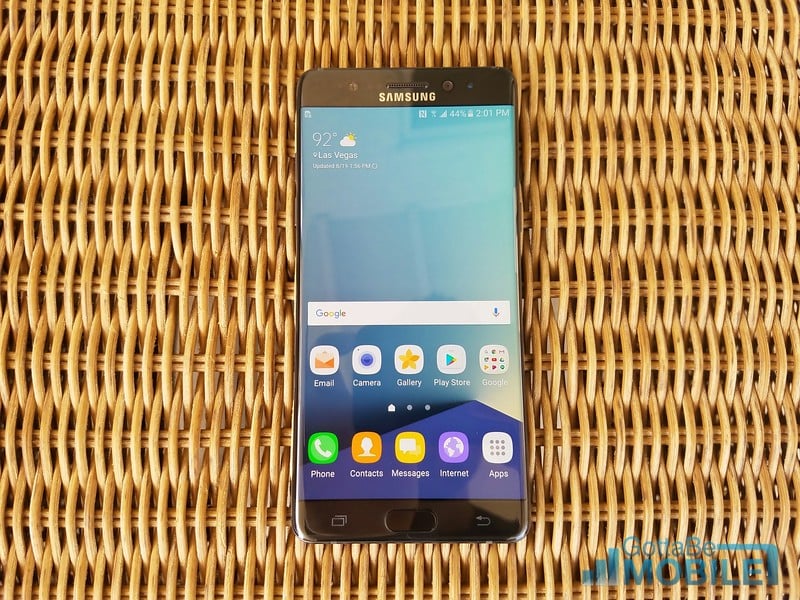 So far our first impressions have been extremely favorable. The processor and Android 6.0.1 Marshmallow software are faster than ever yet extremely efficient, the display is more efficient, all while Samsung added a bigger battery. Our first 24 hours with the Note 7 we came away impressed, as it lasted over 24 hours on a single charge.
For those wondering the new Note 7 has a big 3,500 mAh battery, which is 17% larger than the Galaxy Note 5 and its 3,000 mAh battery. Add in the faster USB Type-C charging and other things, this will surely be the longest lasting Note to date.
How to Fix Bad Galaxy Note 7 Battery Life
Below are some tips, tricks, suggestions and easy software changes that will improve things for owners. Some of these instructions are perfect for beginners, while others are a bit more hidden and can help just about everyone. It's also worth stating that certain settings may be a good or bad idea to change, based on user preference and needs. Lets get started.
Find Rouge Apps Eating Battery Life
Our first suggestion is one that many users don't think about, but is more often than not the biggest problem for all Android smartphones. If battery life isn't as expected, check app downloads to see if any are draining more battery than they should be.
Whether these are stock apps out of the box or apps downloaded from the Google Play Store, there is a chance a rogue app will put a huge dent in battery life. If an app is used a lot, it's going to drain the battery. But there are also times where bugs or issues might cause an app to go rogue and start abnormally draining the device's charge.
Start by heading into Settings > Device Maintenance > Battery > Battery Usage and make sure no apps are taking more than a fair share. They are listed from high-low. It's worth nothing there are some neat new battery saving modes in here, but more on that later.
Read: 17 Exciting Official Galaxy Note 7 Accessories
If an app is draining the battery that you didn't expect to see, try clicking on it and hitting "Force Stop" or uninstalling it from the Google Play Store. If it's needed, a reinstall could fix the problem as well.
Reboot Your Galaxy Note 7
Honestly this tip is probably the most helpful thing we could tell any smartphone owner. Almost every minor problem can be solved by a simple reboot. I've found that if battery life is dropping too fast, there's a reason for it. GPS, WiFi, or an app could be draining things. Something isn't right and rather than trouble-shoot, a quick reboot will often fix it. It's amazing how much a quick reboot every few days can improve everything from performance to battery life.
If the phone is getting hot for no reason, seems to be lagging or working unusually hard, long press the power button and choose "Restart". Another last resort option is to press and hold power and the volume down for 7-8 seconds to do a hard reset.
Note 7 Screen Brightness & Sleep Time
Perhaps the biggest drain on battery life of all is the beautiful 5.7-inch Quad-HD display on the Galaxy Note 7. Many owners don't realize it, and have brightness cranked to a retina-burning 100%, and it's not remotely necessary.
Checking for "Screen On" time in the battery stats page mentioned above is a good tip for most, as this should be relatively high on the list. Most of my family have screen brightness set over 80% 24/7 and that drains the battery. I on the other hand, have mine around 35-40% and it makes a big difference. Here's how to set it up right.
Swipe down from the top of the screen, then swipe again for a full view of the notification bar and quick settings. At the bottom is a bar and slider for screen brightness. Turn off "auto" and set it to something comfortable, but not too high.
Alternatively owners can hit the gear-shaped settings button and head to Display and adjust it there. It also helps to scroll down to "Screen timeout" and leave this at 30 seconds or 1 minute. Many owners crank this up so the screen doesn't turn off to fast while the phone isn't in use, but 90% of the time that isn't needed and it just sits and drains the battery.
Checking your phone over 100 times a day, those 5 minutes really add up. Set it to something manageable and enjoy all-day battery life.
WiFi, 4G LTE, Bluetooth & GPS
If you aren't using WiFi or Bluetooth, you should turn them off. Even though they're minimal when it comes to battery drain it's one more thing worth doing. If you're somewhere with Wifi but not using it, turn it off as the device will continuously search for a network. It's a huge battery saver at home to use WiFi, but if it isn't being used, disable it. Bluetooth being enabled isn't much of an issue, but if you don't use it, turn it off too. These are right at the top of the notification bar, or the first few options in settings.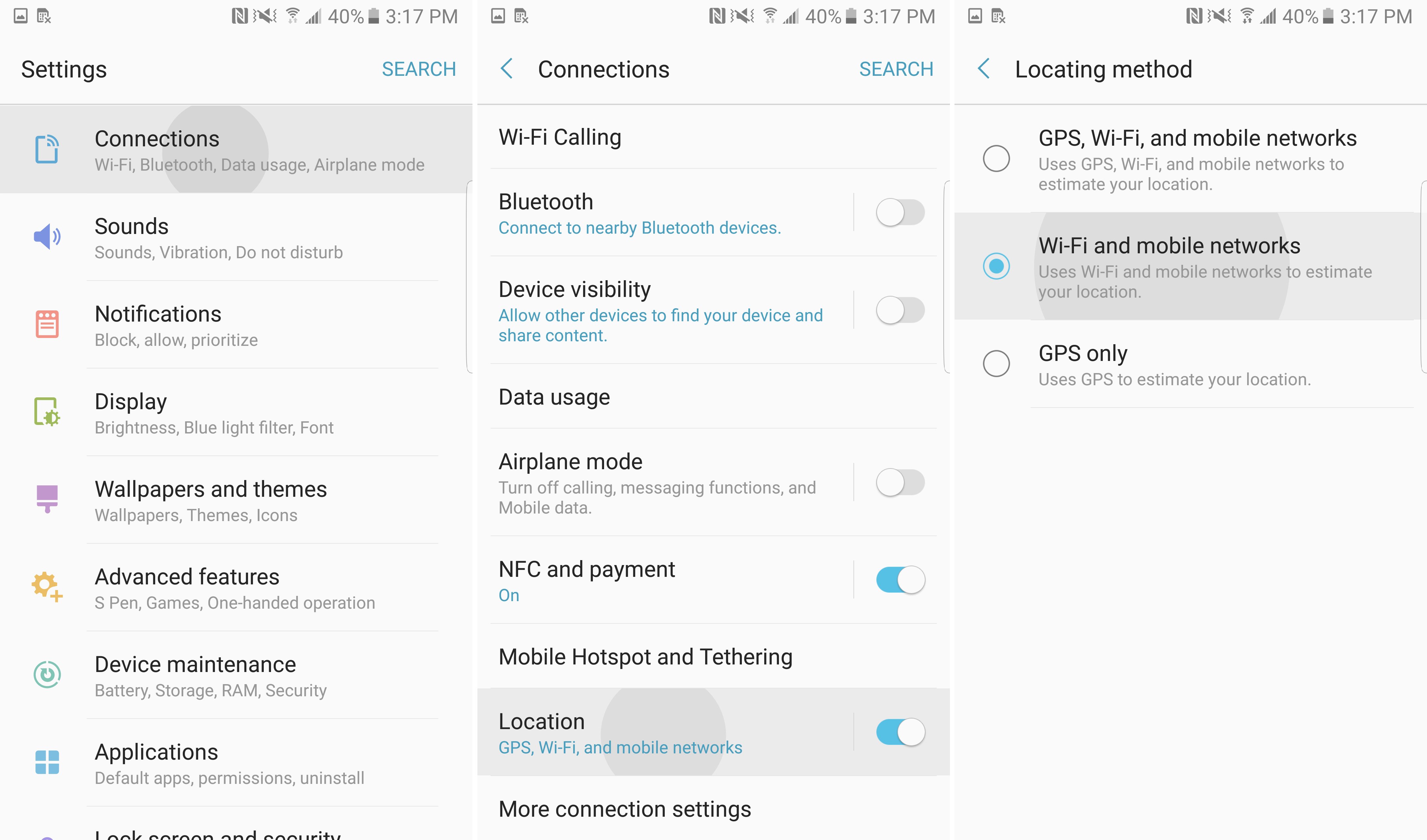 Another large drain is GPS which is used for Google Maps and Navigation, by Facebook and other apps. I turn this off except for when it's specifically needed, using an option in Location settings as shown above.
In settings start with Connections > Location > tap Locating Method and use the middle WiFi and Mobile choice, no GPS. Those who use Maps and Navigation daily may want to leave this setting alone.
Disable Note 7 Software Features
The Galaxy Note 7 has tons of different software features or controls that most don't ever use. While some are useful, many aren't at all. We're talking about all the gesture or motion controls like Smart Stay and others. There are tons of them, and I don't think I use a single one.
These are listed as "Advanced Features" in settings, and disable all of the ones you won't use. Keep Quick Launch Camera (double tap the home button) and anything of use, and disable everything else to keep as many sensors and controls turned off for better battery life.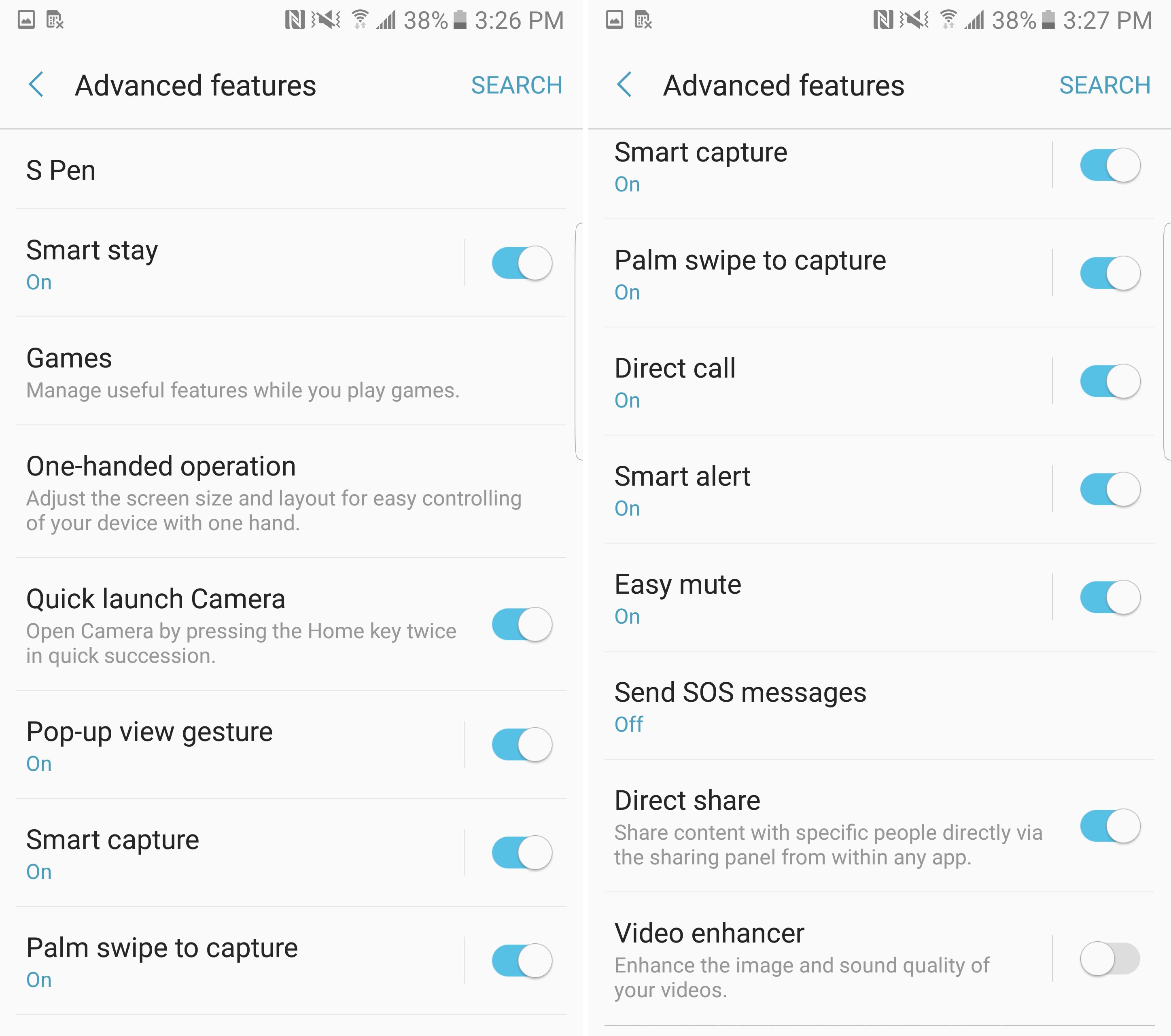 Above is a couple of screenshots showing some of these. Again, only choose what you think you'll want or use, and disable the rest.
Use a Black Wallpaper
Switching to a black or dark wallpaper could help deliver better Galaxy Note 7 battery life thanks to the way Samsung's AMOLED displays consume power. By default the background image is black and blue, but the darker the wallpaper the better. This is a small difference, but everything adds up in the long run. Right?
After you've downloaded a few good options head into settings and change the wallpaper to something on the dark side.
Always-On Display
One of many features on the Note 7 is the "Always-On Display" that shows helpful information even while the screen is off. Like the time, date, battery life, incoming notifications and even your calendar if customized. The average owner turns on the screen 140+ times a day, and this prevents you from needing to. Personally the Always On Display will save battery life, but those trying to get anything extra they can, disable it.
Again we're heading into Settings > Display > Always-On Display and toggle it off. Or better yet, set schedules so it's off when it doesn't need to be used at all like at work.
Try Power Saving Modes
Over the past few years Samsung has developed some pretty excellent battery saver modes for their smartphones. The Note 7 though, takes this further than ever before. In Settings > Device Maintenance > Battery you'll see a circle with remaining life, and some easy one-tap Power saving modes as shown below.
MID is medium power saving mode which can give users a lot of extra battery life by limiting screen brightness, turning the Quad-HD display down to 1080p resolution, and slowing just about everything else down a little to keep the phone running longer.
MAX does the same thing but takes it a step further with a 720p resolution, and cuts down on anything that isn't essential to preserve the battery for another 24 hours if not longer. This mode won't give users much of a "smartphone" but the basics will work for a long, long time. We'd recommend these when users get below 20-30% or in case of emergencies.
Other Tips
This collection was about small changes that combined can make a big difference for owners. However, try apps like BetteryBatteryStats or Snapdragon GURU to see what apps are draining the most battery. These can automate certain things to make phones last longer.
Read: How to Reset a Frozen Galaxy Note 7
Owners on a flight or taking the train with no service, enable airplane mode to save it for when you arrive. Airplane mode turns off all data, radios, services and more and most phones can last 4-5 days on airplane mode. Occasional device restarts can also help to flush out the system and memory, and give your device a clean slate for the day or work week. It's also a good idea to do a factory data reset (which erases everything) if you are experiencing extremely unusual battery life results. This is a dead last resort for Note 7 owners.
These are just a few of many different options available to users without getting deeper into some nerdy apps. If you're still not satisfied with battery life or need additional juice while out and about, uninstall Facebook, or take advantage of the fast charging technology in the Galaxy Note 7 and buy a fast portable battery charger to juice up on the go. Good luck and drop a comment below with any other tips you may have.

As an Amazon Associate I earn from qualifying purchases.