How to Fix Bad OS X El Capitan Battery Life
OS X El Capitan recently released, but battery life seems to be a concern for many users. Here's how fix bad OS X El Capitan battery life so that you can squeeze out a bit more usage from your MacBook before needing to recharge.
OS X El Capitan comes with the same overall design and look as OS X Yosemite, except for some minor changes that you may or may not notice, like a new font and a new spinning beach ball, but otherwise most of the user interface is the same.
However, there are a handful of new features included with the new version of OS X, including improvements to Spotlight Search, a new Split View multitasking mode, transit directions in Apple Maps, and even a revamped Notes app that almost puts it on par with Evernote.
Unfortunately, not every user is having a great time with the new OS X version, as some users are reporting worse battery life this time around, with a couple of users reporting that they're losing hours of battery life with OS X El Capitan.
To say the least, some users have been getting horrible battery life with OS X El Capitan, but before you downgrade to OS X Yosemite, here are some things you can try in order to fix bad OS X El Capitan battery life.
Use Safari Instead of Chrome
It's possible that you use Chrome on your MacBook, but you'll actually get better battery life by using Safari, which is Apple's built-in web browser in OS X.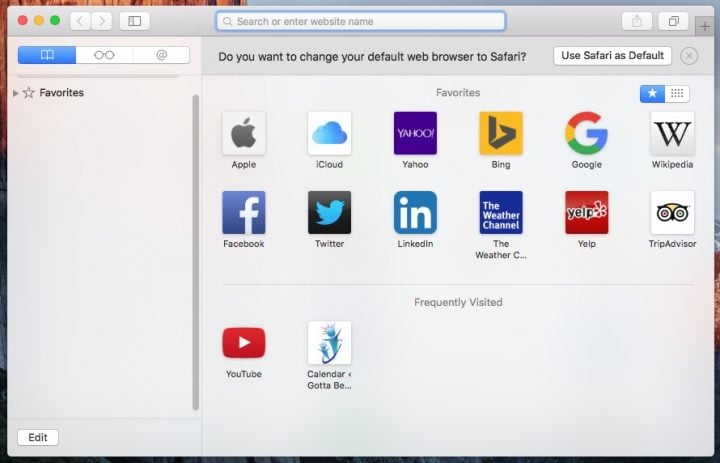 While it's almost a couple of years old, this test revealed that Safari is the best browser to use in OS X over Chrome, Firefox, and Opera.
It shows that memory usage of Safari is better than other third-party browsers, so it saves on system resources, which in turn saves battery life in the long run. The difference may not be anything insane, but it could have the potential of giving you a little extra juice toward the end when your MacBook would've otherwise died already from a dead battery.
Dim the Screen Brightness
The easiest thing you could possibly do in order to save battery life on your MacBook running OS X El Capitan is to dim the brightness of the screen whenever you can.
You can even disable automatic screen brightness in the settings and leave it all manual so that the screen doesn't raise the brightness automatically when you don't want it to. To do this, go into System Preference and click Displays. From there, uncheck Automatically adjust brightness.
You can easily add at least an hour to your battery life by dimming down the display to a level that you're still comfortable with, instead of your MacBook adjusting the brightness for you. The screen is one of the biggest battery hogs on your MacBook.
Discover Resource-Hogging Apps
While Apple optimizes its own built-in apps on OS X, many third-party apps aren't so efficient, and if you use a lot of third-party apps, it's possible that they might be consuming a ton of resources and running down your battery more quickly.
The easiest way to see which apps are using up the most battery life on your MacBook is to click on the battery icon in the menu bar in the upper-right corner of the screen. This will display a pop-up that will show you a section called Apps Using Significant Energy. Under that will be the apps that OS X says are using up a lot of energy.
You can also use Activity Monitor, which is a utility built into OS X that can show you what apps and services are using up the most CPU power. Simply go to Applications > Utilities > Activity Monitor to open it up. Once there, select the CPU tab.
Sort the list of apps by CPU percentage with the highest percentages first. This will tell you which apps and services are using up the most resources.
If it's anything in the 60-70% range and higher, then it's a pretty significant resource hog. Click on the app and click the Quit Process button in the upper-right corner of the window. You can also just quit the app like normal, by right-clicking on it in the dock and hitting Quit.
Customize Energy Saver Settings
If you want more control over how your MacBook acts when it's on battery power, there's a settings pane in System Preferences that allows you to do just that.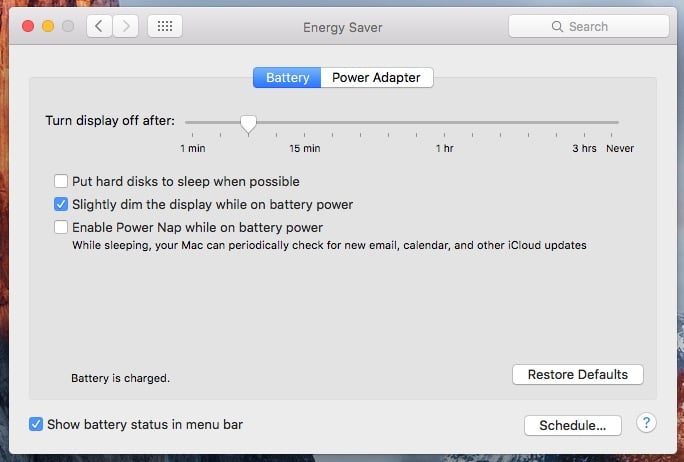 Open up System Preferences and click on Energy Saver. It features settings that you would expect from a name like that.
You can determine when the screen should shut off after a certain amount of time that the MacBook isn't being used, and you can also have your MacBook shut off your hard disks when they're not in use.
You can also automatically dim the display when you go to battery power, which can save some battery life, but if you prefer full manual control over brightness, then you may want to uncheck this setting.
In the end, it could just be that El Capitan isn't taking too kindly to your MacBook, and it's most likely a bug that Apple will patch up soon enough in a future OS X update. For now, though, try these little tricks in order to get a bit more out of your battery.