How to Fix "Cast Device Not Connected" Notification on Android
An irritating new popup notification is appearing on millions of Android smartphones and tablets lately. It says "Cast Device Not Connected" and is a notification that cannot be removed. Here we will explain what's causing this and how to get rid of it.
The problem is Facebook. More specifically, this persistent notification pops up after watching a video on the Facebook Android app. A combination of things makes this happen but we can get rid of it with just a few steps.
Thousands of users on Facebook, Twitter and Reddit have reported the problem. Google is also aware of the situation. Trying to swipe it away or hitting the play or X button to close it do nothing. So what's going on? Read on to learn how to get rid of this pesky irritating notification.
Facebook will soon be releasing an update that will enable full Google Chromecast support. Meaning users can cast video from Facebook to their TV with any Chromecast device or Android TV.
This is a feature that is coming soon, or was just released and appears to be broken. We're not completely sure. Combine that with Google just updating Google Cast to Google Home, and the two aren't playing well together. Luckily there's an easy way to get rid of the above notification. Temporarily, and for good. Whether you know what Chromecast is or not, here's how to fix the problem.
On November 1st Facebook released an update on the Google Play Store for Android users, which appears to have fixed this problem. If you're still experiencing this, go update your apps on the Play Store. Or download the latest version here.
Clear "Cast Device Not Connected" Notification
Tap on the notification popup and Facebook will open
Disable Facebook popups by unchecking Allow Notifications
Alternatively long-press the popup and then choose to Force Stop Facebook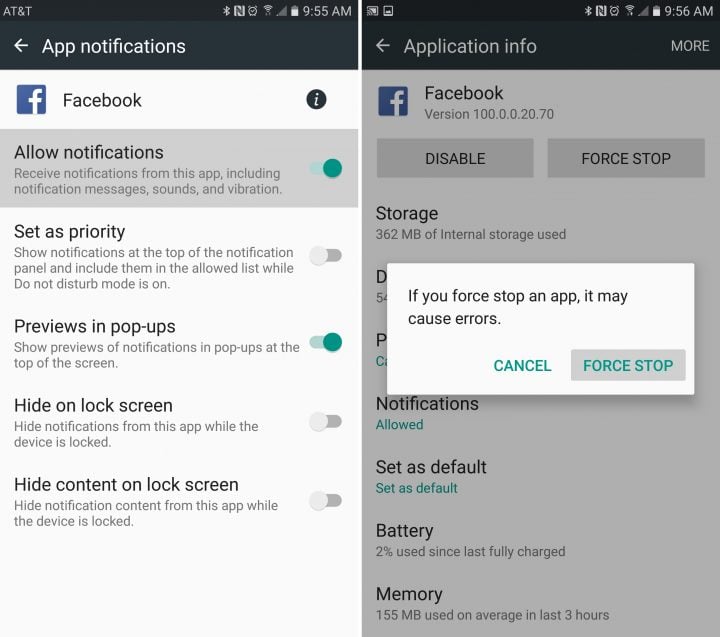 Users who are experiencing this can simply press the popup (or long press) and choose to turn off notifications for Facebook. This removes the problem, but now you won't receive any notifications from the social network. That isn't ideal for most, so continue reading for other ideas.
A temporary fix is to head into Settings > Applications > Default or Manage Applications > then scroll down to Facebook. Once you find it, click the app and tap "Force Close" as shown above. Or Force Stop. This forces the app to close and kills the persistent notification millions are experiencing. However, the next time you watch a video on Facebook it will come back.
Another option is to go to Settings > Notifications > and scroll down to Home. It's a house-shaped icon in multiple colors. Disable that. Those who haven't updated the app will need to search for Google Cast, and disable notifications for that application.
For now this seems to be the best route, unless you've installed the latest Facebook app update. Another method is to install the Facebook Beta for Android, or a third party app completely. Like Swipe for Facebook, which is a far better app than the official one from Facebook themselves.
Are you still experiencing this problem? Let us know in the comment section below.

As an Amazon Associate I earn from qualifying purchases.