How to Fix a Frozen Mac App
It's more than frustrating when you're working on something on your Mac and the app just freezes on you, but here's how to fix the problem in order to restore order to chaos.
OS X Yosemite isn't perfect, and it's still a rather new operating system. Most of the popular apps have been updated to support Apple's latest version of OS X, but even then, some apps don't play nicely with Macs. Thus, some apps can constantly freeze on you. Most of the time, you've probably just waited and stared blankly at the screen while your Mac figures itself out, but you can be proactive and take matters into your own hands.
When Mac apps freeze, there are a few things you can do to fix the issue temporarily, as well as steps to take to prevent apps from continuously freezing, because there's nothing worse than working on a project or simply just casually browsing Reddit and the app you're working in suddenly freezes. That spinning beach ball is the icon of frustration for sure.
Without further ado, here's how to fix a frozen Mac app and how to prevent it from happening in the future.
How to Fix Frozen Mac Apps
When an app freezes on your Mac, there are several things you can do to fix the issue and it usually just takes a minute to fix it. However, be sure that you constantly save your work if you're working on a project like writing an essay or working on editing a video in iMovie. Some apps will automatically save your progress, but if you're working in Microsoft Word or another app that doesn't automatically save your progress, it's imperative that you do it yourself often.
Now, when an app freezes on you, I would recommend waiting a minute or two before trying to take matters into your own hands. More often than not, when most Mac apps freeze, it doesn't last that long. Your computer just needs a bit of time to catch up. However, if after even a minute, the app is probably frozen quite a bit, and will probably need a little bit of assistance.
At this point, you can go ahead and right-click on the app icon in the dock and select Force Quit. This is essentially like hitting Ctrl+Alt+Del on a Windows computer, where it will shut down the app no questions asked. You can also go up and click on the Apple logo in the top-left corner and click Force Quit.
However, even that won't work sometimes, and you'll have to go a step further. Unfortunately, that step further is really just shutting down your Mac and booting it up again. You can try to simply restart it by going up to the Apple logo in the top-left corner and clicking Restart, but if you have a frozen Mac app, your computer won't restart until that app responds.
This means that you'll need to force-shutdown your Mac by pressing and holding down on the power button on your Mac for a few seconds until the screen goes black and the entire computer shuts off. From there, wait a few seconds and then press the power button again to boot back up. This will close out all your windows, but upon reboot, OS X will ask you if you want to restore apps that were open before you shut it down.
How to Prevent Frozen Mac Apps
There's really no solid way to prevent Mac apps from freezing up, unfortunately. If an app isn't built well to work with OS X, chances are it's going to have some problems running on Apple's operating system. Chrome is a big one for me, as it freezes up and crashes fairly regularly.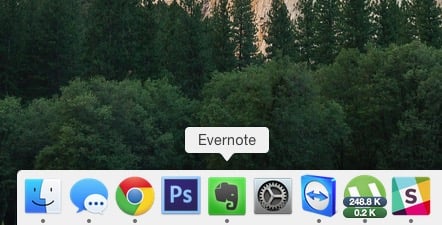 To prevent Mac apps from freezing up, try checking the app for updates. It's possible that it's out of date and the latest update has some fixes that prevent freezing. You can usually check for updates on a Mac app by going to the Mac App Store and clicking on the Updates tab. Otherwise, if the app wasn't downloaded through the Mac App Store, you can go to Help up in the toolbar and click Check for Updates.
Really, the only thing you can do at that point is to try and find an alternative app that works and runs well on Mac. So if Chrome is giving you issues, try out Safari or Firefox. If Microsoft Word keeps freezing up on you, try out some of the cloud-based options like Google Docs.

As an Amazon Associate I earn from qualifying purchases.