How to Fix Galaxy Note 7 Iris Scanner Problems
This quick guide will go over some common Galaxy Note 7 Iris scanner problems and potential fixes for owners. On top of the already excellent and lightning fast fingerprint scanner, this year Samsung added a Biometric Iris scanner for enhanced security. It works great, but some users are having problems here and there.
Samsung's new Note 7 is one of their best phones ever released and chalked full of new features. Everything from an improved curved 5.7-inch display, a bigger battery, water-resistance, a microSD slot for storage expansion, and of course the new eye scanner. It's a big topic of discussion for Samsung fans, so lets make sure it's working right.
Read: 35 Galaxy Note 7 Tips & Tricks
By using what's essentially a secondary infrared camera on the front of the device, owners can unlock the device or authenticate themselves using their eyes by simply looking at the sensor. It's fast and accurate, often-times unlocking the phone before the unlock screen fully comes on, but other times we get an error.
The fingerprint scanner is becoming a feature that almost every smartphone has these days, and they all work pretty well. However, after years of rumors Samsung took things a step further by adding the Iris scanner. It can accurately scan over 240 points in a users eye, which makes it far more secure than any fingerprint. On top of that, Samsung claims it can't be faked out by a photo or even a video of the user. It's like a gadget from Mission Impossible.
After using the Note 7 for the past week and unlocking it daily with the Iris scanner, we've found it to be incredible accurate. The only downside is the two-step process to unlock the phone. Waking the screen and then swiping to unlock, then letting it scan your eyes. With the fingerprint scanner it's all one motion. Tap the home button with the embedded sensor, which will wake and unlock the phone all at once.
Read: How to Take a Screenshot on the Galaxy Note 7
During setup we ran into an issue where the Iris scanner could not get an accurate reading, and after 2-3 failed attempts I cleaned the class covering the 5.7-inch Quad-HD display and the rest of the front fascia of the phone. After a cleaning, it worked instantly. That's one of many problems owners will face.
Galaxy Note 7 Iris Scanner Problems & Fixes
As long as you are doing everything right the Iris scanner will work right, fast, and be a joy to use. We'd also recommend trying out the "Secure Folder" option in settings, which is a secure place for anything and everything that can be locked down by an Iris. That said, here are some problems you might face.
Distance
Samsung recommends owners hold the phone around 10-14 inches away from their face while using the scanner, so about an arms length away. If you're too far or too close it may not work, although that's never really been an issue for me. The phone says this as a tip during use, so most owners will pickup on it right away.
However, if you're getting a lot of failed attempts with the Note 7 Iris scanner, or it says to readjust, just make sure you're holding the device at an appropriate distance for the optimal scan.
Dirty Sensor
The only issue I've faced with the Galaxy Note 7 Iris scanner has been due to a dirty lens, or facial oils and residue on the device. The entire front of the phone is covered in glass. Meaning the screen, capacitive buttons on bottom, along with the camera and sensors at the top. While holding the phone, texting, pulling it out of a pocket, or even making a call it can get dirty.
Everyone has facial oils, and it gets pretty hot here in Las Vegas during the summer months. Fingerprints, sweat, oils and even dirt can all get in the way and cause the Iris scanner to fail a reading. The phone may even prompt you to make sure it's clean and isn't obstructed in any way.
I've found that the only time the Note 7 Iris scanner had a problem, it was dirty. A quick wipe near the top left with a cleaning cloth, microfiber towel or T-shirt will do the trick.
Poor Lighting
Using an infrared camera for the Iris scanner Samsung claims it can work in dark environments, and so far it has. I've yet to experience any problems, even in a nearly dark room at night. That said, if it's too dark or the lighting is off some owners may face problems. Especially if one eye is lit more so than the other. The instructions also say very bright situations may cause issues, but we've yet to notice any.
Another thing is some users will squint their eyes to see the screen if it's dark or they have poor vision, which could cause it to struggle to read and authenticate your Iris. Keep that in mind, but we don't see this being much of an issue.
Eyes Wide Shut
Speaking of squinting and eyes not being open enough, another thing is making sure your eyes are open wide so the sensor can capture them both and accurately read your Iris. I've found that looking down at the screen, or just casually, my eyes may not be open enough. So much that I noticed I'm opening my eyes extremely wide (and look funny in public) just to make sure it could read them for an unlock.
Again, the sensor is only reading an Iris so it doesn't need a complete view of the entire eye, but make sure you're giving it a good wide open view for a fast and accurate experience.
Too Much Movement
The only area aside from a dirty and fingerprint covered phone where I've had problems with the Note 7 Iris scanner, is while walking or not holding still. It sounds obvious, but if you're walking and shaking your arm around it may not be able to get a fast and accurate scan. This has only happened once or twice, but keep it in mind if this is the unlock method of choice on the Galaxy Note 7.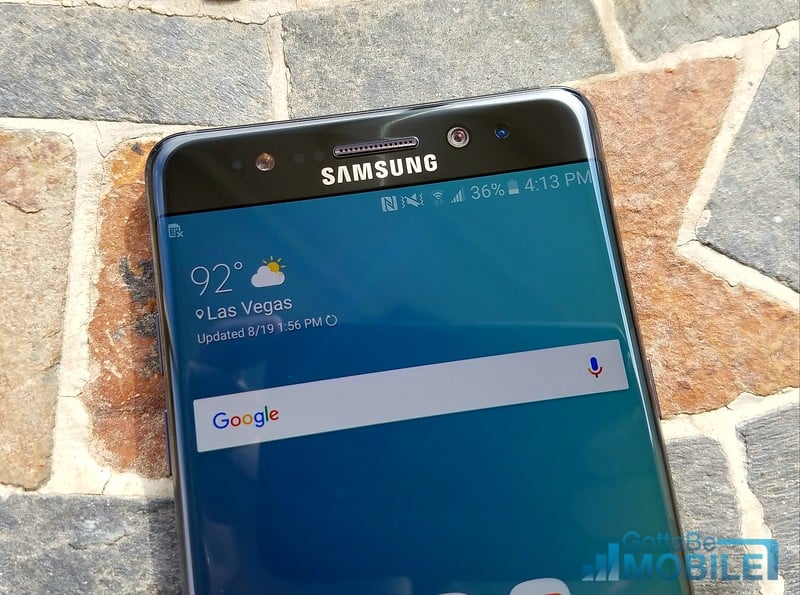 Typically I've been able to hold the phone up just fine even while walking or sitting in a car, and get it to unlock in less than a second.
For the most part the Galaxy Note 7 Iris scanner is fast, accurate, and works as expected. That being said, if you're getting an error here or there, or so many that it requires an alternate security method like a pin or passcode, try our suggestions above. Most likely it's simply a dirty sensor and the phone needs a wipe. As a last resort we'd recommend owners head into Settings > Lockscreen & security > Irises > and Remove Iris. Then start over with a clean slate and a fresh scan. That should solve any remaining issues you may have. Good luck, and stick around for more Galaxy Note 7 how to guides.

As an Amazon Associate I earn from qualifying purchases.