How to Fix iPhone Video Shot in the Wrong Orientation
A very common issue with shooting video on the iPhone, is accidentally shooting in the wrong orientation. This guide will show you how to fix these videos to be facing the proper way so you don't lose your footage you've shot.
The iPhone's video capabilities are some of its best selling points yet any great video can be ruined if the phone starts recording before the user has it in their preferred shooting mode. The iPhone can shoot videos in both Portrait Mode as well as Landscape Mode, yet requires the response from the phone's accelerometer (motion detector) to perform this switch.
If you accidentally recorded video while in portrait and then tried to flip the phone to landscape, don't worry! You don't need to throw out that footage just yet as there are a couple of reasonably painless ways to try to fix it!
How to Fix iPhone Video Shot in the Wrong Orientation
Here are some different methods of getting your iPhone videos flipped the right way that won't break your wallet or waste your time!
Watch the video above to see a few different ways to get the right screen orientation for your videos.
Flipping Videos with Quicktime Player
If you are using a Apple computer with your iPhone, you have access to probably the easiest native tool available. Plug your iPhone into the computer using a Lightning Cable and sync using Photos or Image Capture to get your video on the Mac.
Opening the video in Quicktime Player will allow you to view the movie but also make some changes to it. Click the Edit Menu to find options for Rotating your video! Determine which direction your video needs to change (Rotate Left, Rotate Right, Etc.) and choose the option. You should see changes reflect immediately, your video flipping to Landscape Mode or Portrait depending on your choice.
Playback the video see your results and then Save the video to your Mac. Now this footage is usable again and ready to be used on iMovie or Final Cut Pro!
Flipping Videos with Apps
Flipping your videos is also possible right on the iPhone and one of the ways to do that is by downloading an app from the App Store that will get the job done! There are usually free apps available for most tasks and sure enough, Video Rotate & Flip is a perfect option!
The app is free on the App Store and doesn't have a limit on time or a Watermark on the final video. The app also boasts being able to export in different formats in addition to flipping your footage for you.
Download the application and open your videos from your Camera Roll. Much like with Quicktime Player, you will have the option to rotate the clip and get it in the proper orientation.
Export the clip and again, you will have it available to use in other applications however in the proper view!
Flipping Videos With iMovie
Another app solution available via App Store is iMovie, Apple's video editing program. iMovie is free for anyone who has purchased a new iOS device yet is $4.99 customarily.
Import the video you would like to edit from Camera Roll and then tap Share to export a new clip. To rotate the video the correct way, use two fingers to rotate the video left or right.
After using this gesture, the video should now be facing the proper direction. Tap Done and then Save Video to send the fixed video back to Camera Roll and you are done.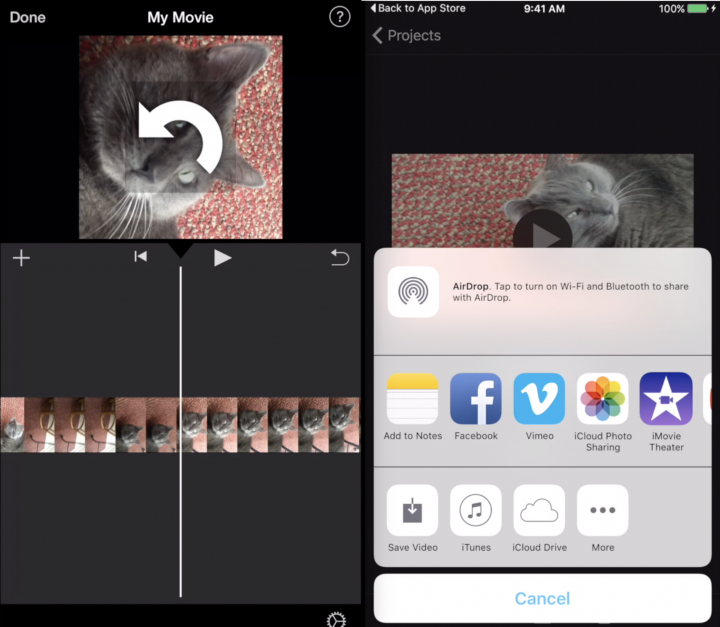 Another good reminder to fix this problem early is to check that the orientation is set before tapping Record by checking the camera icon on screen. If it is facing the same direction you are, you are ready to film or take a picture!
These are some quick and easy methods to fix your videos that are stuck in the wrong view and make them usable clips again for any project!