How to Fix the Camera Bug in Windows 8.1
Talking with friends and family face-to-face has never been easier. Solutions for cheap video chatting are all around. Microsoft includes Skype in Windows 8 and those who prefer not to use Skype usually prefer Google's relatively new Hangouts service. Both are incredibly easy to use, but those running Windows 8 and the free Windows 8.1 update may run into a very specific issue that can be both frustrating and mysterious.
What I call the Dark Camera Bug in Windows 8.1, isn't technically classified as a bug, really. By default all apps that ask to use a front or rear facing camera on a Windows device are forced to connect directly though the operating system's Camera app. This is supposed to ensure that users always get a reliable experience and app makers can connect to a camera without having to write unique software on their own. There's just one problem: Camera in Windows 8.1 remembers whatever its previous settings were and if you've adjusted the brightness or control for any reason than those settings will still be there when Google Hangouts goes to connect to your device's camera.
The result is a picture that's either too dark because you adjusted the settings for a nice looking outdoor shot, or too bright because the last time you took a picture you wanted it to appear as if it was a very sunny day outside.
Thankfully, there's an simple way to fix this issue and get back to chatting with your friends and family in that doesn't make you look as if you've joined the witness protection program or don't know how to use a web camera.
Here's how to fix the camera bug in Windows 8.1
Before you begin, you need to first confirm that the issue you're having isn't with your device's camera hardware. To do so, try video calling from more than one location or on different sides of the room. If the undesired image effects are still there, close your video chatting application. If you're using Google Hangouts on the desktop, close Chrome by clicking or tapping on the X button in the top right window. Users of the Desktop version of any other chat apps, like Skype, should do the same.
Users with chat apps from the Windows Store, mainly Skype, should close the app with a mouse by clicking on the top of the app and dragging in down to the bottom of their display. Touch users should place their finger on the top edge of the app and drag down to close the app.
Now, go to the Start Screen by pressing the Windows Key on your keyboard or by pressing the Windows button at the bottom of your display. Users of smaller Windows 8 tablets without a Windows button should place their finger on the right edge of their screen and slide it to the left slightly to reveal the Charms Bar, then tap Start.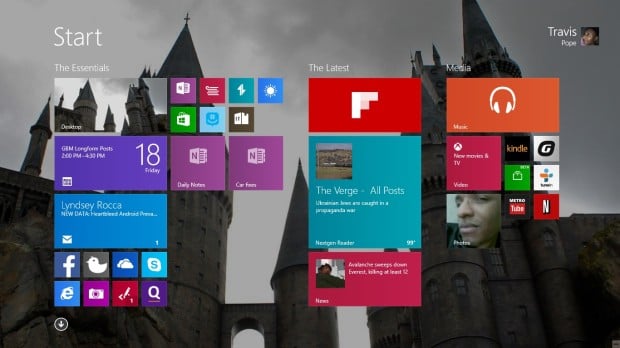 Open the list of all of your installed apps by clicking on the arrow in the bottom left corner of your screen if you have a mouse and keyboard. Touch users should place their finger anywhere on the Start Screen and swipe up. Tap or click on Camera.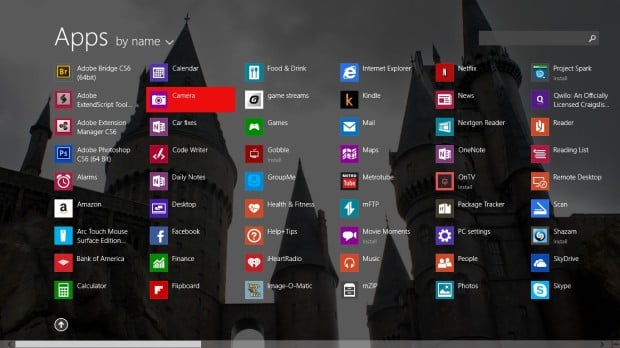 You should immediately see what your camera sees once you've opened the app. The trick is to adjust what your camera sees so that it looks normal to the environment you're trying to video chat in. If you're indoors with plenty of light than you don't need your exposure setting at an all-time high.
Mouse and keyboard users should right-click anywhere in the camera app to reveal the app bar at the bottom of their screen. Tablet and touchscreen users should place their finger on the bottom edge of their display and swipe upward slightly.
Tap or click on the Exposure setting in the menu and adjust the bar so that what your camera sees looks exactly like what you want it to.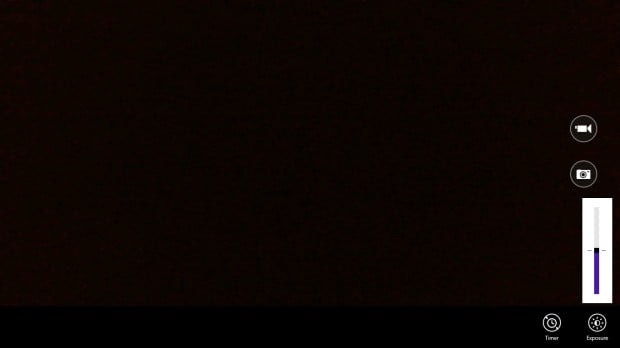 Once you're satisfied, close the camera app by dragging your finger from the top of your display to the bottom on a touch device or with a mouse and keyboard. This is a very important step. If you don't fully close the app your chat program won't be able to connect to your camera until you do.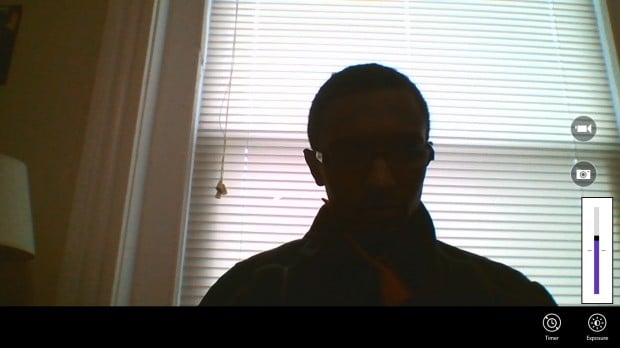 Now go back to the Start Screen by pressing the Windows key on your keyboard or the Windows button beneath your device's display. Launch your video chat app. Skype users who want to video chat using the Windows Store app in the Start Screen should open the app by tapping or clicking on its Live Tile in the Start Screen. Users looking to chat using Google Hangouts should reopen Chrome and then place their Hangout call again. Either way, their picture issues should be fixed now.
If this didn't fix you're problem then you'll want to get in touch with your device maker to ensure that there isn't something wrong with your device's cameras. They'll walk you through the standard checks and updates you need. They should also be willing to replace your device if it's inside the warranty period.
Have fun video chatting.