How to Fix Wi-Fi Problems in Windows 8.1
You're going to have issues with connecting to Wi-Fi networks with Windows 8.1.
That comment isn't a reflection on the quality of Windows 8. It's not related to the specific hardware that Windows 8 runs on either. Really, it's rather simple: at some point every device can't connect to a wireless network or keeps randomly losing the connection to the wireless router that it once had. This happens on all sorts of wireless devices, regardless of what operating system they run, who made them or what they're designed to do.
Luckily for Windows 8 users, the most common Wi-Fi issues that users have are easily fixable, and that's true whether you're on a desktop, laptop, tablet or 2-in-1 running the operating system.
Not Being Able to Load Web Pages in Internet Explorer
The most common issue we've found with Windows 8 is that sometimes Internet Explorer will  stop allowing users to browse new web pages, that's despite them having a decent internet connection available to them and being connected to their wireless network. Ironically, this isn't actually an issue with the Wi-Fi on user's devices at all. Instead, it's usually caused by a singular app running in the background that's downloading more than its fair share of data.
There really isn't simple fix for this issue. Instead, when this happens users should check other apps that are open to see if they're downloading any huge files from the internet. Windows Update, the system that adds new fixes and patches to Windows devices, is often found to be the culprit in these situations.
Sometimes, torrenting apps will also cause this issue. If it is Windows Update, then the best advice is just to let the update run its course. If it's not a convenient time to download updates, cancel the update by going to the Control Panel or PC Settings App and telling them to stop the update process. Closing the app you suspect is harming your data connection is always going to be the easiest and most straightforward way of dealing with this problem.
Not Being Able to Load Anything Despite Being Connected
This is going to sound basic. One of the most common issues with connecting to a Wi-Fi network is that users forget to turn-off caps lock. It doesn't matter if you've entered the right password or not, but if it doesn't match the Wi-Fi router's exact specifications then you can have issues connecting even though it appears that you've completed the process correctly. Before beginning this process be sure you have your wireless router's network name and password, otherwise you won't be able to get back in.
If you're having issues, open the Charms Bar by placing your mouse cursor in the top-right corner of your screen. Touch users should place their finger on the right edge of their display and drag it over slightly to the left. Now tap or click on Settings.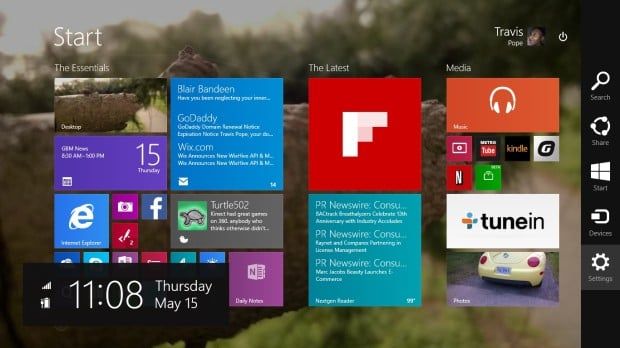 Now tap or click on the name of your wireless internet connection in the bottom left.
Touch users should tap and hold on their network to reveal a pop-up menu with more options. That same menu is available to users who right-click on their network. Tap or click on Forget Network.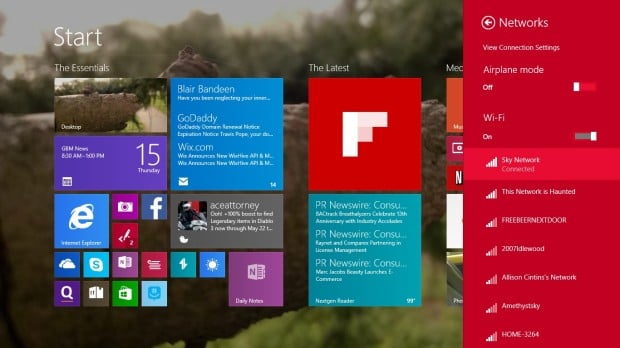 Now simply reconnect to the network using the username and password exactly as it's been provided for you by your internet provider, like Comcast or the person who set-up your home router.
Not Having Wi-Fi Turned On
Finally, the biggest cause of Wi-Fi issues with devices running Windows 8.1 is that users simply turn off their Wi-Fi without noticing. Again, it sounds basic, but most users don't know that Wi-Fi functionality can be turned off. More specifically, they don't realize that there are keyboard commands and physical switches on some devices that shut down their wireless connections.
The first step in fixing these issues is to see whether you've accidentally turned off Wi-Fi on your device. Touch users should place their finger on the right edge of their device and slowly slide their finger to the left to reveal the Charms Bar. Mouse and keyboard users should place their curser in the top-right corner of their display. Now tap or click on Settings.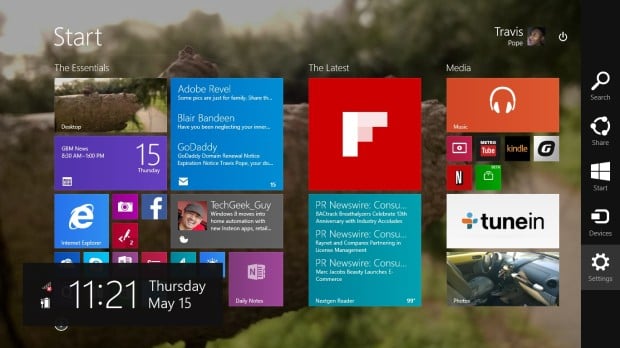 If your Windows 8 device's Wi-Fi connection has been turned off, you'll notice a small meter with a bright red X running through it in the settings fly out. The icon will sit just above text that reads "Unavailable." Tap or click on that icon to open up the Wi-Fi menu.
Now tap or click on the Off switch in the Wi-Fi settings area. It'll take a moment, however your device should connect to your Wi-Fi network within a few seconds.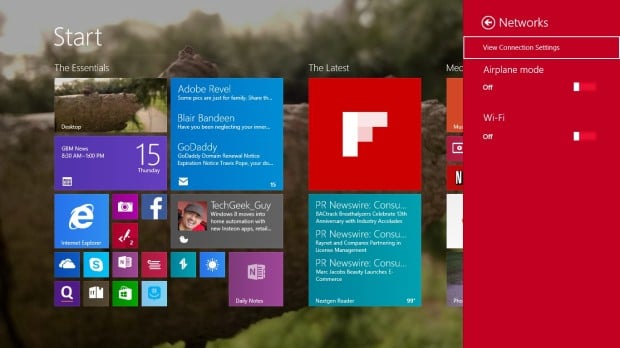 Of course, these are only basic fixes for the most common issues users have. Other things could be at play, too. Internet service providers have become infamous for allowing bad wiring and bad cable maintenance to affect their networks. If none of the devices in your home can connect to the internet it's time to focus on the Wi-Fi router and wireless modem themselves. If you don't know what either of those things are, then it's best to contact Comcast, Time Warner or whichever company provides internet service to your home. Be aware that some companies, including Comcast, will charge you a service fee if they have to come out to your home.

As an Amazon Associate I earn from qualifying purchases.