How to Follow the NASCAR Samsung Mobile 500 On Your Phone
The Samsung Mobile 500 will get underway at the Texas Motor Speedway tonight, but if you aren't home you can't watch the race unless you're a Sprint Android user. NASCAR cut out their other fans in an exclusive deal with the company that owns the naming rights to their Sprint Cup Series, the sport's premier league.
I hate when sports do this to their fans. The NFL did the same thing with an exclusive deal with DirecTV and the NFL Sunday Ticket. You can only watch if you're a DirecTV customer and use an iPad. But at least any iPad user can watch the games.
To watch NASCAR with the best possible app, race fans must subscribe to Sprint, the smallest of the national mobile carriers.
Watching NASCAR with a Sprint Android Device
If you're one of the few who uses a Sprint phone on Android, then you can enjoy the NASCAR Sprint Cup Mobile(sm) app for free. The app looks nice but only those with a Sprint Everything Data Plan can enjoy it. Here's the bullet list of features from the Google Play Store.
Live in-car audio for all 43 NASCAR Sprint Cup SeriesTM drivers
Live race radio broadcast for all NASCAR Sprint Cup SeriesTM and Nationwide races
Real-time leaderboards and points
Real-time Pit Pass telemetry data
Live NASCAR on SPEED broadcasts including live practice and qualifying plus favorite shows like NASCAR RaceDay
Customizable driver and race alerts
Live post-race driver interviews
Race video highlights on race day
Miss Sprint Cup behind-the-scenes
Driver, crew and insider tweets
Breaking news and expert analysis
Stats, standings and schedules
Fantasy news, stats and videos
Sounds awesome if you're a NASCAR fan. Too bad I'll never get to enjoy it. NASCAR left out a lot of fans with this ignorant deal!
Limited NASCAR Apps for Non-Sprint Fans
You can watch anything you want that's on TV using your iPhone, iPad, Android device or Kindle Fire if you have the awesome but expensive SlingBox. If you don't want to drop $330, then you're limited to how you can follow the race.
NASCAR fans can listen to radio broadcasts of the Samsung Mobile 500 and other races thanks to one of the many radio apps. Go to your device store and search for NASCAR radio and you will find at least a couple of apps to download and listen live.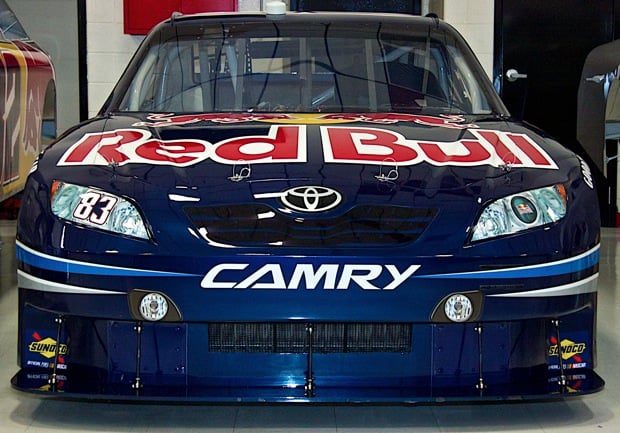 Other Mobile Sports Apps an Example
Sports fans can enjoy the best mobile sports app available MLB At Bat. Three million downloaded the app according to Gigaom across all the major platforms including iPhone, iPad and Android (both Google Play and Amazon App Store). They will soon release a Windows Phone app.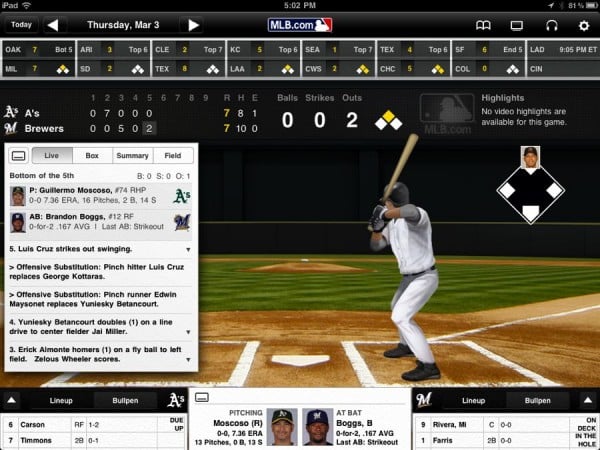 Other awesome sports apps include the NFL Sunday Ticket app for iOS thanks to DirecTV, the MLS Matchday app for iOS, Android or Kindle Fire for pro soccer in the US, and the NBA Game Time iPad or Android apps. The first two require a costly subscription and the NBA apps don't include live video of games. With the football and soccer apps you can watch the games and the NBA app lets you see highlights during the game and follow the game as it's happening with audio. The NHL has a similar app on iOS and Android and with a subscription you get live radio and in-game video highlights.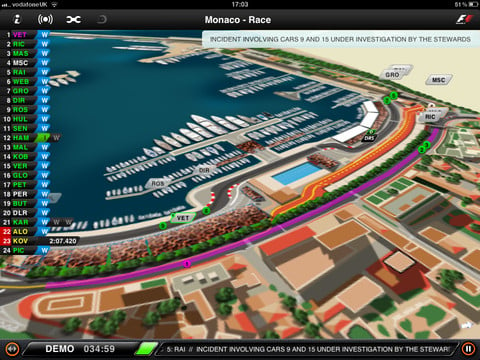 The Perfect NASCAR App
I've always considered it ironic that a sport with its big leagues named for a mobile wireless carrier didn't have better options for mobile fans. You get the above radio apps and some fan or news apps, but we want more. I'd love an app that at the least shows you the race while on the go. I'll shout for joy, if they add the following:
News and highlights of the races
Live video of the race, time trials and practices
Team sections to follow news and information about your favorite driving team
Driver sections to follow just your favorite driver
Twitter and other social media integration so you can do e-Trash Talking or follow your driver's feeds
Live visual leader boards for both the race and season standings
Links to websites related to NASCAR, like team and driver sites, Facebook pages
Chat rooms during the race
Pit video for your favorite drivers
In-car radio audio during the race
Live telemetry of any driver
There's no reason NASCAR couldn't deliver all of this via a nigh quality app that would net them at least $30 or more per user. I'd pay to go behind the scenes of your team, driver and the sport. Ever since Xavier and I were guests of the Red Bull Racing Team two seasons ago in Charlotte, I've wanted to see the inner workings of the sport during a race, right on my iPad.

As an Amazon Associate I earn from qualifying purchases.