How to Fix Slow Galaxy S5 Camera Performance
The all-new Samsung Galaxy S5 was announced and released earlier this year to tons of excitement, and so far it's one of the best smartphones for 2014. While we've shared plenty of how to's on the Galaxy S5 already, one question regarding the camera continues to arrive.
On board the Galaxy S5 is a 16 megapixel camera that was supposed to be one of the most important and impressive specs of the device. A brand new technology to allow for an extremely quick auto-focus and shutter, better low-light photography, and just an excellent overall camera experience. However, there's moments where the Galaxy S5 camera is extremely slow, and very frustrating.
Read: How to Use the Galaxy S5 Camera Flash for Notifications
Users that have purchased the Galaxy S5 have flooded a few message boards and our inbox about the camera performing excellent in some situations, and extremely slow in others. Surely you've tried to snap a photo only to have your Galaxy S5 say "Hold the device steady until it finishes taking the picture" with a circle that takes forever. This is actually a "feature" and one that's been causing a lot of owner complaints.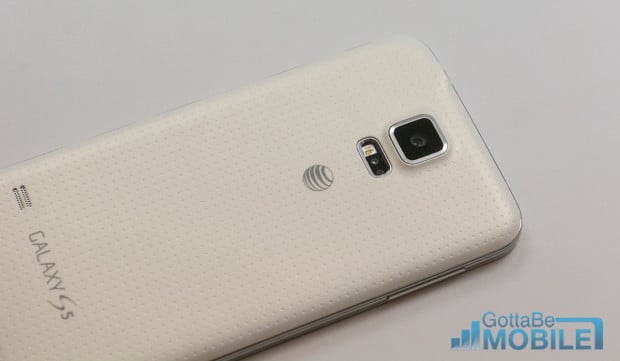 There are so many different features packed into the Samsung Galaxy S5 that sometimes they can be confusing, especially to beginners or someone moving over from the iPhone. A friend recently bought the Galaxy S5 for the bigger display and talks of an excellent camera, and was extremely disappointed with the slow performance and usually blurry results, as he didn't hold the device steady long enough.
In general the 16 megapixel camera in the new Galaxy S5 works extremely well. Especially in a well-lit situation. However, if you're inside or have a low-light situation you've probably seen the popup shown in the screenshot below. If so, here's how to prevent this from happening, speed up the Galaxy S5 camera, and get better pictures.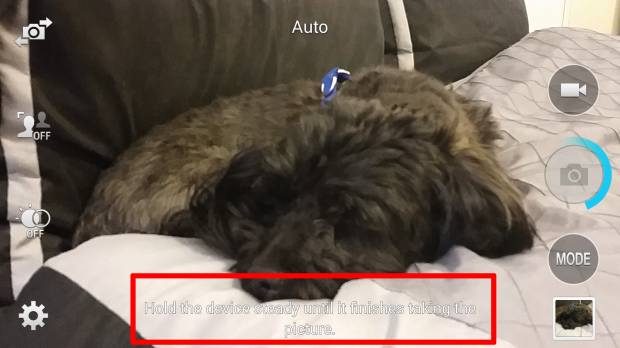 What you see above is one of the many features of the Galaxy S5 camera aimed at improving photos while indoors or in a low light environment. The feature is actually called "picture stabilization" and it's Samsung's attempt to have some sort of image stabilization on the smartphone. While the LG G2 and upcoming G3 has a hardware and software solution, much like bigger cameras, the Galaxy S5 software is causing a lot of issues.
If you've been plagued by the "hold device steady" popup which usually leads to fuzzy photos on the Galaxy S5, here's how to fix it.
Instructions:
Oddly enough picture stabilization is a feature designed for night-time on the Galaxy S5, but it's enabled by default and is causing many owners a lot of grief. If you're in a dark situation you may want to enable it (or the night mode) but for most other camera moments having picture stabilization off will actually improve the shutter speed, which will result in crisp and clear photos without the blurring and fuzzy problems from before.
Read: How to Use the Galaxy S5 Camera: Everything You Need to Know
Launch the camera app and simply head into settings. This can be done by hitting the gear-shaped icon on the lower left while the camera app is opened. This brings up a plethora of options and settings, and near the top right tap to disable "picture stabilization" and that's it. You're all done. Try using the Galaxy S5 camera now and it will be extremely fast, accurate, and likely produce better results in most cases.
Picture Stabilization on the Galaxy S5 helps you take clearer and brighter photos when in a low light situation by keeping the shutter open longer to gather more light and details. As a result, you'll need to be extremely steady-handed while waiting. The smallest movement by your hand, or the subject, will cause the photo to have some blurry lines.
Below is Samsung explaining it best, and the feature works great when it's truly needed. That being said, it's appearing way too often for most Samsung Galaxy S5 owners even when it probably shouldn't, and as a result many are getting less than stellar results from the camera.
As you can see from the screenshot above, the Galaxy S5 should automatically detect low light levels and adjust accordingly, but we're finding this happening way more often than it should, and older devices like the Galaxy S4 or even the Galaxy S3 are often times producing better photos as a result.
Hopefully the few images above will explain the slow camera results many have been experiencing since picking up the Galaxy S5, and the steps above should also correct it.
Read: 5 Best Wallet Cases for the Samsung Galaxy S5
This same issue appears as "processing" on the Galaxy Note 3, which we've heard countless complaints about as well. The settings menu may be slightly different, but turning it off will yield similar results. If the Galaxy S5 or Note 3 camera is too slow in some medium-light situations be sure and disable this, and only enable when it's really really needed.
Recently some software updates have arrived for the Galaxy S5 that improves the camera and gallery opening speed, and it's possible other updates will arrive to correct this problem. In the meantime give the steps above a try, and enjoy that 16 megapixel camera.

As an Amazon Associate I earn from qualifying purchases.