How to Get Amazon Prime for Free During the Holidays
If you happen to do a lot of your shopping on Amazon, you probably already have an Amazon Prime membership, but if not, now is the time to sign up for a free trial that will get you Amazon Prime for free throughout the holiday shopping season.
If you sign up for a free trial to Amazon Prime today, you'll be covered through Christmas Day. Amazon Prime gives you free two-day shipping on all items that are sold my Amazon (not third-party sellers), as well as access to Prime Instant Video, Prime Music, the Kindle Lending Library, and even early access to Black Friday Lighting Deals.
The free trial lasts 30 days and you can cancel before it renews so that you don't have to pay a penny for the service. Amazon Prime regular costs $99 per year.
The free two-day shipping is worth it alone, especially if you do a ton of shopping on Amazon on a regular basis. And even with $3.99 overnight shipping, you can buy a last-minute Christmas present on Amazon and still have it arrive so that you can stick it under the Christmas tree before the kiddos wake up Christmas morning.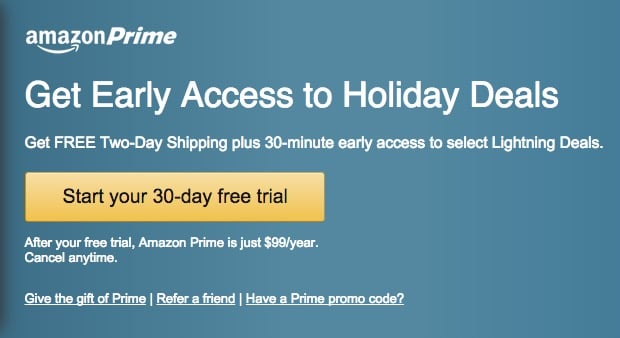 Amazon boosted the price of its Prime service earlier this year from $79 per year to $99 per year, but the company also added a handful of new benefits, including free access to Amazon's music streaming service, as well as exclusive deals for Prime members only, including a limited-time deal on the new Fire TV Stick, where Prime members could purchase the streaming device for just $19.
Many folks will most likely scold at the $99-per-year price tag for Amazon Prime, but it's actually not a bad deal at all. $99 per year comes down to $8.25 per month, which is about the same price as Netflix. That alone covers the cost of Amazon's Prime Instant Video streaming service. Slap on free two-day shipping, Prime Music, and Kindle's lending library and you have yourself quite a deal.
Even if you only use Amazon Prime for the shipping benefits, it still comes out to a good deal, especially when you use Amazon religiously to buy everything. Two-day shipping costs for other retailers can be at least $10 (give or take) per order. After only 10 shipments, you've already paid for the cost of Amazon Prime, which is't a bad deal, really.
As for this year's shipping deadlines for Christmas, we'll have to wait and see what Amazon decides to do, but it will most likely be similar to last year's deadlines where Prime members were able to order something on Amazon as late as midnight Eastern Time on December 23 and could have it on your doorstep before Christmas morning if you opted for the overnight shipping for just a few dollars.
However, for non-Prime members, last-minute online shopping won't treat them as nicely, as these folks will have to order sooner in the week if they want to get the package on their doorstep by Christmas.
Amazon usually announces its shipping deadlines for Christmas sometime in mid-December, so be on the lookout soon on GottaBeMobile for when the deadline is to buy a Christmas gift on Amazon.

As an Amazon Associate I earn from qualifying purchases.