How To Get Animated Slide Shows Back on iOS 7 Devices
I was preparing a post on how to put an animated slide show on the Microsoft Surface 2 Lock Screen and I wanted to do a bit of a comparison with how to do this on the iPad. Lo and behold, I discovered that the feature that used to exist has now vanished. Well, not entirely. There is a way to do this, but it certainly isn't as easy or intuitive as it used to be prior to iOS 7. In fact, the button on the iPad Lock Screen that used to trigger the slide show is still there. Sloppy Apple. If you're going to remove a feature, you should remove any vestigial hints that it used to exist. Or perhaps Apple plans on bringing the feature back in the future. Yeah, that's it. "Forward-looking" is the new mantra.
Anyway, I used to use this feature all the time when we were entertaining guests at our house before we moved to a condo in Chicago. The old house had multiple rooms and I would set up multiple iPads in various rooms and have slide shows running on each. I also had one running in the TV room using an Apple TV, which funneled music into the party. These were always entertaining slide shows, because they usually featured photos of folks who were going to be present at the party. (It's amazing what you can create by visiting Facebook and finding pictures that folks have been tagged in.)
But the simple old method doesn't exist anymore and there are some key differences. Here's how to get animated slide shows back on iOS 7 devices. Sorta, kinda.
Open the Photos App. Then choose the Albums or Shared view at the bottom of the screen.
Pick an album or shared stream that you want to display in the animated slide show. At the top of the screen you'll see the word Slideshow. Tap on it.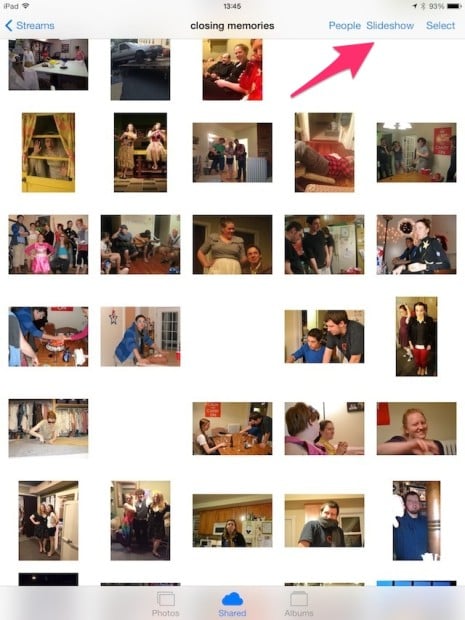 Here you can select the type of transition you wish (Dissolve, Cube, Ripple, Wipe, or Origami). You can also also choose to Play Music with your slide show.
Hit slide show and you're done.
Well, not quite.
It used to be that a slide show started from the Lock Screen would run until your battery gave out on the iPad. Now, with this "new" way of doing things, your slide show will only run for the duration of time that you've set before your iPad screen turns off and goes into Auto-Lock, assuming you've set that option. If you are having a party and want a slide show to run through out, you'll have to adjust that setting as well.
Go to Settings/General. 
Then go to Auto-Lock.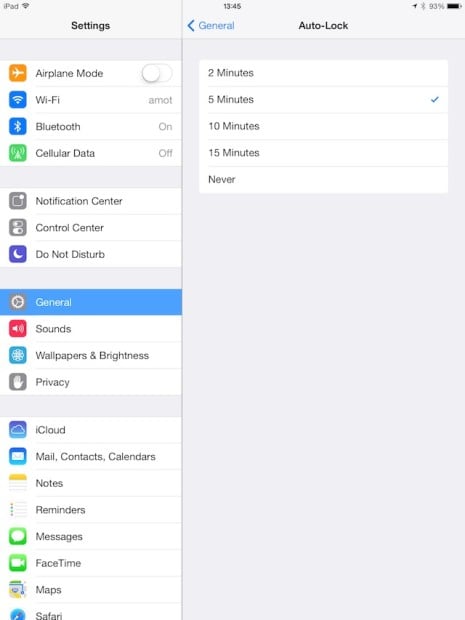 Tap it and set the interval you wish. Choosing Never will give you a long running animated slide show.
There's another downside. Apple has never made it easy to move a picture from your Camera Roll to an Album in iOS. That's still the case. In the Photos tab you can select photos and there will be an Add To command. But as in the past you can only add these photos to a new album.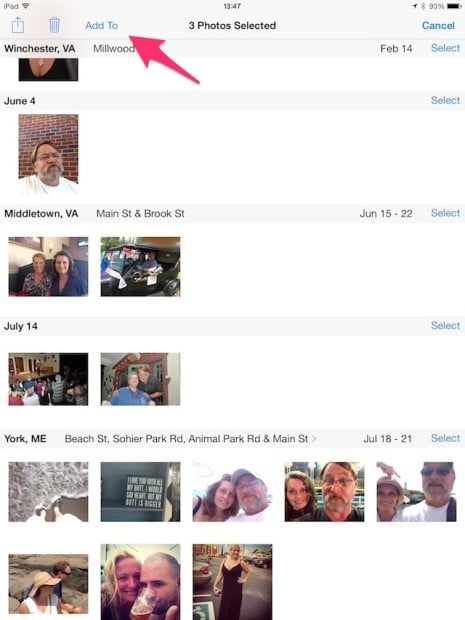 Apple's focus now seems to be on "Sharing" of photos, but you can only share a photo to a new album, not an existing one. Even more curious, you can't add them to a shared stream.
So, if you want to create a special album for a special occasion, you'll need to do it on a computer and sync it over via a USB cable and iTunes. Or choose to share the album with yourself. Talk about smooth.
Apple may create a great smartphone camera and photography experience on some levels. But there are some basic things like moving photos to albums on its devices that make no sense.