How to Get Better Apple Music Recommendations
If you're enjoying Apple Music, but find that personal recommendations are a bit lacking, here are some tips and tricks on how to get better Apple Music recommendations.
Apple Music was launched late last month alongside the iOS 8.4 update. It marks Apple's official dive into the music streaming market to take on other services like Spotify, Rdio, Pandora, Tidal, and more.
What sets Apple Music apart from the competition, though, are the unique features that the new service has, including the Beats 1 radio station, which is controlled by real DJs and features not only music, but interviews with artists and other cool stuff.
However, perhaps the best feature is that Apple Music has real music experts that hand-pick songs, artists, and albums based on what you enjoy listening to, claiming that this method can provide better music recommendations than other music streaming services that use algorithms.
Of course, the new service has only been available for a short time, and recommendations usually take a while to build up, as Apple Music needs to get to know your listening preferences over time before it can improve your recommendations.
However, if you want to get a head-start and get the best Apple Music recommendations that you can, here are some things you should know.
Getting Better Apple Music Recommendations
You might remember when you first opened up Apple Music and set it up that you went through a short process and identified your favorite types of music and your favorite artists.
Hopefully you did it correctly, though, but if you're not sure, you can go back and adjust your favorites at any time in case your tastes in music changes in the future.
Simply tap on the profile icon in the top-left corner of the screen (it's a person's heads inside of a circle). Then, tap on Choose Artists For You.
This will take you back to the initial setup process of Apple Music where you can select your favorite music genres and favorite artists. Tap once on the options that you "like" and tap twice on the options that you "love." You can also press and hold to remove the genres that you absolutely don't like. It might difficult to choose whether you "like" or "love" something, but usually it's a gut feeling.
Tap Next in the top-right corner and you can then select your favorite artists. A selection of artists will appear based on the genres that you chose previously. Again, tap once to like and tap twice to love, and press and hold on ones that you don't like at all. You can also tap More Artists at the bottom to bring up more selections to choose from if you run out.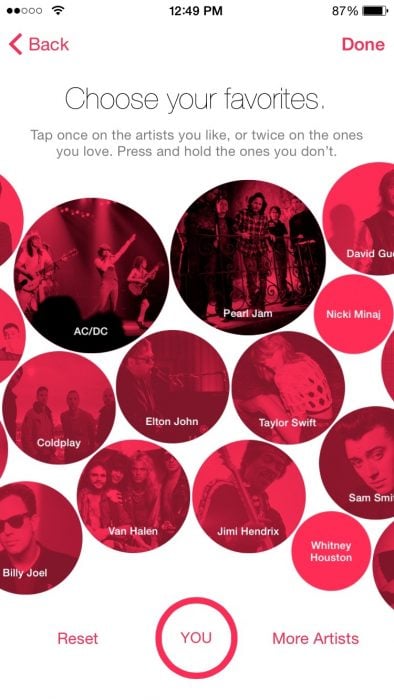 Tap Done in the top-right corner when you're finished selecting your favorite artists and Apple Music will use that information to provide you with music that you might enjoy in the For You section.
There is another way you can tell Apple Music that you like a certain song, but it's a little confusing at first.
When you play a song in Apple Music and tap on the mini player at the bottom to bring up the full player that shows album art and everything, you'll see a small heart icon. Tapping on this during a song will affect your recommendations (as expected).
However, when listening to a radio station that was created from a single song (which is done my tapping on the ellipses and selecting Start Station), a star will appear instead of a heart. Tapping on the star allows you to choose either Play More Like This or Play Less Like This. This only adjusts that radio station in order to provide better-curated songs to your taste, and it doesn't affect the For You section and your overall recommendations.
Lastly, you can also tap on any album or playlist recommendation in the For You section and select I Don't Like This Suggestion. This will affect your overall recommendations in the For You section.

As an Amazon Associate I earn from qualifying purchases.